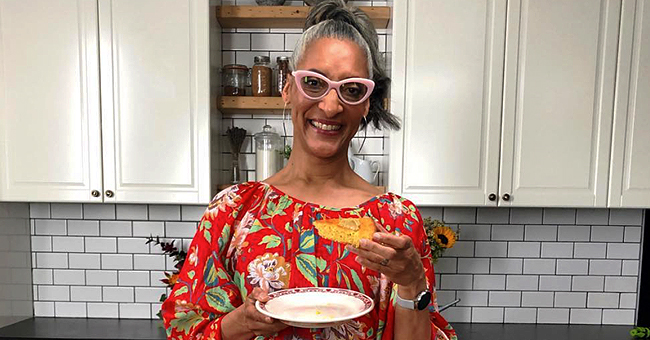 Instagram/carlaphall
Story of How 'The Chew' host Carla Hall Met Her Husband Matthew Lyons
Celebrity chef Carla Hall and her husband, Matthew Lyons, are a sweet couple, and the story of how they met for the first time is even sweeter.
An acclaimed chef and a restauranter, Carla Hall can work magic in the kitchen. She tied the knot with her husband, Matthew Lyons, in 2006.
At 42 years old, Hall was single and doing what she does best: cooking. Her concerned mother would often ask her questions like if she was going out at all.
THEY MET IN A VERY MILLENIAL WAY
Eventually, Hall's friends persuaded her to sign up for a dating site. After she set up her profile, it didn't take long for her to find Lyons.
Lyons was a divorced man in pursuit of love. He found Hall on the very day she signed up on the dating site. After seeing her for the time, he knew she was the one.
"I remember as soon as I saw her, my immediate thought was, 'I'm done,'" Lyons recalled.
THE QUICK FIRST MOVE
Lyons was already smitten with Hall when they first met after chatting online. He was so into her that he made his move on their first date itself.
As they were sitting across each other on a table, Lyons reached out for Hall's hand. Luckily for him, she was on the same page and did not pull back when he held her hand.
"He kissed me," Hall recalled the magical moment. "I don't know how long it had been since I'd been kissed."
THEY NEVER LOOKED BACK SINCE THE FIRST DATE
The duo was inseparable after their romantic first date. As soon as Lyon kissed Hall for the first time, she knew he was the man for her.
After a year of dating, the couple got a marriage certificate in early February. The love birds were so eager to spend their lives together that they took the big step without an official proposal.
After getting the certificate, the duo celebrated their union with an impromptu ceremony held at the home of justice of the peace. Over a month later, they officially tied the knot.
Hall and Lyon are a wonderful couple indeed. Here's a list of other celebrity couples who are happily married and live a blissful life.
Please fill in your e-mail so we can share with you our top stories!