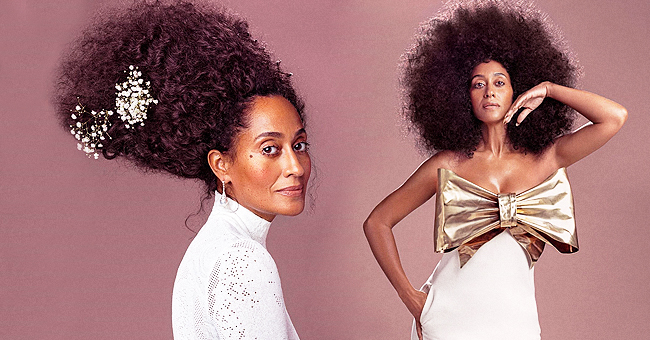 'Black-ish' Star Tracee Ellis Ross Flaunts Gorgeous Natural Curls in Series of Photos for Essence

Tracee Ellis Ross liberates her inner lioness and shakes out her mane on the cover of Essence Magazine.
For years, "Black-ish" star Tracee Ellis Ross admits, she wore the blinders of what society deemed "beautiful." She too fell into the trap of straightening her hair, but those days are gone.
The iconic Diana Ross' talented daughter showed off her glorious mane of wild curls on Essence Magazine and announced the launch of her hair-care line.
NINA SIMONE TAUGHT TRACEE ELLIS ROSS WHAT BEAUTY REALLY IS
Tracee confessed that she only became aware of the beauty of black women while watching a documentary on the iconic singer, Nina Simone.
"Then one day I was watching a Nina Simone documentary and I thought, 'Wait. It should be her name next to the word beauty. Why was I sold the wrong vision? My heart knows that's beauty'," Tracee said.
And from then on, she discarded the predefined parameters she had been indoctrinated with and discovered a world of beauty all around her.
In order to effect these transformations, Tracee's stylists used Pattern's product line.
BRING BACK THAT AFRO
Tracee is blessed with a wild mane of glorious curls, and when we see her on the cover of Essence in a white feather cloak exuding 70s glamour, we want to bring back that assertive afro. We want to reclaim our Black hair in all it's majestic glory.
TRACEE ELLIS ROSS' HAIR-CARE LINE
Tracee has launched a hair-care line created specifically for the needs and the problems of black hair, based on her experience with handling her own crowning glory.
"It's called Pattern because it is about the magical patterns of our hair," she said.
FOR TRACEE HER HAIR IS ABOUT METAMORPHOSIS
Flipping through the stunning photos from the Essence shoot, it is breathtaking to see the chameleonic changes Tracee's hair can go through.
From a tower of elegant curls to a wild afro, to a perfectly formed three-dimensional crown, or a wind-tossed mane of tousled curls, she goes through each transformation with astonishing ease.
In order to effect these transformations, Tracee's stylists used Pattern's product line. The line includes four different conditioners and two nourishing oil serums.
If it does for us what it does for Tracee, it's going to be a hit!
LADY SINGS THE BLUES WITH MOM DIANA ROSS
How would you feel if the mythical Diana Ross called you up on stage in the middle of a packed concert in Las Vegas and asked you to sing?
Nervous? Well, that is exactly how Tracee Ellis Ross felt when her mother called her up on stage for the first time since she was 6 years old.
But Diana was sure of her girl's abilities, and after a few awkward moments and a false start, Tracee belted out Billie Hollyday's "Lady Sings The Blues" flawlessly in a clear melodic voice.
It looks like Tracee inherited more than just her stunning beauty from her mom.
Please fill in your e-mail so we can share with you our top stories!