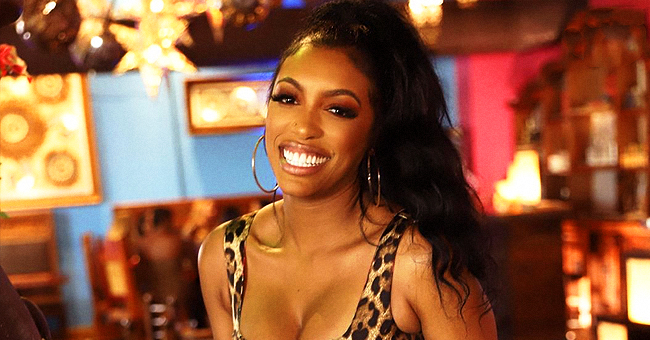 Instagram/porsha4real
RHOA Star Porsha Williams Shares Video of Baby Pilar Smiling in Her Cot, Admits It's All She Needs
Famous "Real Housewives of Atlanta" star Porsha Williams revels in motherhood as she proudly shares a clip of her smiling daughter with fans.
Porsha is so well-followed on Instagram, and there's no doubt that a big part of it is because of the many adorable snaps she shares of her baby daughter, Pilar.
One of the latest updates from the famous reality star is a short video of Pilar who smiles adorably while peeking at the camera.
The video features Porsha making sweet voices and cooing to Pilar who looks at the camera with interest. Her mother's voice elicits a charming smile from her, and she makes numerous attempts at getting up herself.
"All I need is this smile. Good morning y'all!" Porsha wrote to caption the beautiful video.
There is admittedly nothing not to love about the adorable spectacle. That is why it is not surprising that just within the short time Porsha shared the post, it has garnered over 500,000 views as well as thousands of comments.
The comments section is littered with numerous compliments from fans as well as famous figures like Porsha herself. One fan, @houstontharris wrote:
"She looks just like her daddy and is stunningly beautiful so just imagine how gorgeous she's going to be when she starts looking like Porsha."
A great number of her followers also gave responses to Porsha's "you ready to get up?" question directed at baby Pilar in the video.
Porsha's sister, Lauren Williams, via her official account, @lodwill, humorously commented:
"'She's like yea I'm ready to get up come get me, girl!'"
While another fan, @deekee81 wrote:
"PJ is happy to see you mommy but not sure if she's quite ready to get up to start her day."
Watching baby Pilar grow so fast is one thing Porsha's fans seem to love doing, and the star is happy to oblige. Porsha never seems to tire of sharing every progress Pilar, who is a product of her previous relationship with Atlanta entrepreneur Dennis McKinley, makes.
Just a few months ago, the star excitedly shared that baby Pilar can now turn herself over. She did this by sharing a video of the five-month-old girl via Instagram, thrilling her fans.
Please fill in your e-mail so we can share with you our top stories!