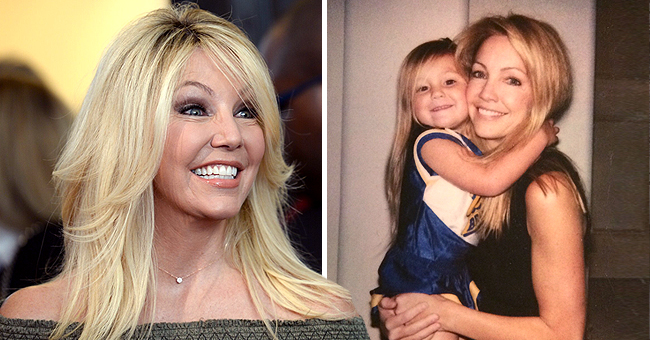 instagram.com/avasambora Getty Images
Meet Ava Sambora, 'Dynasty' Star Heather Locklear's Only Daughter Who Is All Grown Up

Heather Locklear's marriage to famous rock star, Richie Sambora lasted for over a decade and produced just one child – Ava. Ava is now all grown up and has even taken an interest in the arts, much like her parents.
Thanks to her beautiful mix of genes, Ava has heist into a gorgeous young lady. So far, she has shown interest in the movie and modelling industries.
In 2012, she made her acting debut in Judd Apatow's Universal feature film, "This Is 40" playing the role of "Sadie's Best Friend" (role of "Sadie" played by Maude Apatow).
Thanks to a svelte figure much like Locklear's back in her early years, Ava has also made her debut in the fashion industry. In 2010 at the Los Angeles Fashion Weekend, she walked the runway for her father's clothing line, "White Trash Beautiful."
AVA STILL MANAGES TO HAVE A NORMAL LIFE
The young beauty is also fast building a fan base for herself. Her official Instagram page, @avasambora, is verified and boasts of nearly 150,000 followers already.
A look into Ava's life has shown that asides from slowly building her entertainment career, she is almost like every other American child. She reportedly graduated from Viewpoint High School in Calabasas, California in June 2015 and is currently a student at the Loyola Marymount University, in Los Angeles, California.
Aged 22, Ava has a lover, and she is never too shy to show him off. Her Instagram page is littered with pictures of the lucky man, which couldn't be more delightful for fans.
Aside from that, Ava, who sports blonde hair like her mother, looks so much like the "Melrose Place" star that looking at her pictures is like a reminder of Locklear back in her heydays.
AVA SHARES A TIGHT-KNIT BOND WITH HER PARENTS
Also, Ava still enjoys a great time with her famous parents, who parted ways in 2007. People shared reports of Ava spending thanksgiving with her 60-year-old father following her mother's mental breakdown diagnosis in late 2018.
A close friend of the family had shared that Richie had been worried about Ava after hearing news of Locklear being placed on a psychiatric hold.
"They had an amazing Thanksgiving and had a private chef there so they could be together one-on-one," the source explains. "They had a great meal and got caught up."
Richie's heartwarming move seems to prove Locklear's description of the award-winning musician. In Richie Sambora, Locklear had found a true soul mate and she once fondly disclosed that he's sweet, gentle and caring.
It is why many still think of them as one of Hollywood's best love pairings.
Please fill in your e-mail so we can share with you our top stories!