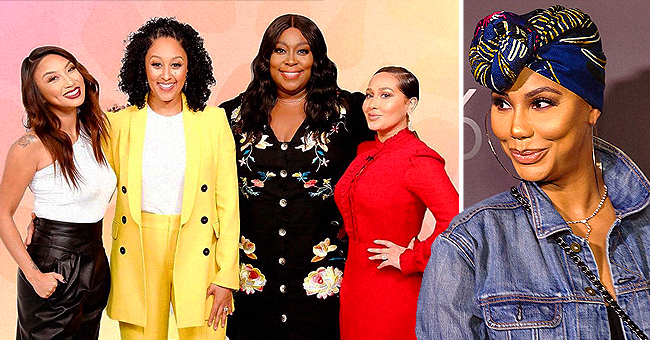 instagram/therealdaytime | GettyImages
'The Real' Cast Reacts after Tamar Braxton Accuses Them of Inviting Her Back as a 'Marketing Tool'

Hosts of "The Real" had a few words to say, to clear up and reach out to Tamar Braxton's accusation of being used as a "marketing tool" after being fired from the talk show: "It's been three years, I don't know why you guys keep talking about this."
During Wednesday's live taping of "The Real," Loni and the other co-hosts spoke of the controversy that revolved around Tamar Braxton being fired from the show. What prompted the sudden topic was Braxton's guesting on "The Wendy Williams Show" that morning.
LONI LOVE SPEAKS OUT
Loni Love took the opportunity to air out some feelings and inform everybody that "the show has reached out" to Braxton after she apologized to them during the summer. The show simply intended for any ill feelings to be fixed between the parties.
"Tamar, nobody is trying to use you as a marketing tool, sweetie. You apologized to us over the summer, and we just thought, to close this loop," she said. "We need to have you come here so that we can close the circle."
The co-host emphasized that they "as black women have to stick together" and that their invitation for her to come over so they can close the issue is still on the table and will be left there until the former host accepts it.
'STOP PUTTING EACH OTHER DOWN'
Co-host Tamera Mowry-Housley also had a few words to reiterate and add about the discussion. She agreed with Love and swore to have no "ill intention" whatsoever involved in the firing of Braxton -- that she can promise to a higher being.
"It's time for women of color to stop putting each other down. We already have other people doing that," she said. "The fact is, we had no idea. There was no ill intention. There was no meeting. There was none of that."
EARLIER THAT DAY
Prior to the ladies of "The Real's" discussion, Braxton spoke about her being fired from the talk show and how it made her the woman she is today. Wendy Williams asked her if going back to that job was something she was open to, to which she responded:
"I don't want to be anybody's marketing tool this season. No shade, but I just wish everybody well. I just feel like sometimes God has to move you out of situations before you become more toxic to yourself."
Braxton also took to social media to share how she felt after hearing of the apparent feud that had sparked once again. She tweeted:
"They want MORE drama. &here I am today mad &depressed because I allowed myself to engage with them on negativity when all I've been wrkn so hrs on positivity & [love.]"
BRAXTON'S FINAL CALL ON "THE REAL"
It has been three years since Braxton was cut out of the show, yet the issue seems to be catching on to this day. According to Love, the news of her former co-host being relieved from their show came as a surprise.
After speaking to the singer's sister about her exit, Towanda Braxton revealed that an upcoming episode of "Braxton Family Values" would feature a big controversy. Love obtained raw footage of the show where she saw Braxton's then-manager and estranged husband blame "The Real" hosts for having her fired due to jealousy.
Please fill in your e-mail so we can share with you our top stories!