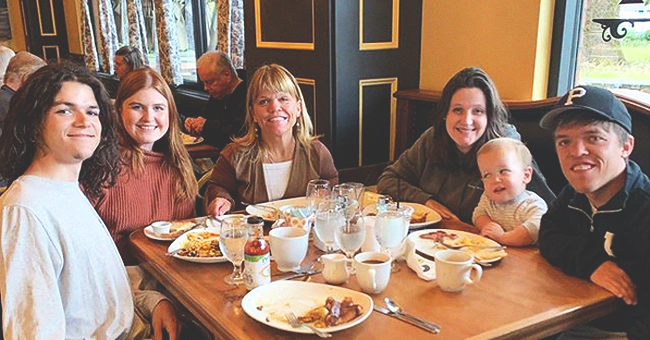 instagram.com/amyjroloff
LPBW Fans Slam Audrey Roloff for Missing Mother-In-Law Amy's Birthday Celebration

Audrey Roloff was conspicuously missing from the birthday celebration of her mother-in-law, Amy Roloff, and fans of the LPBW show blasted her for it.
Some of them shared their thoughts about Audrey's relationship with Amy on a post the latter shared on Instagram.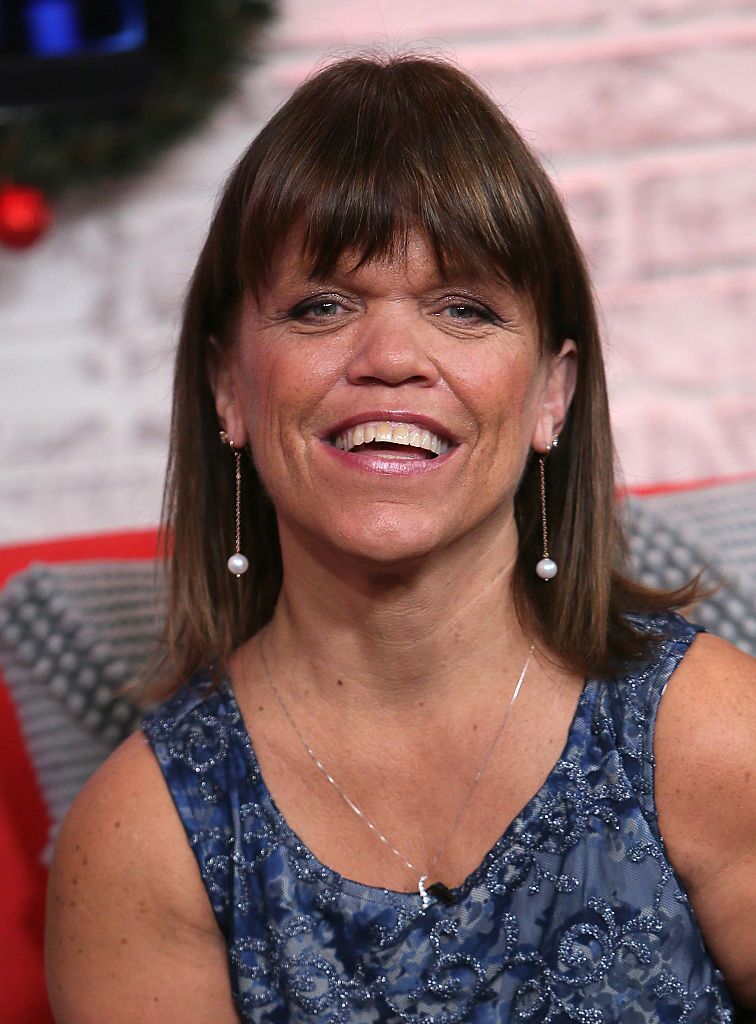 TV personality Amy Roloff visits Hollywood Today Live at W Hollywood on December 13, 2016 in Hollywood, California | Photo: Getty Images
Amy Roloff recently celebrated her 55th birthday, and some of her children and grandchildren were on hand to celebrate the special day with her.
Some family members couldn't make the celebration, but fans of "Little People, Big World" chose to pick on Audrey Roloff's absence, accusing her of being rude to her mother-in-law.
AMY MAKES A SPECIAL BIRTHDAY POST
The celebrant and matriarch of the Roloff Family shared two pictures and a short video showing moments from her birthday celebration.
The first photo showed her with the members of her family in attendance at the meal table; the second photo showed a smiling Amy with her small candlelight cake.
In the video, Amy's birthday cake was blown off by her grandson, Jackson. She added a caption appreciating her family members present, which included Zachary, Tori, and their son, Jackson, as well as Isabel and Jacob.
Amy also noted that Jeremy, Audrey, Ember, Molly, and Joel were missing from the gathering. She added that the greatest gift she could ask for on her special day was her children and grandchildren.
LPBW FANS REACTIONS
While many fans of the Roloff reality show wished Amy a wonderful birthday celebration, some of them couldn't help but point out what they felt was Audrey's rudeness to her.
A particular comment of note was from one @Mary.roal, who first said that Tori, Zach, and Isabel are so sweet to Amy. She, however, had not so kind words for Audrey, who she felt treated Amy terribly and was also a rude person.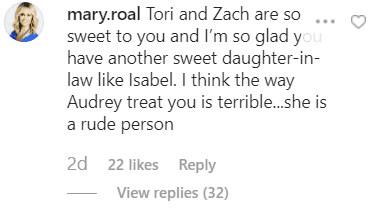 Comment on Instagram | Photo: Instagram/@amyroloff
Another fan, @Renee_torres1972, also shared Mary's sentiments adding that she always thought Audrey was rude to Amy.
THE TIMES AUDREY HAS FACED CRITICISM
The backlash Audrey received from some fans of the reality show adds to the list of criticism that has been leveled against her previously.
Audrey's strong views on Christianity has been known to put her in the spotlight many times. Many fans have turned against her for the way she dresses her daughter, Ember, as well as for some of her statements about formula feeding, marriage, and fashion, to name a few.
Please fill in your e-mail so we can share with you our top stories!