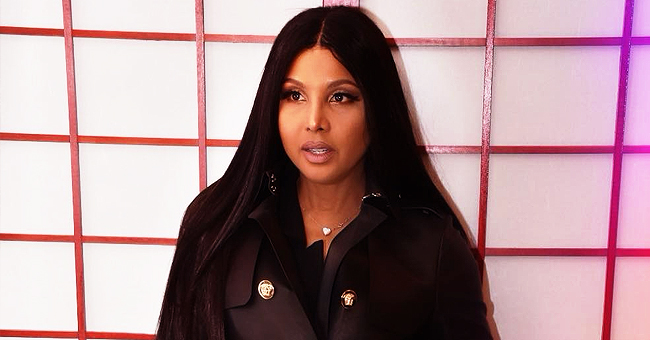 Instagram/tonibraxton
'As Long as I Live' Singer Toni Braxton Posted Photo of Son Denim with Facial Hair and Fans Weighed In

Singer, Toni Braxton posted an adorable video of her son on Instagram and her fans couldn't stop gushing about how much the teenager looks like Babyface.
The proud mother of two recently shared an image and a clip of her son, Denim Cole Braxton-Lewis dancing on Instagram. The image was a lovely selfie featuring the mother and son.
While the image was captioned
"Omg! I forgot it's SUNDAY! Enough about me...look at my beautiful baby boy @diezel.braxton! Happy SONday! ☀️"
Many chose to focus on the similarities between the 17-year-old and singer, Kenneth Brian Edmonds popularly known as Babyface.
"I'm sorry this just scream 'Babyface'"
While another wrote,
"Wow, first glance i thought he was Babyface," before adding a shocked emoji.
One commented on how grown Denim is writing,
"Facial hair?! Your kids are so grown!"
Others commented on how handsome Denim is and even stated that he looks just like the "Breathe Again" singer.
Denim is one of Braxton's sons with actor Keri Lewis. The mother of two also takes her time to dote on her second and younger son, Diezel Braxton who is a model.
The singer took to Instagram to celebrate one of Diezel's milestones and to caption the post she wrote,
"Congrats Diezy @diezel.braxton on signing to Wilhelmina Modeling Agency."
The celebrity mom is sure proud of her sons and especially Diezel who used to be autistic.
Braxton found out when Diezel was thirteen that he was no longer autistic and at the time she said,
"My youngest son— everyone knows— my son Diezel suffers from—or I should say suffered from Autism. I am one of the lucky parents. Early diagnosis changes everything. I will tell you this. I will shout it from the rooftops. My son Diezel is off the spectrum."
The happy mother continued,
"Off the spectrum being autistic. Susan Wright, who unfortunately passed from Autism Speaks, when she found out about my son and I. She called me immediately and said, 'Get him in this program. Do this, do that.'"
Now Toni Braxton is proud of her two boys and she takes every opportunity she gets to show them off.
Please fill in your e-mail so we can share with you our top stories!