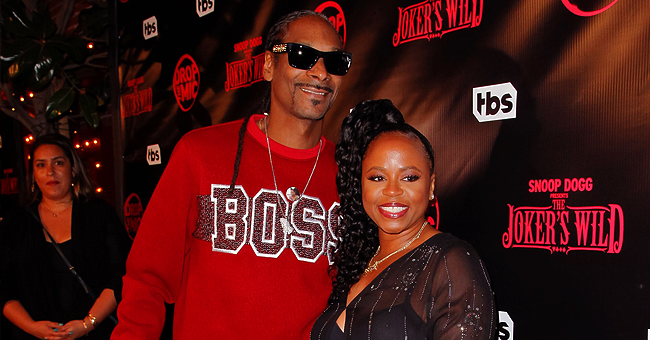 GettyImages
Snoop Dogg Praises Wife Shante Broadus as She Stuns in White Top, Tight Pants & High Heels in Pic

The rapper recently gushes over his wife in a new Instagram picture, as she reveals her secret to a lasting marriage.
"Drop It Like it's Hot" crooner Snoop Dogg and wife, Shante Monique Broadus are still waxing strong after years of marriage. The legendary Dogg, however still finds his wife appealing.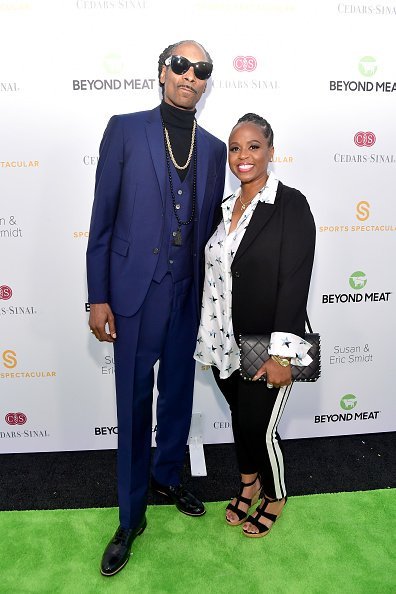 Snoop Dogg and Shante Broadus at the 34th Annual Cedars-Sinai Sports Spectacular on July 15, 2019 | Photo: Getty Images
"Thank u for forgiving me and understanding me, love u for life my backbone."
In an Instagram picture Shante shared, she dazzles in an elbow-length white suit, blue pants and matching high heels. Commenting on his wife's picture, Snoop Dogg wrote, "that's hot."
The 47-year-old looked really sizzling in the image, as she rocks a simple makeup on her ever shining face. She also painted her fingernails in pink as she adorned her neck with a tiny silver necklace with a letter "O" pendant.
Shante has been married to the veteran rapper for two decades and two years. Their relationship started back in High School and their union, just like any other one out there, has been faced with hiccups.
One was the fact that the couple was on the brink of getting divorced some years ago, but they came back together.
Another challenge they had to face was having their only daughter, Cori diagnosed with lupus when she was just six years old. Fortunately, she won the fight against the disease.
With the glamor, exposure someone like Snoop Dogg enjoys, one would wonder what has made Shante and the rapper remain in their marriage.
While the rapper was talking on marriage in 2018, he said,
"We try to make it look easy. This ain't easy at all."
It was reported that his wife once took to Instagram to disclose what's been keeping them together. "No one wants to read this, but truth be told, a long-lasting relationship comes with a lot of forgiveness and understanding," Shante wrote.
Spotting the post, her husband commented, "Thank u for forgiving me and understanding me, love u for life my backbone." "You're welcome," Shante replied.
Apart from finding Shante worthy of his love, the "Daddy's Girl" rapper calls his wife a special name, "boo." Shante has been with her husband from the beginning and definitely before he stacked up a net worth of over $100 million.
The two tied the knot in mid-1997, and they share four children, three sons, and a daughter; Julian Corrie Broadus, Cordell Broadus, Corde Calvin Broadus and Cori Broadus.
Snoop Dogg remains one of the most influential MCs in the rap industry. Also controversial, he served several jail terms as a teenager for drug possession.
Please fill in your e-mail so we can share with you our top stories!