Prince Harry Adorably Jokes about Having Ginger Hair with 11-Year-Old Redhead Girl
During a chat with a young girl at the Wellchild awards, Prince Harry jokes about having red hair. The Prince and Meghan Markle reveal that their son, Prince Archie has red hair too.
Meghan Markle and Prince attended the annual WellChild awards to help honor ailing children and their caregivers for the strength they have shown in supporting a sick member in their family or community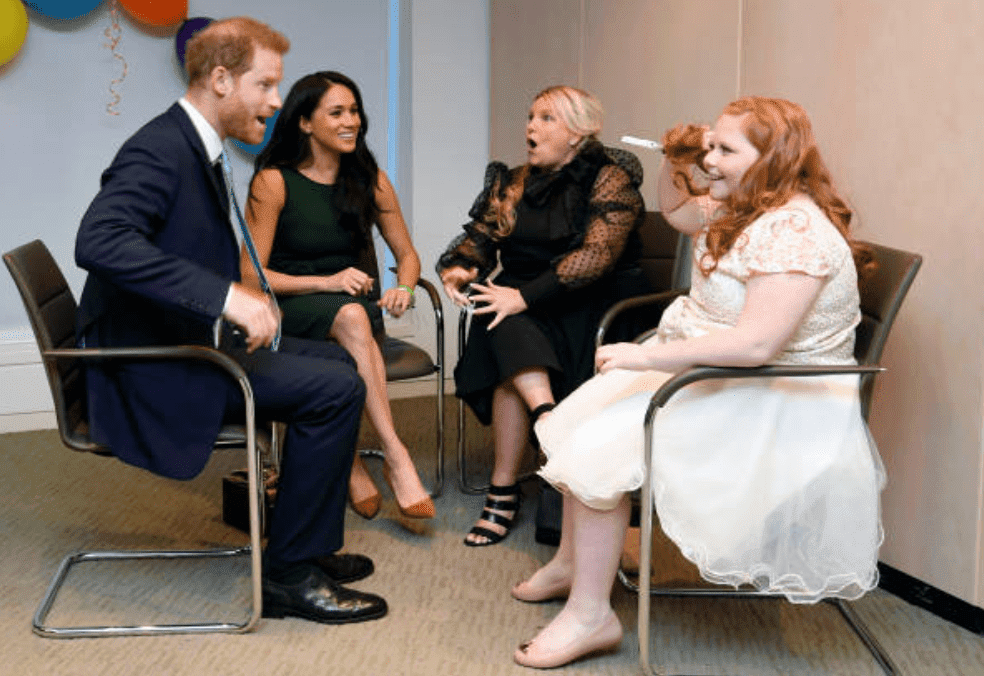 Before the awards, the royal couple were given the chance to meet with some of the invited guests. One of the nights most notable guests was 11-year-old Milly Sutherland. 
She was presented the award for the "Most Caring Child." During her chat with the royals, she shared a joke with Harry about their hair.
Harry compares skills with @WellChild's Most Caring winner and keen dancer Milly, 11, who cared for and protected her sister Sophie until she passed away last year. Sophie suffered from Aicardi Syndrome and a number of complex needs but Milly was always by her side. pic.twitter.com/Wmc7zopni2

— Omid Scobie (@scobie) October 15, 2019
It reported, Milly has spent most of her young life helping care for her sister, Sophie, who had Aicardi Syndrome and passed away in 2018.
While sitting down for a chat with Harry and Meghan, Milly looks at the Prince and says, "snap" and pulls at a lock of her hair to indicate she also has red hair like Harry, in response Harry jokes:
"Snap," giggling at her remark he adds, "Can I borrow some? Yours is prettier than mine... and you have more of it."
As Meghan and Harry share pleasantries with Milly and her mother, Angela Sutherland, they ask about Archie and if he has red hair. Angela recalls the conversation saying:
"Meghan said he has [red hair] and Harry said he definitely is [a redhead]; you can see it in his eyebrows. Harry said he'd had no hair for five months, but Meghan told him she had taken him to the playgroup and she said there were other children there with the same amount of hair or even less."
During a chat with Milly Sutherland (@WellChild's Most Caring Child Award Winner), Meghan shared that Archie went to his first playgroup today: "I just took Archie for his first class. It was a lot of fun. He loved it."
Milly and Harry also bonded about both being redheads pic.twitter.com/0QvdmVKjZ9

— Omid Scobie (@scobie) October 15, 2019
Milly can join the ranks of Ed Sheeran and Prince Harry who recently teamed up for a hilarious video that pokes fun at the famous red heads, Ed jokes:
"People don't understand what it's like for people like us…With the jokes and the snide comments. I just feel like it's time we stood up and said: 'We're not going to take this anymore. We're ginger – and we're going to fight."'
The video was shot in honor of World Mental Health Day. In it Ed mistakenly thinks the two are teaming up for a project to do with being a red head, instead Harry makes it clear that it is for mental health awareness.
Harry and Meghan's focus on mental health is the first initiative they are working on together with Prince William and Kate Middleton, since they agreed to split their charities