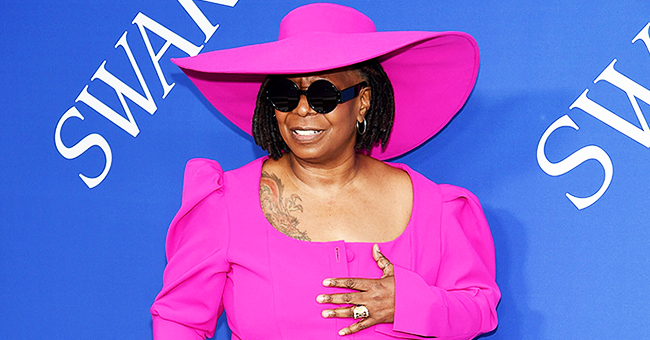 Getty Images
Whoopi Goldberg's Granddaughter Jerzey Dean Stuns in Tight Black Outfit That Shows Her Legs in New Photos

Jerzey Kennedy Dean, the granddaughter of widely acclaimed actress Whoopi Goldberg, celebrates "spooky season" wearing an all-black ensemble.
Jerzey is the product of Alex Martin, Whoopi Goldberg's only child's relationship with her husband, Bernard Dean.
The youngster is the spitting image of the Goldberg lineage in new pictures she shared via her Instagram, @jerzeykennedydean. There are five pictures in total, each featuring the young beauty in the same outfit, but shared at different times.
JERZEY OOZES CONFIDENCE IN ALL-BLACK FOR HALLOWEEN
In the first series, there are two photos of Jerzey wearing an all-black ensemble, which included a black hoodie, form-fitting trousers, and matching leather boots.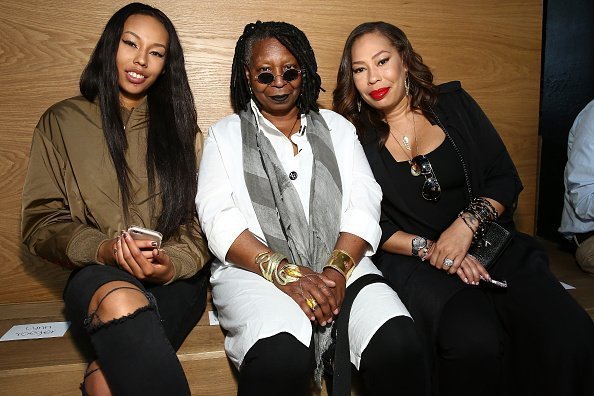 Jerzey Dean, Whoopi Goldberg and Alex Martin attend the Gypsy Sport fashion show during New York Fashion Week | Photo: Getty Images
She finished off the chic look with a black crossbody bag, and with her hair styled into tiny braids that fell past her shoulders cut into a half parting.
Jerzey oozed confidence making a stoic face as she posed bending low for shots in the first series. She made a different pose in the next post as she laughed while leaning against the wall while she placed one of her legs on the window sill.
JERZEY SHARED THE BLURRY PICTURES BECAUSE THEY SEEM A BIT SPOOKY PERHAPS?
The next series of photos total two like the first and features the 24-year-old equally bent low but, she looked straight at the camera affording viewers a clear look at her face in the first slide.
The next slide is blurry, much like the first set of pictures. The blurred quality of the photographs is made on purpose to add a tad bit of "spookiness" to the snaps.
Jerzey captioned the first series writing: "Spooky Season," alongside a ghost emoji while she captioned the last series paying tribute to American rapper, ASAP Rocky.
The caption reads:
"Got on all black like I'm ASAP."
WHOOPI GOLDBERG SHARES A CLOSE RELATIONSHIP WITH JERZEY AND THE REST OF HER BROOD
If the pictures are anything to go by, Jerzey is fashion-forward and very charismatic, like her award-winning grandmother and mother.
When Jerzey is not busy being her mother's daughter, she is making iconic spottings with Whoopi Goldberg about town.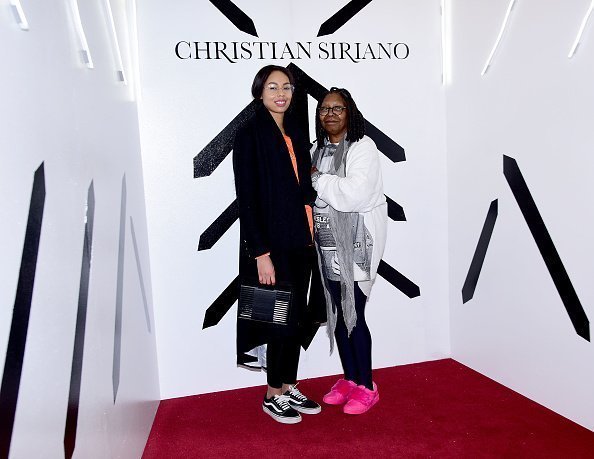 Jerzey Dean and Whoopi Goldberg pose backstage at the Christian Siriano show at The Grand Lodge on February 10, 2018 in New York City | Photo: Getty Images
In 2007, Goldberg revealed that her grandchildren, which also includes Amarah Skye and Mason Dean, look to her "for adventure," and she is more than happy to oblige them.
Thanks to her large brood, it can be said that Goldberg is a fulfilled family woman. In 2014, she celebrated becoming a great grandparent for the first time after Amarah Skye birthed daughter Charlie Rose.
Going by Alex Martin's success in entertainment like Goldberg, the Goldberg brood is one to watch out for!
Please fill in your e-mail so we can share with you our top stories!