The Parents of 'Property Brothers' Drew and Jonathan Scott Were Not Expecting to Have Twins
When siblings are young, most of them would compete over toys, food, space, attention, and pretty much everything else.
If things get complicated, though, the eldest one could always employ the "because-I'm-older-than-you" strategy and finish the discussion. However, things might get a bit complex with twins, as most of them are born only minutes apart.
"I guess I was sitting on his head in the womb."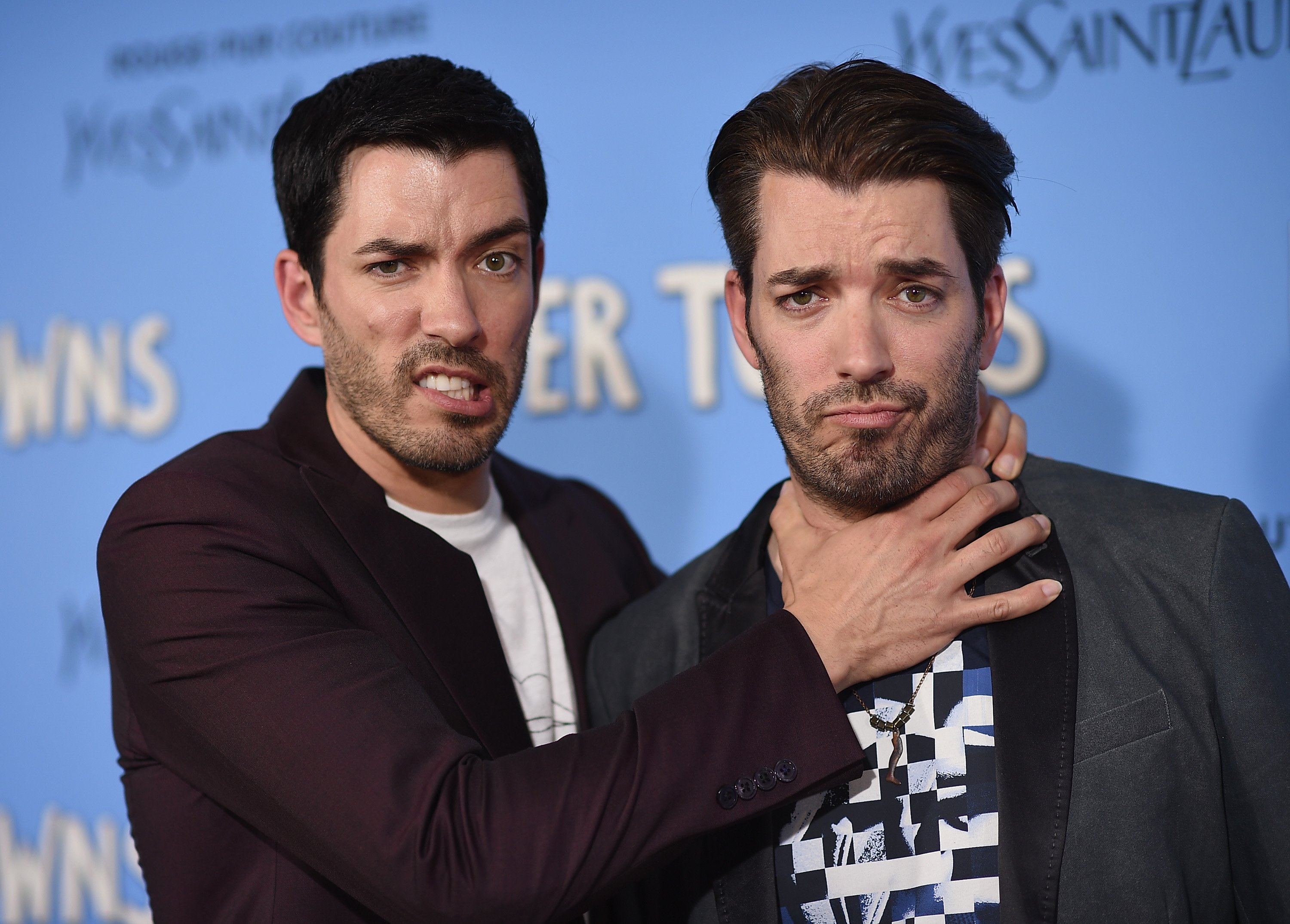 Drew Scott's Instagram post
That was the case with the "Property Brothers" stars Drew and Jonathan Scott. In a post that Drew uploaded to Instagram, he revealed a very little-known fact about the famous twin brothers: who was born first.
In the photo, the mother of the TV personalities appeared holding both of them when they were just babies. She was wearing a beige blouse with a black-and-white feather design all over it while looking at the camera with a slight smile on her face.
The babies, on the other hand, were rocking matching blue onesies that feature adorable white hoodies. The trio was posing at what appeared to be the family home.
Although the picture was certainly beautiful, the aspect of the post that attracted more attention was Drew's caption. First, he revealed that his parents didn't know they were having twins. He then added:
Details on their birth
"If you guessed [Jonathan] was born first on my #TriviaTuesday story-post today, you guessed right—Just a couple of minutes after he arrived a nurse announced, 'doctor, I think there's another baby.' and then, as my mom puts it, I 'magically appeared.'"
While Drew surprised his parents and the doctors, he was just as healthy as Jonathan, so his parents only had to worry about doubling everything they had already bought for Jonathan.
During an interview that the siblings had with Glamour, they dug deeper into their birth. Drew pointed out that doctors didn't perform an ultrasound and, every time they would check on the babies' heartbeat, they were in sync.
The doctor even told their parents that they were having a "big baby." Apart from that, the younger brother said:
"Jonathan came out with a flat head, and I guess I was sitting on his head in the womb and gave him a nice ass print."
Some little-known facts of the twins
Most die-hard "Property Brothers" fans might believe that they know enough about the twins. However, there might be a few unknown aspects that are definitely worth it to check. They play the bagpipe, for example.
Due to their Scottish heritage, they were competitive bagpipe players when they were young. Jonathan, though, claims that he was the one winning all the medals.
Before they became the famous TV personalities they are nowadays, the twins had to earn a living. When they were only eight years old, their father urged them to get a job, so they became apprentice clowns. About the experience, Jonathan said:
"We saw that there was an ad, like, 'learn how to be a clown, and you'll be hired for parades.' We thought, 'that sounds awesome!' We did that. We were actually making pretty good money as kids.'
They are actors and comedians
Another interesting aspect about them is that they are actors and comedians, as well. Both of them worked on the Canadian TV series "Breaking High," and, later, Drew would appear on "Smallville" while Jonathan worked on "The X-Files."
As per their comedy side, they started in an improv sketch group and usually do sketch comedy and stand-up shows. However, they are primarily focused on their TV show "Property Brothers."
Their romantic lives
Nowadays, both are taken. In Drew's case, he has been married to Linda Phan since May 2018. They tied the knot in an outdoor ceremony in Italy accompanied by more than 300 guests.
Although he probably has a very tight schedule, Linda is the creative director for Scott Brothers Entertainment, which means that the couple work next to each other regularly.
Jonathan, on the other hand, has had a hard time to find "the one." He was married to WestJet crew scheduler Kelsy Ully between 2007 and 2013. Shortly after that, he and Jacinta Kuznetsov dated for a long time but eventually split in 2018.
At the moment, Jonathan is dating "New Girl" actress Zooey Deschanel. Their first public date took place in mid-September, and photos of the couple walking next to each other while holding hands where shared on the Internet.