Meet Alex Trebek's Ex-Wife Elaine Trebek Kares 38 Years after Their Divorce
"Jeopardy" game show host, Alex Trebek, has tied the knots twice. His first marriage was to his ex-wife, Elain Trebek, with whom he shares a beautiful daughter.
Since his first divorce, reporter and game show host, Alex Trebek has stuck to one woman for over three decades. One can't help but wonder why his previous marriage ended in divorce despite him being such a family man who holds the institution of marriage most dear.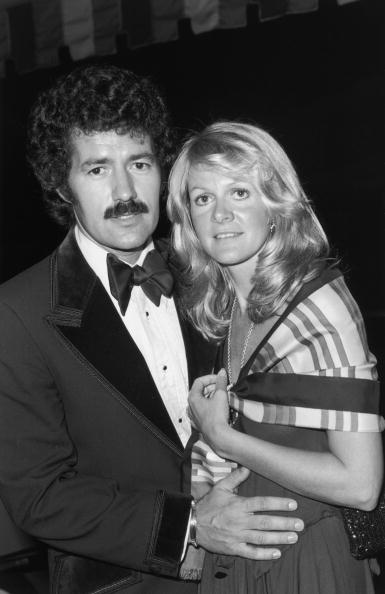 ELAINE TREBEK BIO
The hidden truth lies within the story of the television personality's first wife, Elaine Trebek. Elaine Trebek Kares, known to most as Elaine Callei, is an American Broadcaster, entrepreneur and businesswoman, who started as a journalist. Although her place of birth is known to be Columbus, Ohio, other details surrounding her birth remain vague. 
However, her days as a popular figure came in the 60s, when she became widely identified as a Play bunny, a venture she hoped would boost her chances of becoming a professional model.
The former wife of Alex Trebek earned a degree in journalism from the Ohio State University for Journalism, which she attended immediately after high school, graduating in the '60s.
ELAINE TREBEK CAREER
Elaine moved to Canada with her first husband, where she started her first business, a party planning venture, and later signed up as the host of a daily talk show on CHCH-TV, "Call Callei." While on the show, she was reputed for discussing sexually explicit topics. Her uncensored sexual discussions earned her much popularity and backlash from viewers who thought the topics inappropriate.
A controversial interview on her talk show with Xaviera Hollander was the last straw pulled by the former playboy bunny before the Canadian radio-television and telecommunication commission intervened to bring an end to her inappropriate interactions.
After her run on the talk show, she went on to become a co-host on "Canada Am," which she also quit eventually. Years later, she launched a perfume business, Scent Seal, which was followed by a multimedia music distribution firm, Mag-a-Music.
The Scent Seal founder is also the founder of gallery GO, an art gallery in LA which boasts of patronage by high-profile citizens and celebrities. Through her numerous business ventures, the entrepreneur has amassed a net worth of $15 million.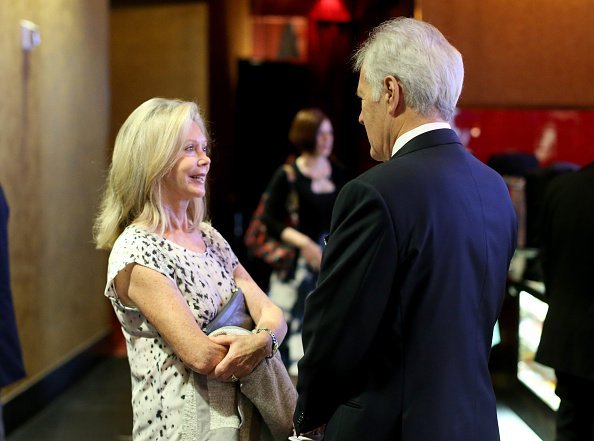 ELAINE TREBEK PREVIOUS MARRIAGES
Before her marriage to the "Jeopardy" host, the businesswoman was wed to her first husband, Louis Callei. The two got married in Ohio but moved to Toronto, Canada, shortly after. In 1994, Elaine and Louis got divorced, and the broadcaster married Alex that same year. Her marriage to Louis was blessed with a daughter, Nicky, who was later adopted by her second husband.
Elaine's marriage to Alex ended after eight years together. In March 2001, she tied the knots with a third husband, Peter Kares, a movie producer, and their union has lasted to date.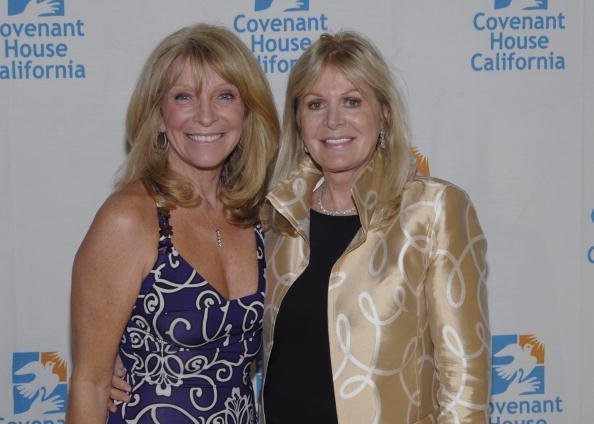 INSIDE ELAINE'S MARRIAGE TO ALEX TREBEK
The former playboy bunny's marriage to Alex happened in 1964. At the time, the "Jeopardy" host was already a famous personality, with a successful TV career, but hadn't begun his run on the game show. They had no kids together during their seven years as a couple, but the game show host adopted Elaine's daughter, Nicky, who now bears his last name. TheElaine and Alex Trebek divorced in 1982.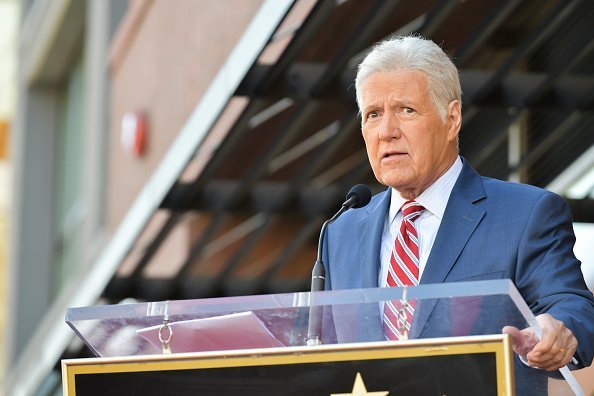 ELAINE TREBEK'S DAUGHTER
Nicky Trebek is the former television presenter's only child. She was only six when she got a new stepdad who eventually became her adoptive father. She began her career on her dad's game show, "Jeopardy," as part of the production crew, and have since gotten production positions on several other television shows and films.
Aside from her production works, Alex's adopted daughter also ventured into modeling, and later, music and record productions. Although raised by her mom, she grew up as part of Trebek's family and have a close relationship with Alex Trebek's wife and other kids.
ALEX TREBEK'S CURRENT WIFE
Eight years after his divorce from Elaine, the gameshow host found his soulmate, Jean Currivan, with whom he has two children, Emily and Matthew.
Jean Currivan Trebek is an American businesswoman and former real estate realtor born in 1963. Although the couple has a 26-years age gap, their marriage has stood the test of time.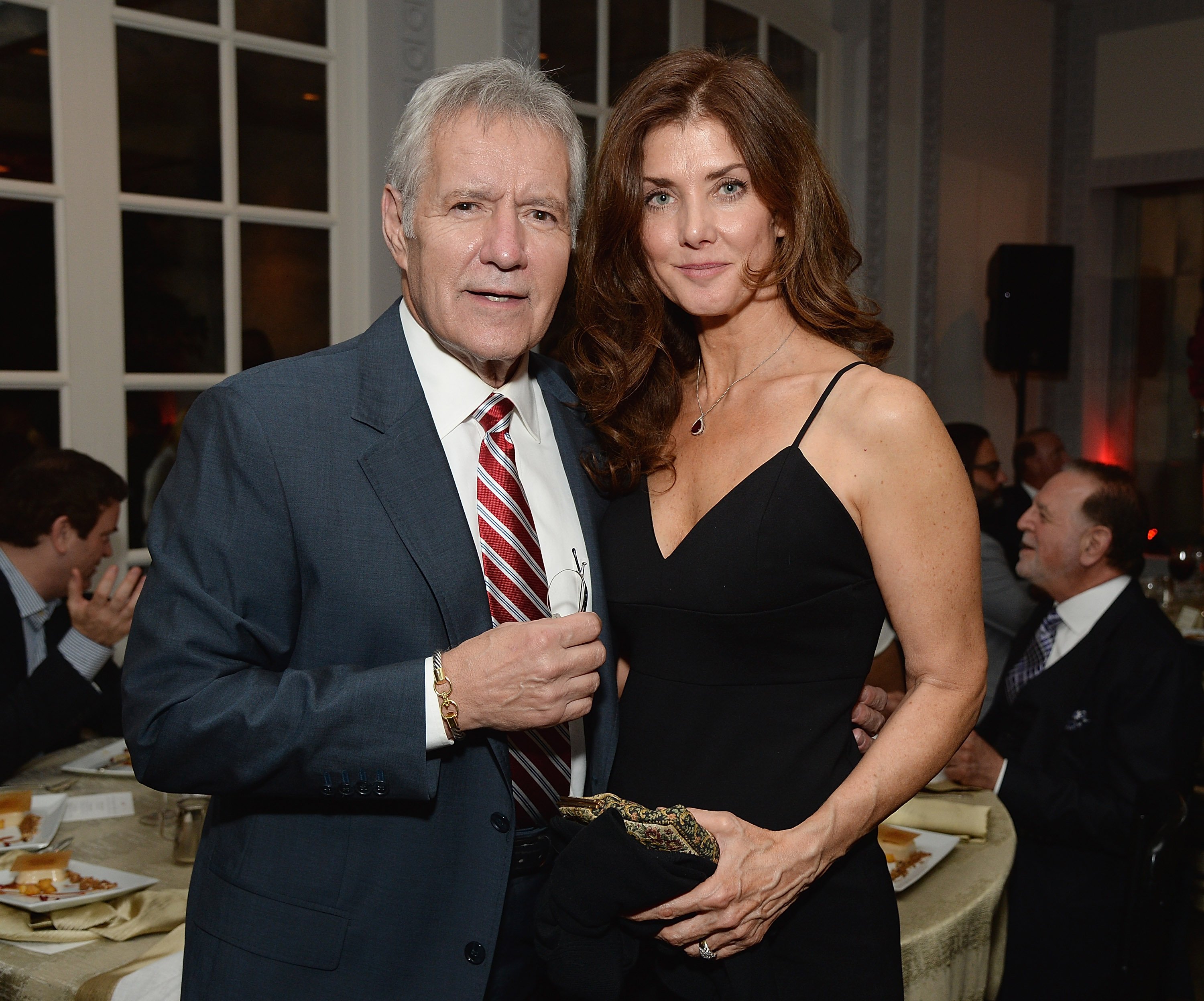 ALEX TREBEK'S CHILDREN
In addition to his adopted daughter, Alex Trebek has a 26-year-old daughter, with his younger bride, as well as a son. The 79-year old's son, Matthew Trebek, grew up to become a successful restaurant owner in New York.
Matthew's sister, Emily Trebek, followed in her mom's footsteps, becoming a successful real estate realtor.
Happy #FathersDay! Emily shares a particularly memorable moment with her dad, Alex Trebek: https://t.co/exkKHfNRzk👔🎨 pic.twitter.com/PZuhFPH51b

— Jeopardy! (@Jeopardy) June 19, 2016
ALEX TREBEK'S NETWORTH
With an annual salary of $18 million, from his gameshow hosting career, according to Celebritynetworth.com Alex Trebek's net worth as of 2019 is $75 million, a whopping $25 million addition to his 2018's net worth of $50 million.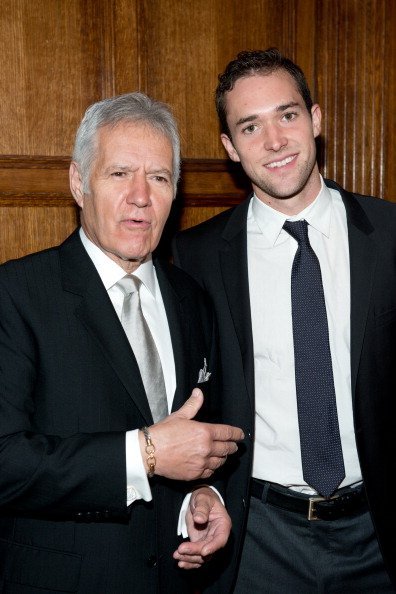 ALEX'S HEALTH STRUGGLES
It seems Alex Trebek's age is taking a toll on him. After being diagnosed with Subdural hematoma in 2017 following a head injury from a fall, the 79-year-old was faced with another health challenge this year. 
Alex announced in March that he was diagnosed with stage 4 pancreatic cancer and has undergone a series of chemotherapy. The TV host is determined to overcome this health-threatening challenge and has worked earnestly with his doctors to see that he goes on total remission.