Kirk Douglas Turns 103 and His Family Shares Loving Tributes to the 'Spartacus' Actor
Kirk Douglas just hit a significant milestone with his 103rd birthday, and his family took to social media to share heartfelt words in celebration of their patriarch.
Kirk Douglas is 103, and ageing like fine wine! The "Spartacus" star hit the age milestone hale and hearty, and his family is celebrating him on Instagram with heartfelt words. The celebrant's son, Michael Douglas, led the charge, calling his father a living legend, whom the whole family is sending love to.
Michael's wife, Catherine Zeta Zones, called the older man "Pappy" alongside a photo of the two of them sharing a hug, adding that she loves him with all her heart. She said:
This guy on my knee, is 103!!!!!Happy Birthday Pappy!!! I love you with all my heart.
The next tribute came from Carys Douglas. She shared a throwback photo of her grandfather's younger self and thanked him for sharing his love and light with the world for 103 years. 
In her words:
"Happy birthday to my wonderful Pappy! 103 years of sharing your love and light to the world, being the best grandfather, and being a complete badass. I love you more than words can say."
Cameron Douglas, Kirk's grandson, joined in with a photo slide that showed him with his grandpa, and other members of the family. He described the celebrant as a gift to the world; a guiding light, and source of inspiration.
Cameron's wife, Viviane Thebes, wrote alongside a photo of the aged actor and his great-granddaughter, Lua, that he is a real gentleman and a very loving great-grandfather. Dylan Douglas shared a photo slide, including a throwback black and white photo of Kirk looking handsome, and wrote alongside it,
"They say time changes everything, and to some degree, I agree. However, class is timeless, and the undisputed king of class is Kirk Douglas. Happy birthday Pappy 103!! I love you."
The actor's family has always celebrated his birthdays, and the Douglas family are a tight-knit group. When Michael and Catherine celebrated their 19th wedding anniversary earlier this year, the celebrant wished them a happy anniversary in a letter shared by his daughter-in-law on Instagram, and he joked that his son learned to stay married by listening to his wife.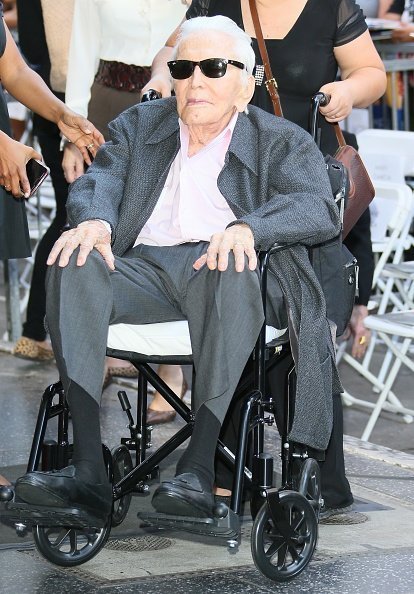 Kirk came into the world in 1916 in Amsterdam, New York, and his parents were Jewish Russian immigrants. He is the only boy among six sisters, and rose to fame after appearing on "The Strange Love of Martha Ivers."
The actor had a lot of success throughout his active years, with a lot of positive reviews. Through it all, he had and continues to have the love, and unconditional support of his family.