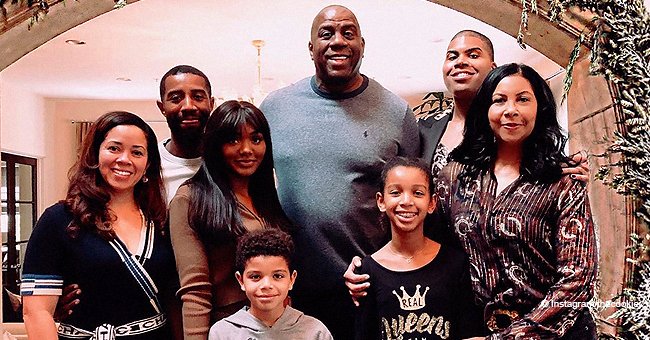 Instagram/thecookiej
Magic Johnson, His Wife, Kids, Grandkids & Daughter-In-Law Glow with Joy in a New Christmas Photo
Following celebrity social media holiday tradition, the former NBA star posed for a full family Christmas picture at his home, to his fans' delight.
60-year-old retired basketball legend Magic Johnson enjoyed the precious opportunity of getting his entire family together, including his daughter in law and his grandchildren, and his wife took to his Instagram to share the happy reunion.
"Merry Christmas from our family to yours," 60-year-old Cookie Johnson captioned the group portrait. While Magic's younger son EJ is already a famous reality star on his own right, his siblings are lesser-known.
ANDRE JOHNSON
Magic's elder son Andre is rarely seen in public with his family, but he is actually very close to his father and his younger half-siblings. Andre is the son of Melissa Mitchell, with whom Magic has a relationship before marrying Cookie in 1991.
38-year-old Andre is in the gaming business and is Vice President of Business Development for Mythical Games. He is married to Lisa and the two share daughter GiGi and Son Avery.
ELISA JOHNSON
23-year-old Elisa is Magic and Cookie's only daughter. The couple adopted her in 1995 since they wanted to keep expanding the family but given Magic's HIV diagnosis, they wouldn't risk having another biological child.
Elisa lived a nightmare early in 2019 when she had to escape from a home invasion through a broken glass window, and she recently showed the scars the incident left her, assuming them as a testimony of her journey.
EJ JOHNSON
27-year-old Earvin "EJ" Johnson III raised to fame after he was outed as gay by TMZ in 2013, which he used to his favor to go on an become a reality TV star and a champion of the LGTBA community.
EJ was part of the reality series "Rich Kids of Beverly Hills" and later had his own reality, "EJNYC," about his lavish life in New York City, but he seems to be disappointed about it and is taking acting lessons and thinking about a career in fashion.
RUMORED LOVE CHILD
Magic might be a committed family man today, but he use to have a bad reputation as a womanizer who had encounters with "thousands" of woman at the peak of his career, and in 2017, he faced accusations of fathering a love child.
A woman from Atlanta named Renee Perkins claimed that Magic got her pregnant in 1982 and refused to take responsibility, allegedly abandoning her after a year-long relationship as soon as he learned of her pregnancy.
Perkins filed a paternity suit against Magic that same year, but she couldn't keep up with it since she couldn't afford an attorney. This surfaced only decades later after Radar Online reported it. These claims have never been proven or denied.
Please fill in your e-mail so we can share with you our top stories!