Madame Tussauds London Moves Meghan & Prince Harry's Wax Figures from Royal Family Set after Stepping Back News
Madame Tussaunds London shared a picture of their new display for the royal family, and revealed that they has removed Prince Harry and Meghan Markle's wax figures.
Madame Tussaunds museum in London has responded to the news that Prince Harry and Meghan Markle have decided to step back as senior members of the royal family, by changing their display.
The museum has removed both Harry and Meghan's wax figures, which previously stood alongside Queen Elizabeth, Prince Philip, Prince William, and Kate Middleton. Madame Tussaunds tweeted:
"We've got to respect their wishes #Megxit."
We've got to respect their wishes 🤷‍♂️ #Megxit pic.twitter.com/mb936VcqRd

— Madame Tussauds London (@MadameTussauds) January 9, 2020
According to CNN, the wax figures cost $195 000 to make. Meghan's statue was revealed last year shortly after the royal wedding. 
Madame Tussaunds museums in both their London and New York locations have removed Meghan and Harry's waxworks from their royal family sets.
The museum has taken a comical approach to their bold move by promoting the couple's latest trending hashtag; #Megxit. In a press release, cheekily titled press release "Sus-SIX degrees of separation," it said:
"Last night, the Duke and Duchess of Sussex shocked the nation by announcing that they are to step back as senior members of the royal family…To reflect the upcoming change in the royal line-up, Madame Tussauds London will be moving its Harry and Meghan figures from its royal set with immediate effect."
The general manager at Madame Tussauds London told CNN that the waxworks were removed in reaction to the couple's shocking announcement, he added:
"As two of our most popular and well-loved figures they will of course remain an important feature at Madame Tussauds London as we watch to see what the next chapter holds for the them."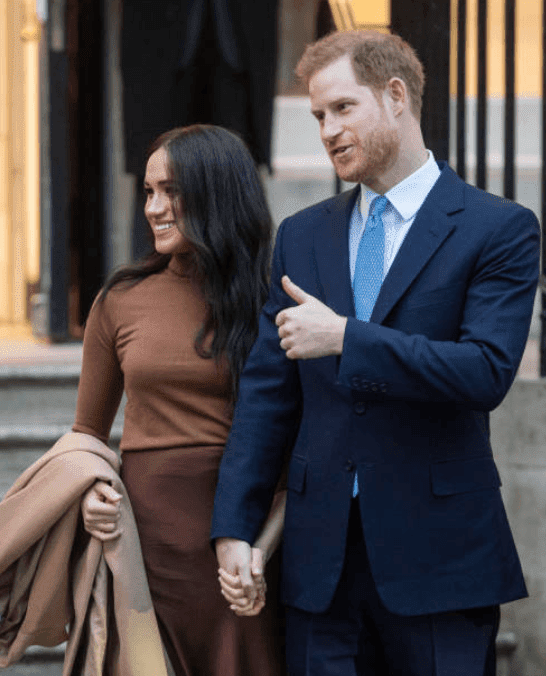 Bazaar
 reports, the news of the couple leaving their royal life should come as no surprise to the public because Harry had hinted in a past interview his plans to one day forge a different future for himself.
In 2017, Harry told Daily Mail that he had struggled for many years dealing with life as a Prince and had a deep desire to live a normal life, while still making his mark on the world.
Madame Tussauds might have to hold onto the waxworks as they royal family work on adjusting to the news of Meghan and Harry's departure.
Within hours of their announcement, Queen Elizabeth released a statement that revealed that they are in discussions with the couple and are trying to work through "complicated issues."