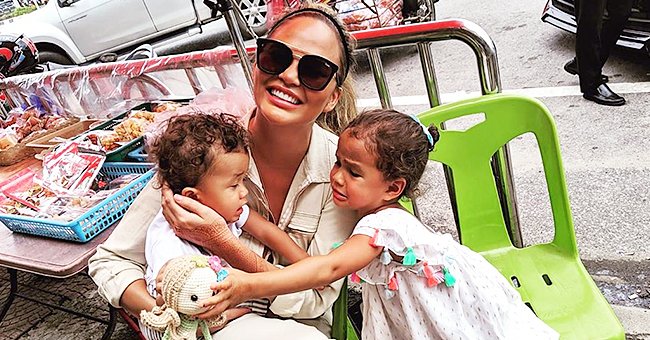 instagram.com/chrissyteigen
Chrissy Teigen's Daughter Luna Tries to Help Brother Miles up Their Playhouse Climbing Wall in Sweet Video
Chrissy Teigen's kids are just like any other siblings: they often don't get along with each other. Thankfully, things are starting to turn around for the pair.
Chrissy Teigen and John Legend's adorable kids Luna and Miles Stephens have had nearly two years to sort out their differences — though we're not sure what those might be.
The result is the most heart-melting clip which mom Teigen shared on Instagram Sunday. In it, we see as Luna behaves like a sweetheart to her baby brother. The post is found below.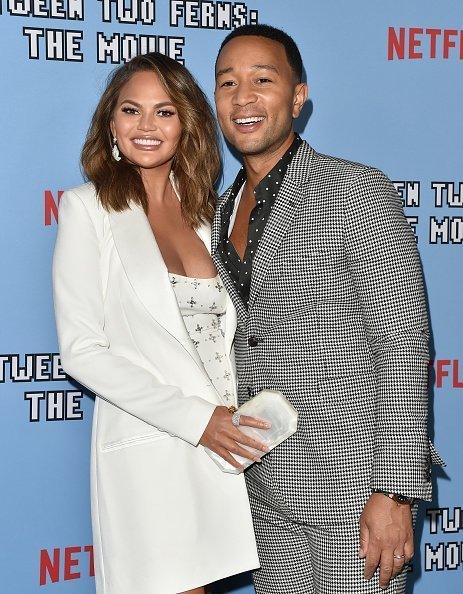 Chrissy Teigen and John Legend at the LA Premiere of Netflix's "Between Two Ferns: The Movie" on September 16, 2019 | Photo: Getty Images
The kids go wall-climbing
Luna, three, appeared to be outdoors sitting at the top of a kids' rock-climbing wall. At first, she sits cross-legged wearing a sizeable red hoodie and cream shoes and socks.
In her adorable voice, she says, "Miles, come come! It's ok. It's ok!" With that, we see little Miles' head pop into the frame from below. His curly hair is distinct.
Luna's precious grunts of effort
Little Luna unzips her hoodie while her brother grabs at the assistive pieces on the wall. When she sees that he's not getting up, she leans down.
Luna grabs at her one-year-old brother's hand but to no avail. "Miles! she screams, and with a slightly exasperated grunt: "I cannot reach you."
Kim Kardashian comments
She repositions herself to try and get a better angle, but Miles' attempts don't look promising. The clip ends — too soon, for sure — with Miles still on the ground.
In the caption, Teigen said it took two years for Luna to love her brother. Meanwhile, Kim Kardashian of "Keeping Up With the Kardashians" was just like the rest of us in the comments.
Luna displays all-red selection
Luna's red hoodie in the clip made it's debut just a day before in a cute photo her dad shared on Instagram. It featured the little girl looking candid but stylish.

Kim Kardashian West comments underneath Chrissy Teigen's post of kids | Photo: Instagram/ Chrissy Teigen
In his caption, Legend noted that his daughter had styled herself, and most in the comments agreed that she did a great job. Luna was rocking an all-red ensemble.
Underneath the red hoodie, she wore a light crimson dress. She paired it with bright red socks or leggings and wrapped up with some red cowboy boots.
Luna and Miles rock chic fur coats
Last December, Miles joined his sister for some awe-inducing fashion moments when he donned some faux fur at home. Teigen shared the cute pictures.
In the first, Miles stood wearing a large brown fur coat that covered his entire little body. He stood near a wooden table on an off-white rug, perfectly matching the decor.
In another post, we see Luna looking care-free and confident rocking a pink faux jacket — that actually fit her — in front of a fireplace. No shoes needed here.
The tot looked quite the little lady with her legs crossed as she wore a serious expression and looked off in the distance. Someone's inherited her mom's modeling genes.
Please fill in your e-mail so we can share with you our top stories!