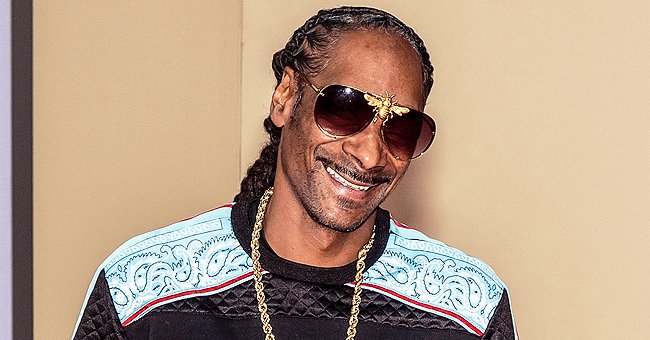 Shutterstock
Snoop Dogg Shares New Photos of Grandson Zion in Jeans & Black Jacket from His Upcoming Retail Line

Two Instagram posts by rapper Snoop Dogg featuring his grandson, Zion, were enough to leave the hearts of many of the rapper's fans melted.
Snoop Dogg posted a photo of the cute Zion Kalvin wearing a black jacket and jeans, which he paired with yellow sneakers.
The five-year-old sat laid back on the top of a building. His proud granddad captioned the post, "Born fly @zionkalvin. @snoopysclothing."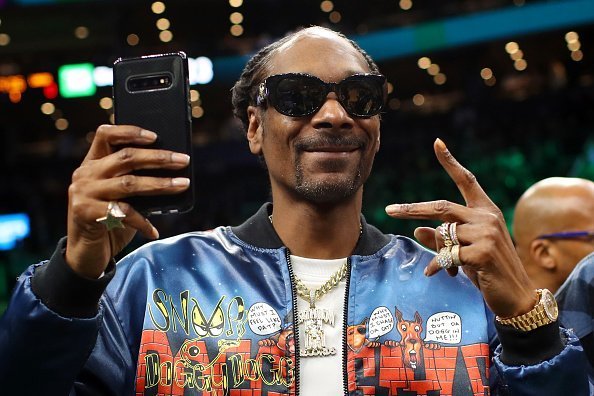 Snoop Dogg courtside at the game between the Boston Celtics and the Los Angeles Lakers at TD Garden on January 20, 2020 in Boston, Massachusetts.| Photo:Getty Images
Zion proved to be a good model for Snoopy Clothing's new kid jacket collection, as Snoop Dogg also posted another photo of Zion, who this time turned his back on the camera. He captioned the post, saying:
"Grandson got my back... @zionkalvin. Jacket 4 kids available at @snoopysclothing may.2020."
Many of Snoop Dogg's fans commented on the posts, and were in awe of Zion, as well as the jacket, with some saying they couldn't wait to get some for their kids.
Zion recently marked his 5th birthday on January 10, and his grandmother, Shante Monique Broadus, was on hand to celebrate it with him. She shared two pictures of them on her Instagram page.
The rapper welcomed his second grandchild in 2018 when Corde and his spiritual guru, Soroya Love, gave birth to their daughter, Eleven.
The first picture showed Zion, in an all-blue Adidas ensemble posing for a shot with Shante, while the second photo showed grandma and grandson all smiles, and looking cute together as they posed for the picture.
In her caption, to the post, proud grandmama Shante Broadus had nothing but sweet words for her grandson, Zion. She wrote:
"My Doodle Turned Five 1-10-20 [emojis] He's My First #ZionKalvin I Love You @zionkalvin Hope You Enjoyed Your Day #MamaTae [emojis]."
Zion Kalvin is Snoop Dogg's first grandchild and is the son of the rapper's eldest child, Corde "Spark" Broadus, and then-girlfriend, Jessica Kyzer. The rapper was elated at the news of Zion's birth.
Snoop shared a video of Corde carrying the newborn Zion in his arms on Instagram, along with a caption where he said he was a proud granddad.
The rapper welcomed his second grandchild in 2018 when Corde and his spiritual guru, Soroya Love, gave birth to their daughter, Eleven. Eleven was born, naturally, a feat that made her mother most proud.
She shared a video on YouTube, where she spoke about the joys of natural birth. Snoop Dogg, meanwhile, could be gearing up for the delivery of his third grandchild.
It was after his son, Cordell Broadus, revealed via an Instagram post that he and his model girlfriend, Phia Barragan were expecting a daughter, along with a photo of her baby bump.
Please fill in your e-mail so we can share with you our top stories!