Steve and Marjorie Harvey Celebrate Season 1 of 'Family Feud' South Africa & Ghana in New Photo
Steve and Marjorie Harvey toasted to the premiere season of "Family Feud" in Africa in the heels of the comedian's 63rd birthday.
Steve Harvey and his wife, Marjorie have high hopes for the first season of "Family Feud" in Africa. In fact, the husband and wife shared a toast to the new show recently.
News of the game show franchise setting foot in Africa first made waves in August. Steve, through his media company, Steve Harvey Global, had obtained the rights to license the African format of the Fremantle show. Now it seems everything is set as he and his wife raised their glasses to toast the beginning of a new era for the long-running program.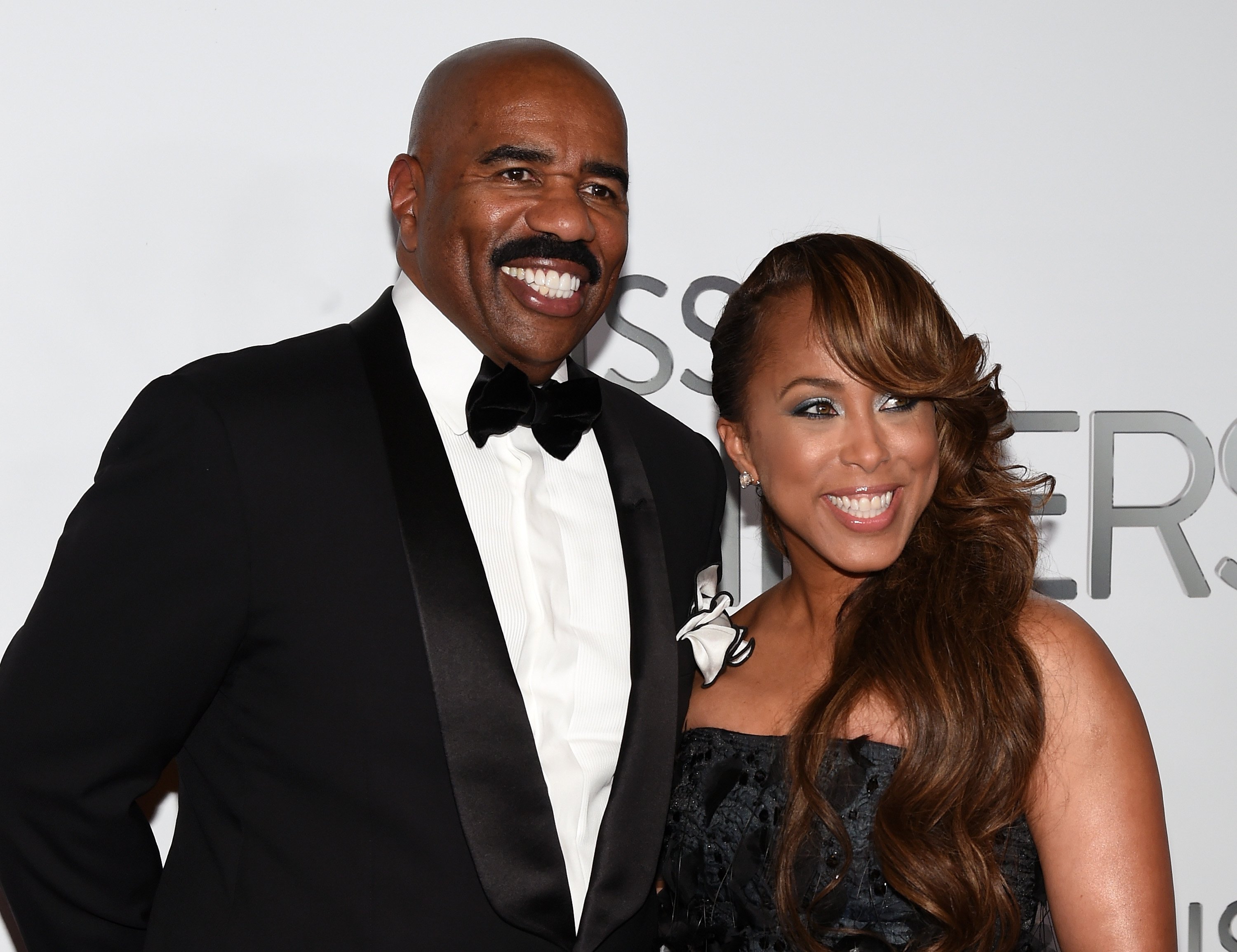 A TOAST TO NEW SHOWS
Marjorie took to her Instagram this week to share a photo from Johannesburg, where she and Steve seemed to have sealed the fate of "Family Feud" in that region.
"Cheers to a successful Family Feud season 1 South Africa and Ghana," wrote the supportive celebrity wife to accompany the pic. In it, she's raising a glass of wine together with her husband and two other people.
The African edition of "Family Feud" is reportedly set to kick off in the second quarter of 2020. Production already began in Johannesburg in the last quarter of 2019.  Both shows in South Africa and Ghana is being produced locally by Fremantle's partner in the region, Rapid Blue.
The Harveys' celebratory toast comes in the heels of another celebration marking Steve's 63rd birthday.
ON EXPANDING "FAMILY FEUD"
Steve has been the host of "Family Feud" in the US since 2010 and is on his way to becoming the longest reigning host in the show's history. On its expansion, the famous host said it has always been his dream to bring it to Africa.
"I believe Family Feud will become a household name for local South African and Ghanaian families. And this is just the beginning in Africa. I expect this show to lead to multiple media and business projects in and throughout the continent."
TURNING 63
The Harveys' celebratory toast comes in the heels of another celebration marking Steve's 63rd birthday. Marjorie made sure to shower him with love as he turned a year older in Johannesburg. She shared a clip of them having breakfast together and dedicated a birthday post for him.
The mood turned slightly sour when Marjorie shared a video of Steve's "Birthday Behavior." It seems he was very particular about his birthday pizza that day and lashed out at a woman who tried to order something else. Apparently, Steve wanted a Supreme pizza from Pizza Hut, and the woman suggested to order another kind too. He wasn't too happy about the comment, so he told her to shut up.
Steve and Marjorie have been married for over a decade. They first met in 1990 then reconnected in 2005. They finally tied the knot in 2007. The couple's blended family is comprised of seven children and five grandchildren.
Steve was previously married and divorced twice while Marjorie was once married. Several allegations of cheating threatened their marriage in the past but the couple proved their love is stronger.