Steve Harvey of 'Family Feud' Fame Is a Doting Father of 4 Children from His First 2 Marriages — Meet Them All
Steve Harvey has four children from his first two marriages who keep a low profile, despite their celebrity dad.
Besides Marjorie Harvey's three children, Steve Harvey had 4 children of his own from his first two marriages to ex-wives Marcia Harvey and Mary Shackelford.
Steve is the proud dad to two girls, and two boys - all grown up and active in the community, and in the arts - just like dad.
When Steve Harvey announced that he intended to marry Marjorie Bridges, his four children weren't exactly thrilled.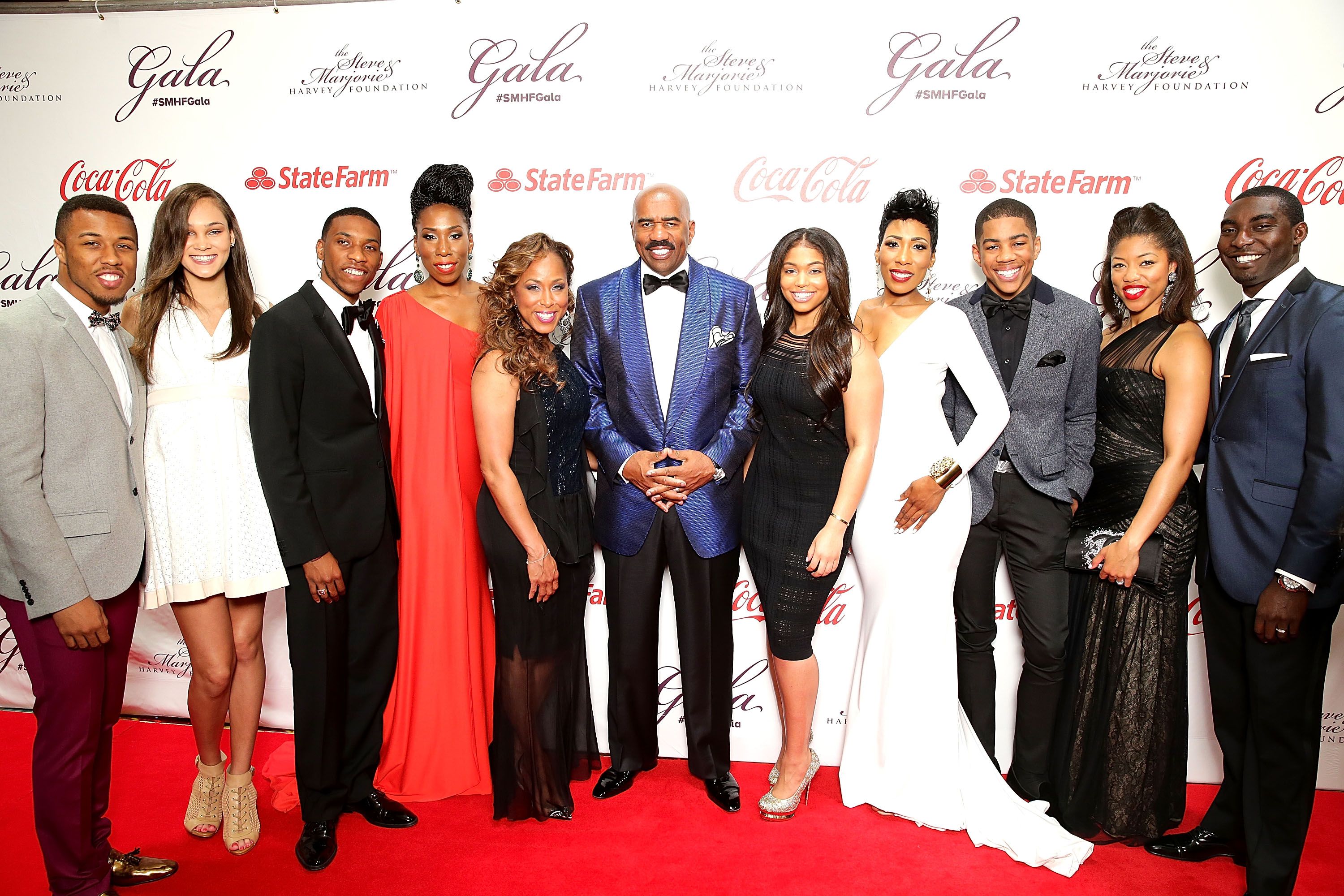 STEVE HARVEY FATHER OF FOUR
Steve, who married his first wife, Marcia Harvey, in 1980, shares three children with her.
His two oldest daughters are twins, Brandi and Karli, 38, and son Broderick is 29, born just 3 years before his parents' divorce.
THE PHILANTHROPIC HARVEY TWINS
The Harvey twins are both involved in motivational speaking, and Brandi has founded a women's wellness website called Beyond Her. Brandi is single, but her sister Karli is married to Ben Raymond and they share a 4-year-old son.
STEVE HARVEY'S OLDEST SON
Broderick Harvey has a passion for fashion, a strong social media presence, and designs for Need Money Not Friends. He's not married, but he is a dedicated uncle to his nieces and nephews. 
THE YOUNGEST SON
Steve shares his youngest son with second wife Mary Shackelford whom he married in 1996⁠.
Winton is a gifted photographer and a model and occasionally served as a He has served as a special guest host on his father's talk show.
The Harvey clan is growing, with the blended family comprising of 7 children and 5 five grandchildren: Benjamin, Elle, Noah, Rose, and Ezra.  
STEVE HARVEY'S CHILDREN DIDN'T APPROVE OF HIS MARRIAGE
When Steve Harvey announced that he intended to marry Marjorie Bridges his four children weren't exactly thrilled.
In fact, the 4 Harvey children made their displeasure known - as did Marjorie three children, Morgan, Jason, and Lori.
Steve lay down the law with Karli, Brandi, Broderick, and Winton, saying:
"Look, you don't like it? Deal with it. I don't need y'all's permission."
Marjorie echoed the same sentiment to her own kids, and the couple tied the knot despite their offspring's objections.
13 years later, the two are known as one of the most successful and happy couples in showbiz.
Mom and dad do know best!