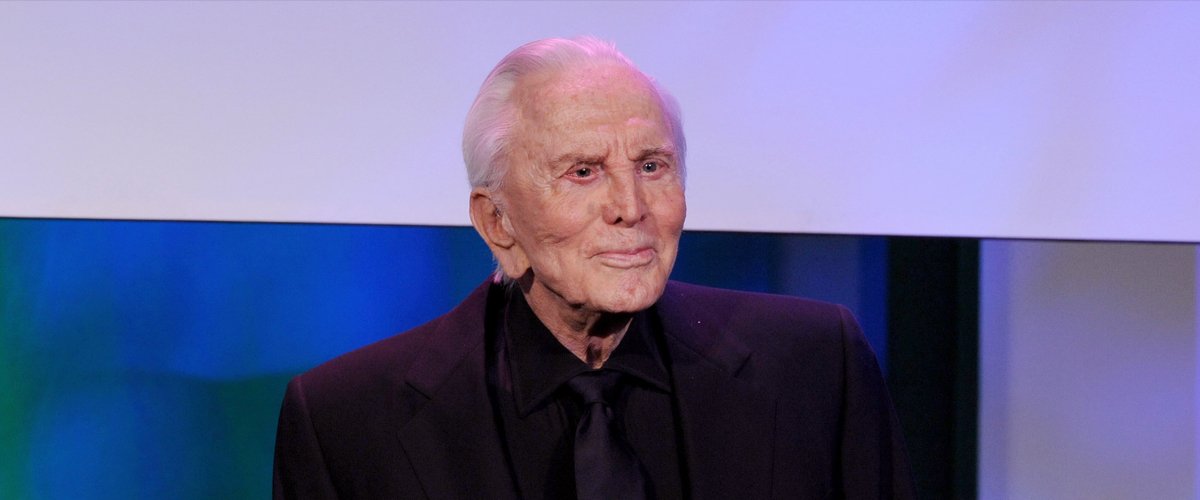 GettyImages
Kirk Douglas Once Admitted That He Never Thought He Would Live to 100
Veteran actor Kirk Douglas passed away on Wednesday only two months after celebrating his 103rd birthday. However, the "Spartacus" star once admitted he was shocked he lived to celebrate his centenarian.
The entertainment industry is mourning the loss of one of the greatest actors from the golden age of Hollywood: Kirk Douglas.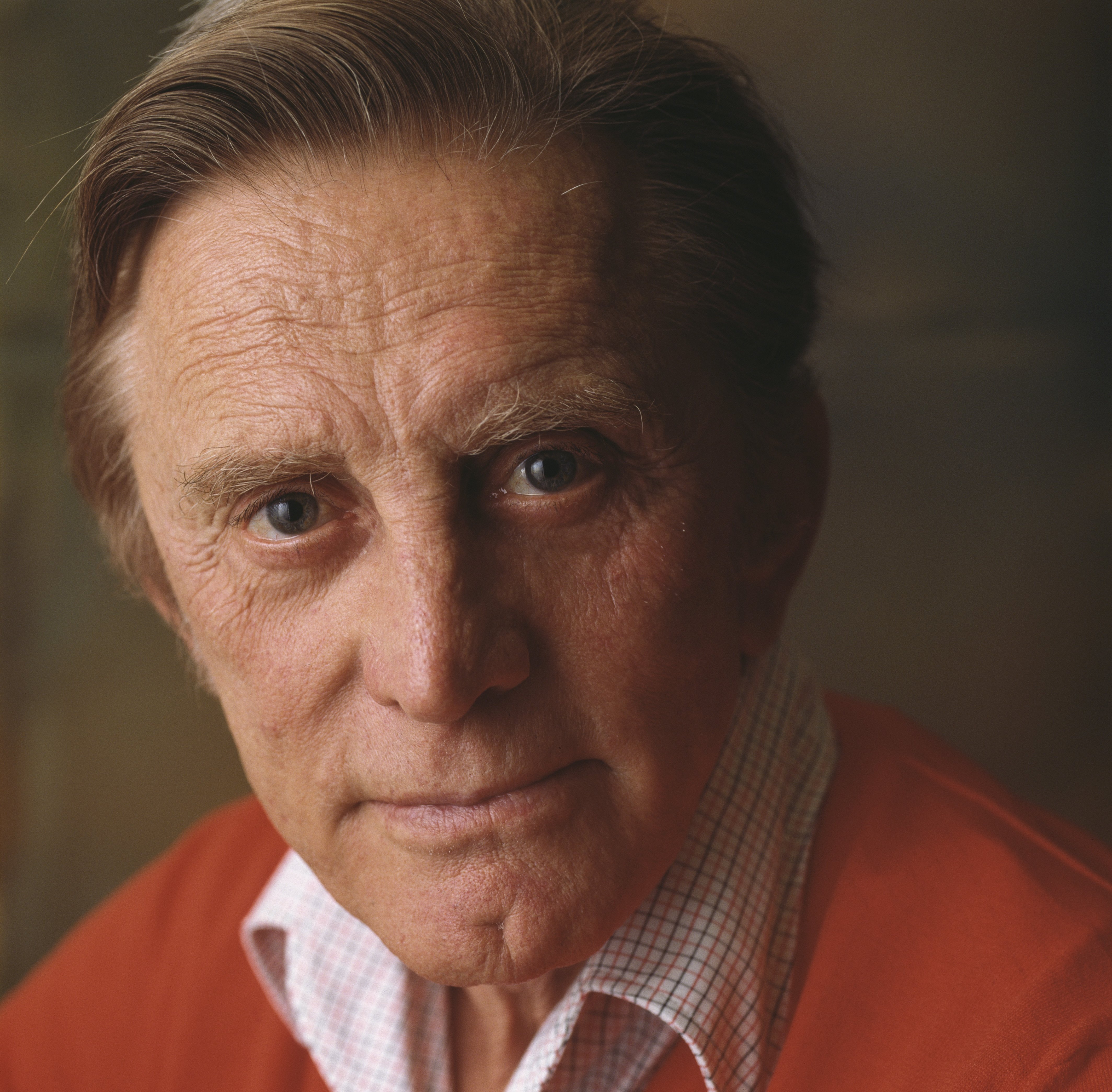 American actor Kirk Douglas, circa 1990. | Photo: GettyImages
The father of four, known for films such as "The Bad and the Beautiful," "Lust for Life," and his biggest hit, "Spartacus," passed away on Wednesday, February 5, as informed by his son Michael Douglas in a statement that read in part:
"Kirk's life was well-lived, and he leaves a legacy in film that will endure for generations to come, and a history as a renowned philanthropist who worked to aid the public and bring peace to the planet."
THE DOWNSIDE OF TURNING 100
Douglas's had an almost four-decades-long career that came to a halt in 1996 when he suffered a stroke.
Still, although he never fully recovered, Kirk kept on acting and appearing on films and television until 2008, when he turned 92. Then, he slowly retired from the spotlight, although some people were lucky to catch him with his sons on a red carpet from time to time.
Even at 100, Douglas didn't loss his boyish charm. And although he needed assistance from a walker and nurses to move around the Beverly Hills home he shared with his wife of 65 years, Anne Buydens; the actor managed to speak his mind in an interview with The Guardian in 2017.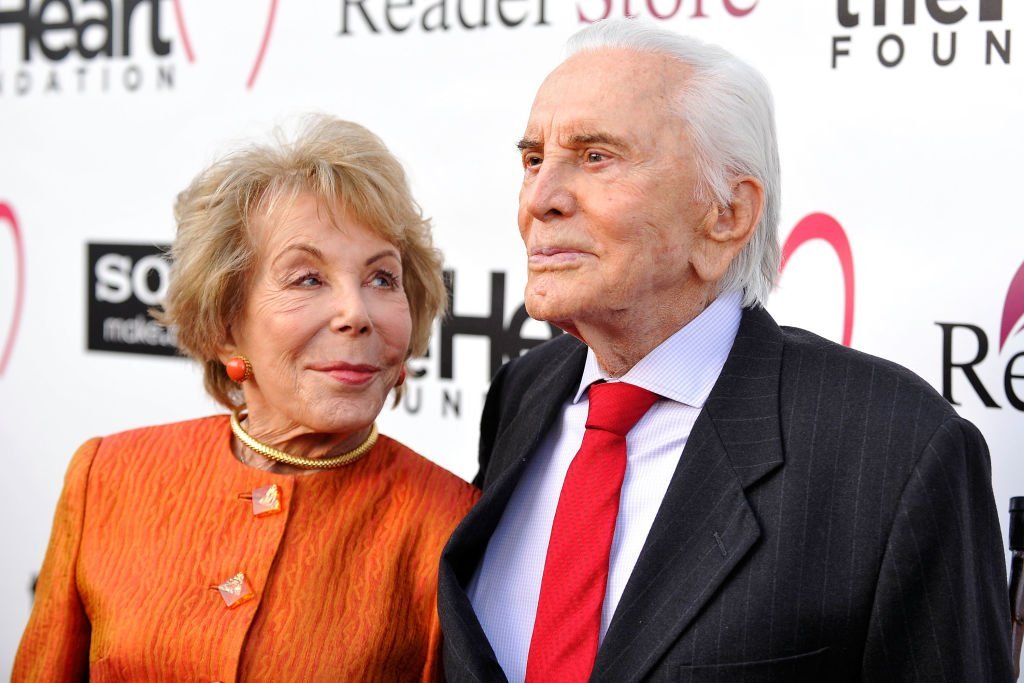 Anne Douglas and Kirk Douglas arrive at the Heart Foundation Gala - Arrivals at the Hollywood Palladium on May 10, 2012 | Photo: GettyImages
"I never, ever thought I would live to be 100. That's shocked me, really. And it's sad, too," Douglas admitted.
The downside, he explained, was that he survived many of his peers from the golden age in Hollywood, and he missed them dearly.
"I miss Burt Lancaster – we fought a lot, and I miss him a lot. And John Wayne, even though he was a Republican and I was a Democrat," Kirk said.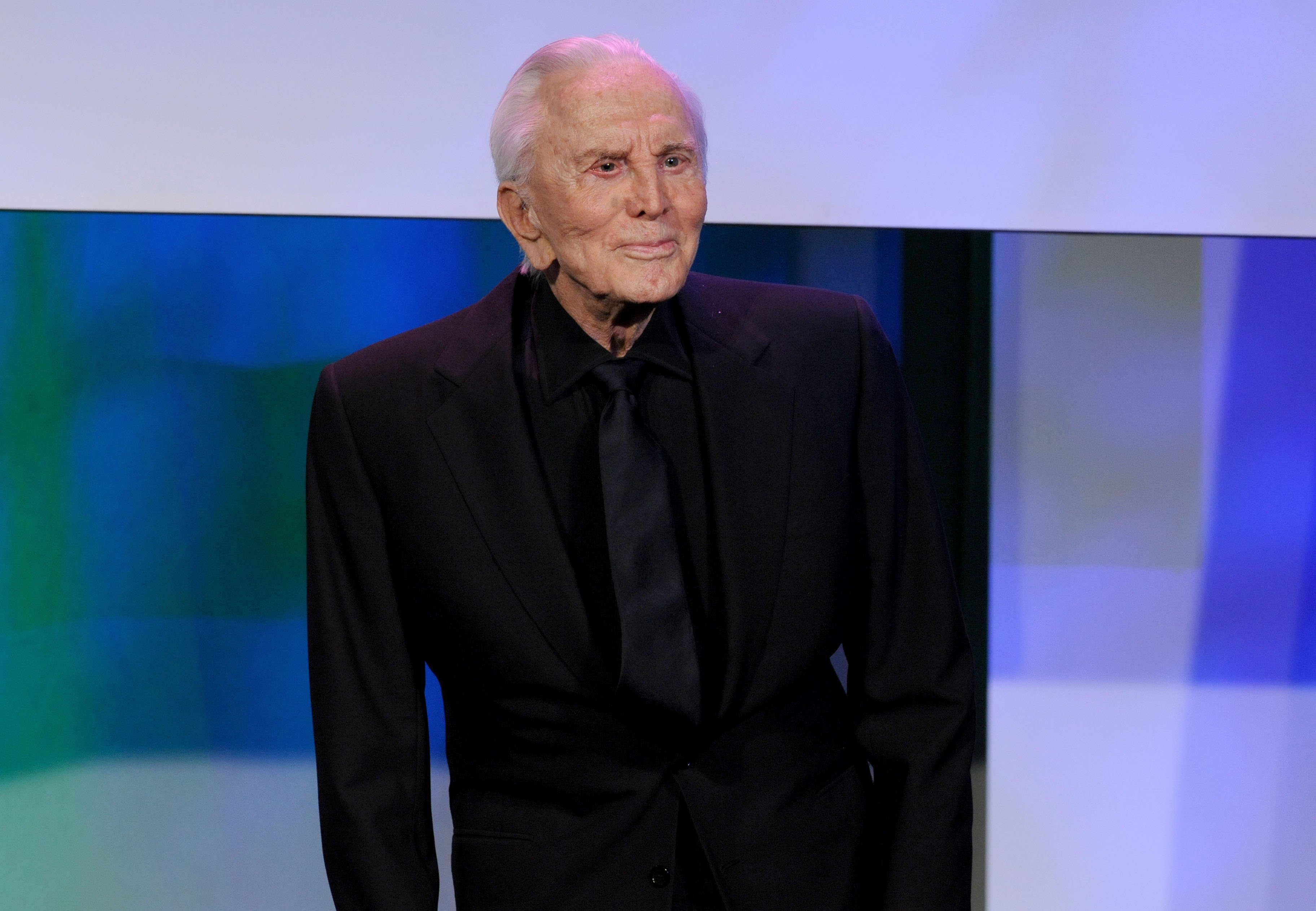 Kirk Douglas speaks onstage at the ADL Los Angeles Dinner Honoring Steven Spielberg at The Beverly Hilton Hotel on December 9, 2009 | Photo: GettyImages
THE LAST BIRTHDAY
When Douglas turned 103-year-old last December, he was showered with love from fans, friends, and family alike.
Michael Douglas took to Instagram to share an adorable picture kissing his father's head, and captioned it:
"Happy birthday, Dad! You are a living legend, and your entire family sends you all the love in their hearts! #KirkDouglas #103."
Michael's wife and Kirk's daughter-in-law, Catherine Zeta-Jones, also dedicated sweet words for the late star, sharing a throwback picture of Kirk sitting in her lap.
"This guy on my knee is 103!!!!!," the "Chicago" actress wrote. "Happy Birthday Pappy!!! I love you with all my heart."
Ahead of the celebration, Michael revealed on "Jimmy Kimmel Live" that his father had asked for a nice and quiet dinner party with only the family involved, unlike the big birthday bask Michael threw for him on his 100, 101, and 102 birthdays.
KIRK'S LEGACY
Kirk is survived by his wife Anne, who's also turning 100 this year, and his sons Michael, Joel, and Peter. He had a fourth son, Eric, who passed away in 2004 from a drug overdose.
There's also Kirk's five grandchildren and a great-grandchild.
Beyond his acting career, for which he received an honorary Oscar and a Presidential Medal of Freedom, Kirk was also known for his philanthropical efforts.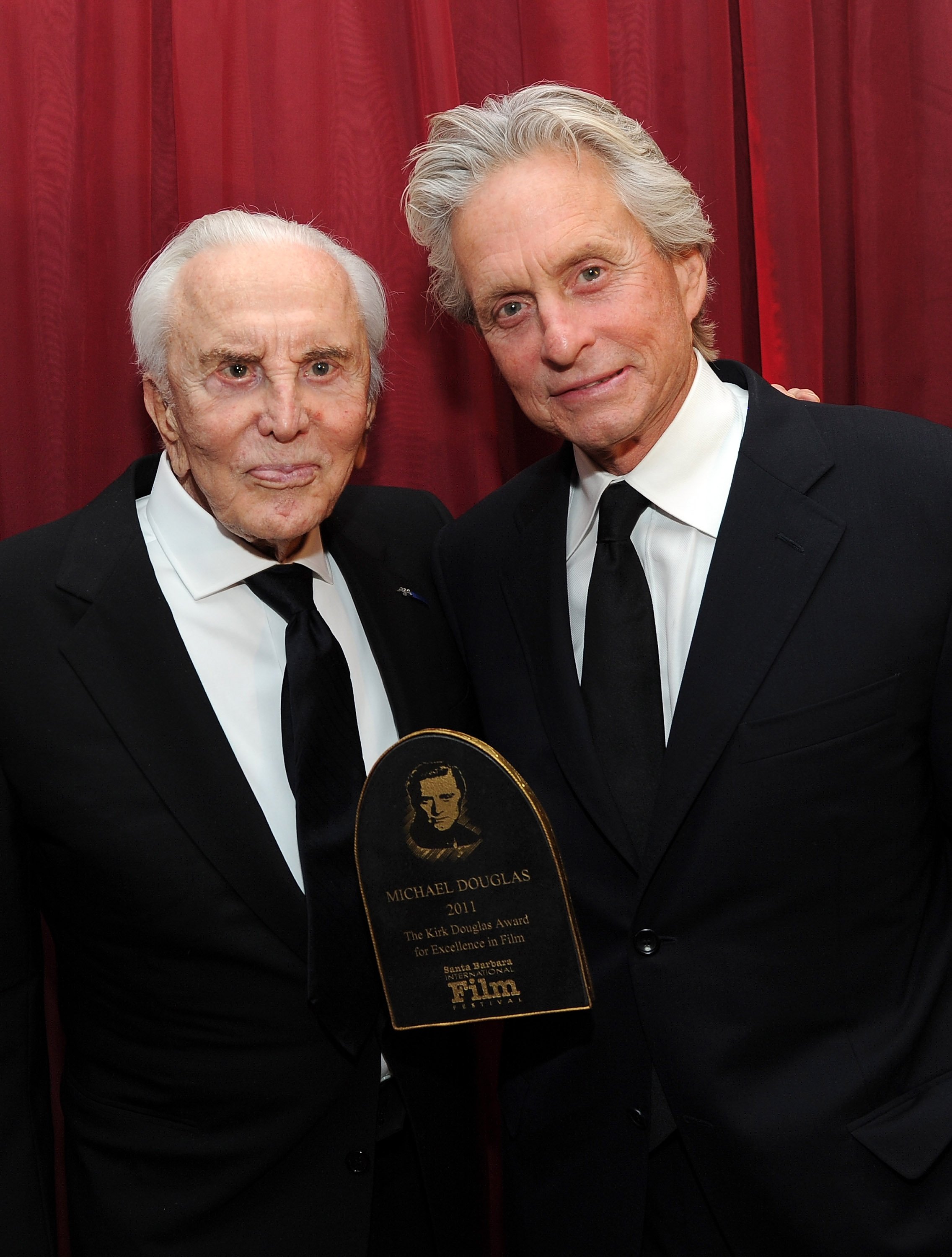 Kirk Douglas and Michael Douglas attend SBIFF's 2011 Kirk Douglas Award for Excellence In Film honoring Michael Douglas at the Biltmore Four Seasons on October 13, 2011 | Photo: GettyImages
Through the Douglas Foundation, Kirk and his wife Anne created the Anne Douglas Center for Homeless Women, the Kirk Douglas High School, and the Kirk Douglas Theater.
They also donated millions to the Children's Hospital Los Angeles for a surgical robot, and according to the New York Times in 2015, the couple donated $15 million to the Motion Picture & Television Fund in Woodland Hills.
The money was destined toward the construction of the Kirk Douglas Care Pavilion, a facility for the care of people in the industry with Alzheimer's disease.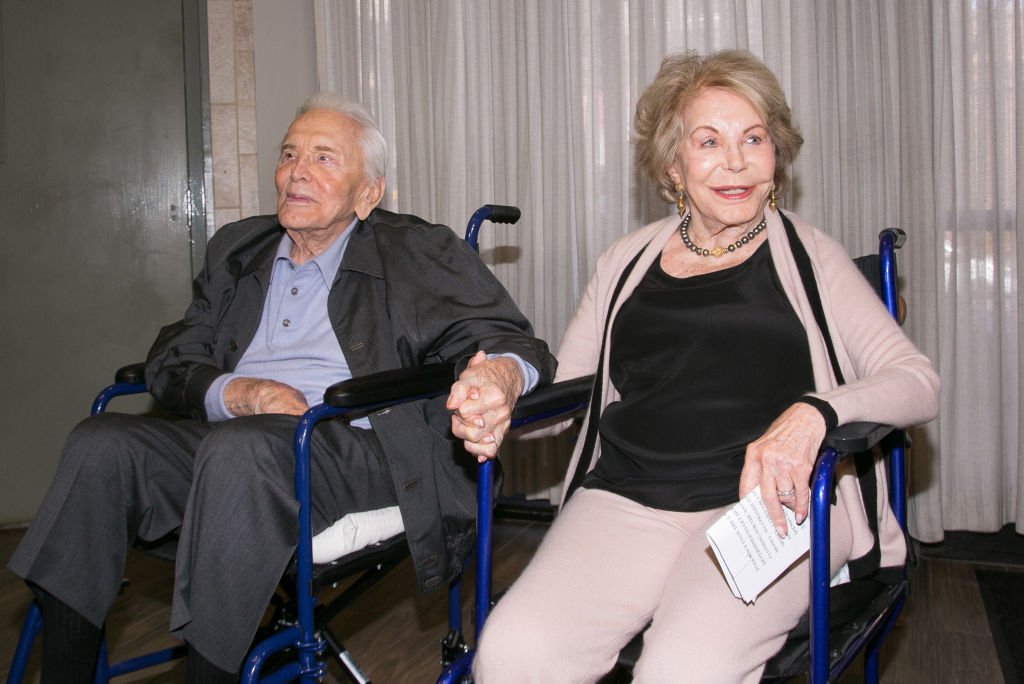 Kirk Douglas (L) and Anne Douglas attend the 25th Anniversary of The Anne Douglas Center at Los Angeles Mission on May 4, 2017 | Photo: GettyImages
Kirk explained to The Hollywood Reporter in 2015 that his willingness to give back to others came from watching his mother do the same when he was a child.
"Sometimes we didn't have enough to eat, but very often there would be a knock at the door, and it would be a hobo wanting food, and my mother always gave them something," he recalled. "My mother said to me, 'You must take care of other people.' That stayed with me.'"
Rest in peace, Kirk.
Please fill in your e-mail so we can share with you our top stories!