Kirk Douglas Went from Poor Kid to Hollywood Legend — inside the Late Actor's Rise to Fame
The centenarian actor lived more than enough to see his legacy solidified and he got to enjoy the status of a legend while still alive, and now that he is no longer among us, we wanted to revisit his journey.
When actor and producer Kirk Douglas passed away on February 5, 2020, at the age of 103, Hollywood lost one of the lasts living legends from its revered "Golden Age," and it is hard to believe that he was once a struggling young man.
Once the industry had a taste of this amazing performer, it embraced it as one of its most remarkable stars, and his legacy also includes a beautiful family and his several books. He will be deeply missed. This is his story.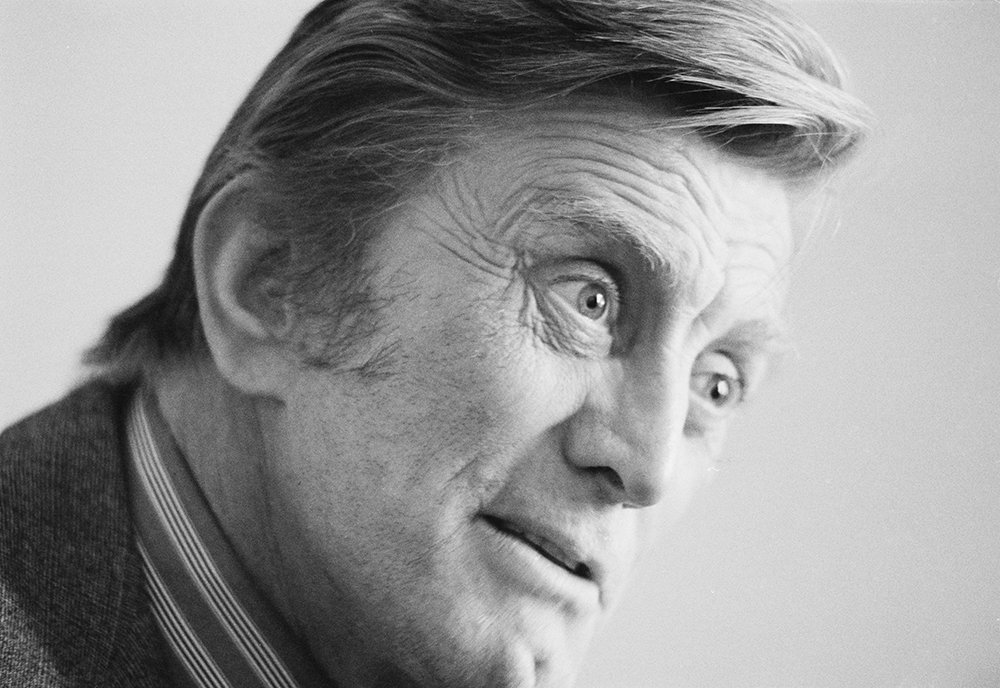 ORIGINS
Born Issur Danielovitch Demsky in Amsterdam, New York, from poor Jewish Russian immigrants, the man that came to be known as Kirk Douglas arrived at this world on December 9, 1916.
As a young man he was forced to take all kinds of odd jobs, including professional wrestling, but he never lost sight of his dream of becoming an actor, a passion he cultivated at least from age 7, when he recalled taking part in his first play.
FORMATION
Kirk attended the American Academy of Dramatic Arts in New York City, where he met aspiring actress Diana Dill, with whom he went on to marry in 1943, resulting in the actors' first two sons, Michael and Joel, before divorcing in 1951.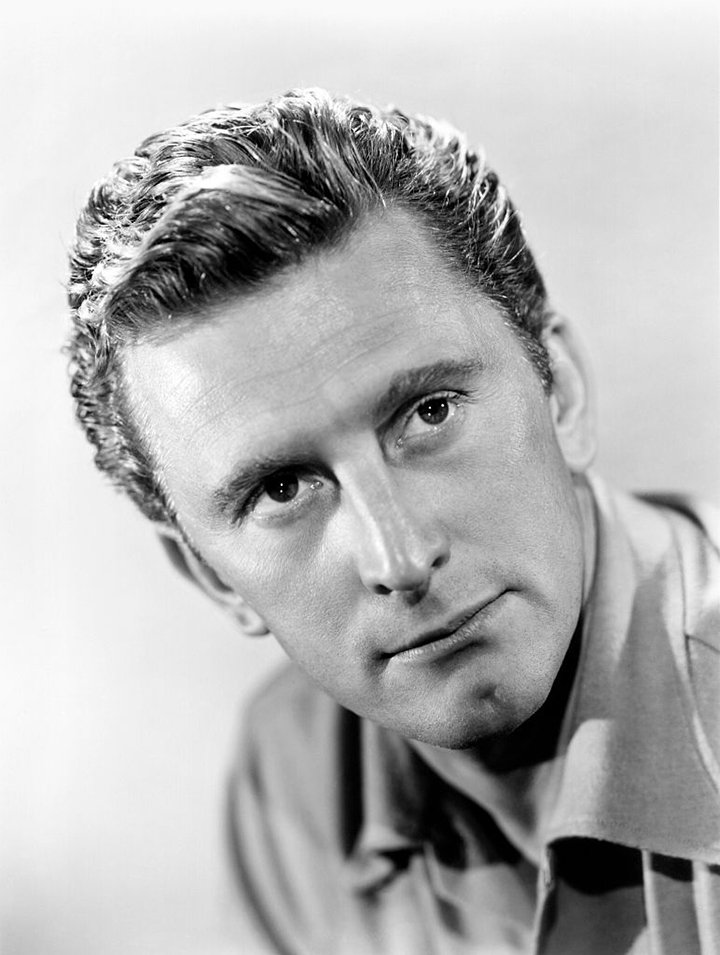 While in college, Kirk also made acquaintance with fellow Hollywood legend Lauren Baccall, who later help her friend find a casting agent to land his first acting gig in the movies.
BIG SCREEN DEBUT
1946 marked Kirk's first acting credit in a feature film, playing Walter O' Neil in the drama "The Strange Love of Martha Ivers," starring Barbara Stanwyck. He made a good impression with his performance and was soon offered more and more roles.
Kirk continued to escalate positions in the industry with films like "Mourning Becomes Electra" (1947), "The Walls of Jericho" (1948), "My Dear Secretary" (1948), and "A Letter to Three Wives" (1949).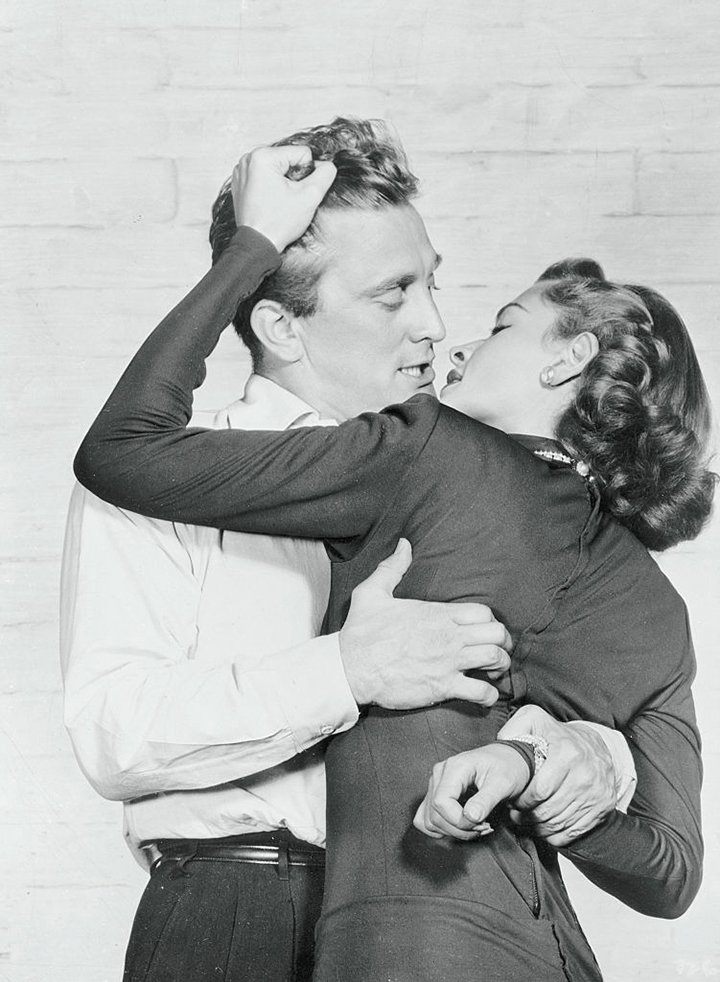 BREAKTHROUGH ROLE
Kirk became a major star in 1949 when he starred in the boxing drama film "Champion" playing the lead character Midge, which earned him critical acclaim and an Academy Award nomination apart from turning him into a household name.
The '50s was the most prolific and successful decade in the actor's long career, with Kirk starring in the likes of "The Glass Menagerie" (1950), "Ulysses" (1954), "20,000 Leagues Under the Sea" (1954), and "Paths of Glory" (1957). 
FAME
Practically an overnight sensation, Kirk had to struggle with his ego after suddenly finding himself the center of so much attention and praise, and with so many opportunities for casual romances. 
The @USNatArchives holds the Official Military Personnel File of Kirk Douglas, including this photo from his Naval Reserve service record.

See more images of the film star here: https://t.co/GBMhIl0avi pic.twitter.com/CsIozJzOZo

— US National Archives (@USNatArchives) February 10, 2020
Soon, Kirk developed a reputation as a womanizer, eventually linked with stars like Joan Crawford, Marlene Dietrich, Rita Hayworth, and Gene Tierney, which played no small part in the demise of his first marriage. 
MEETING ANNE BUYDENS
In 1953, Kirk's life took a definitive turn when he met the love of his life, German-born translator Anne Buydens, while working on the film "Act of Love" in Paris.
Buydens cold attitude toward him during the peak of his stardom definitely hit a chord in the actor, and he didn't stop pursuing her until he finally won her heart when he showed her his unpredictable side in a date at the circus.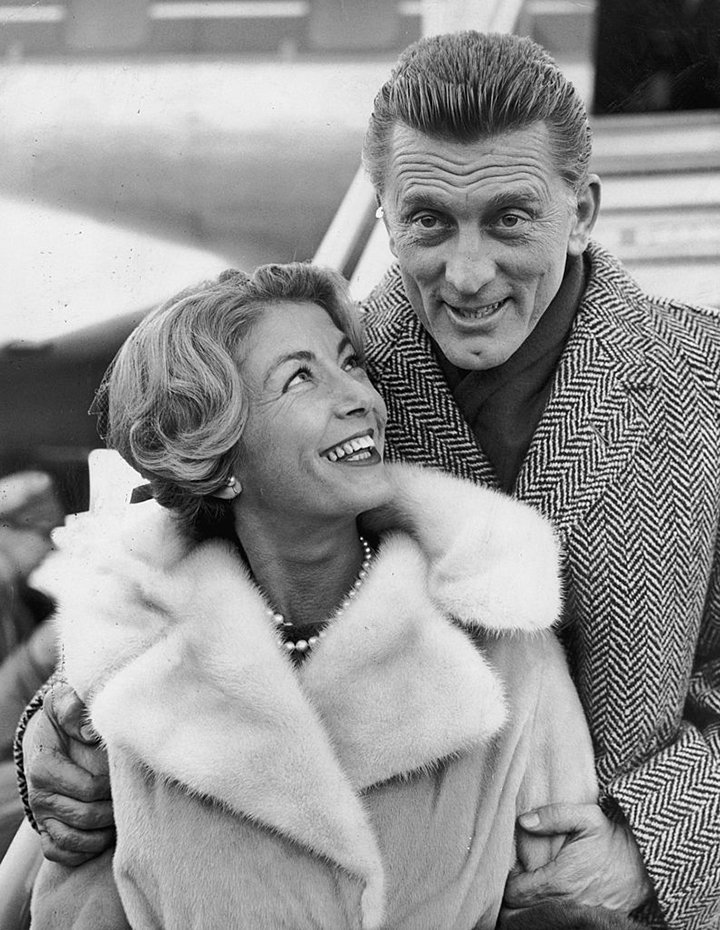 By May 1954, Kirk and Anne became husband and wife, a union that lasted for an impressive 65 years, until the former's passing at age 103.
CHILDREN
In addition to the children from his first marriage, Michael, also a famous actor, and Joel, a producer, Kirk went on to father two other children with Anne, namely producer Peter and actor Eric.
In November 2018, Kirk's son Michael celebrated 50 years in showbusiness and was honored with his own star on Hollywood's Walk of Fame, at the age of 74, not far from that of his father, who was present at the ceremony, then 101.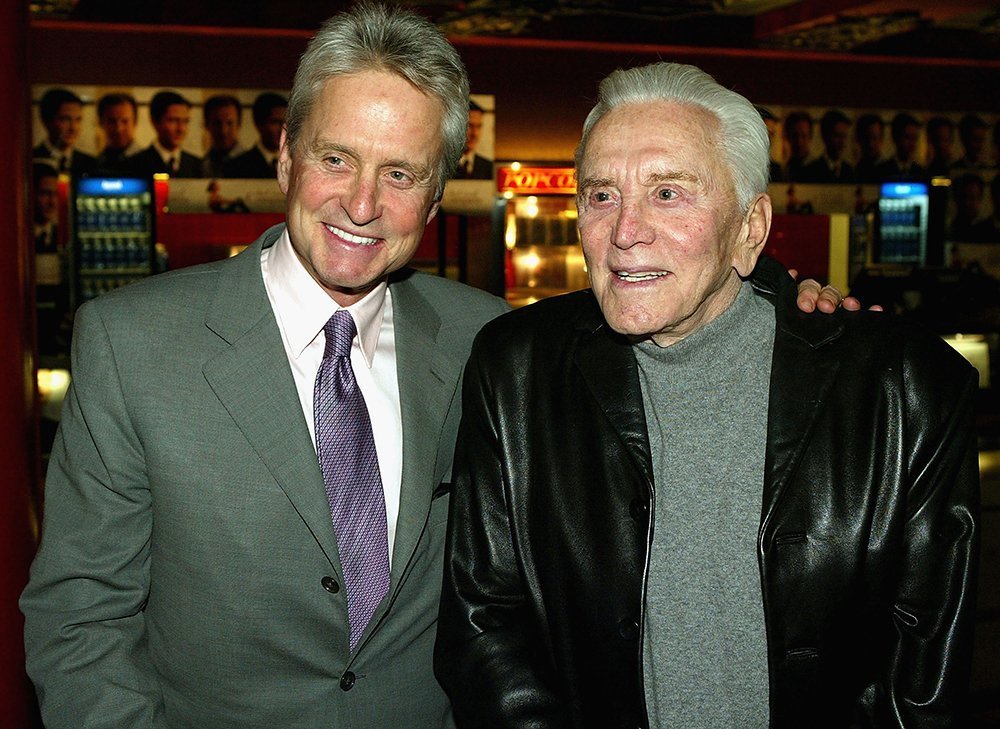 In a devastating moment for the family, Kirk's youngest son Eric passed away in 2004 from an accidental overdose of alcohol and prescription drugs at the age of 46, following a 30-year career as an actor and comedian.
INFIDELITIES
Kirk's weakness for beautiful women didn't disappear when he married Anne, but contrary to his first wife, she had a very relaxed attitude about extra-marital affairs, which was vital for the marriage to survive for so long as it did.
"As a European, I understood it was unrealistic to expect total fidelity in a marriage," Anne wrote in the memoir "Kirk and Anne," co-penned with her late husband and published in 2017.
Kirk Douglas, the ragman's son who became one of Hollywood's most dynamic stars.

Remembrances and tributes: https://t.co/PjyWuWld51 pic.twitter.com/tqmTW8vvJ5

— The Daily (@CriterionDaily) February 10, 2020
The only condition she established was that Douglas had to let her know about his adventures. "I wanted to hear it from him directly, not via an idle piece of gossip," she added.
USING HIS INFLUENCE
As a consequence of the Cold War fought by the US and the extinct USSR, a witchhunt against suspected communists took form in the form of a blacklist that prevented signaled authors from working in Hollywood.
Dalton Trumbo was one of the most famous examples of blacklisted screenwriters, and apart from going to prison, he was prohibited from working, and was forced to write under a pseudonym, even winning two Academy Awards in the shadows.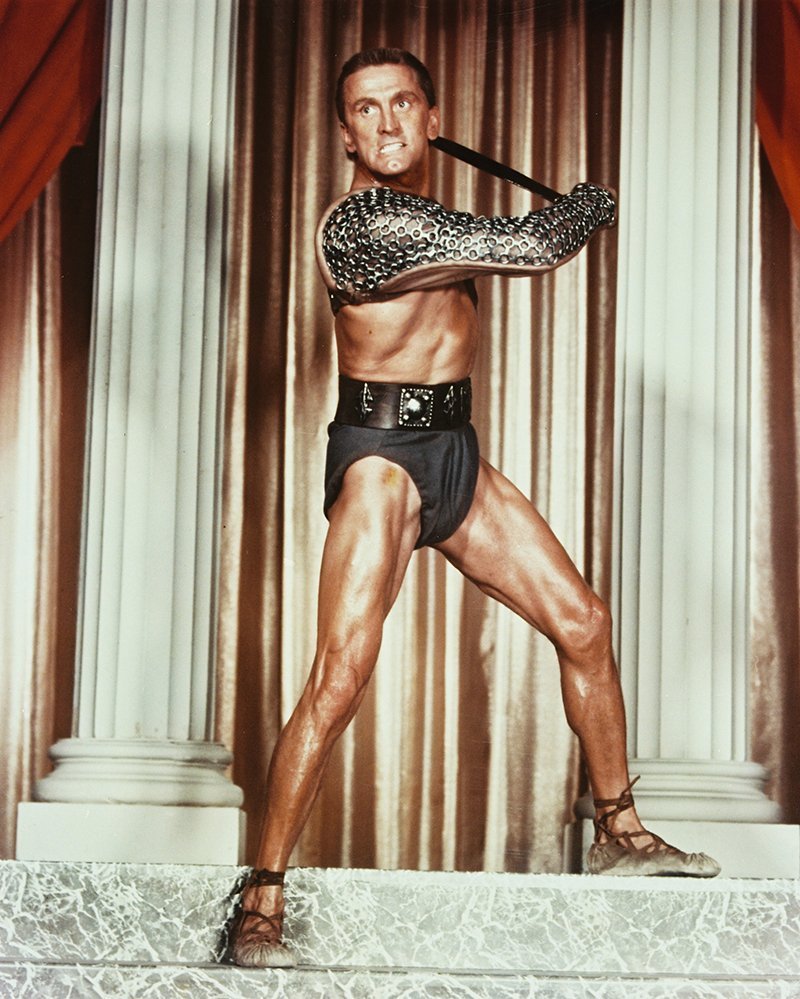 Trumbo secretly wrote the script for the 1960 film "Spartacus," both produced and starred by Kirk, and when the influential actor decided to defy the ban and credited Trumbo onscreen, he made the first move to end the blacklist once and for all.
HARD TIMES
Having to deal with losing a son together wasn't the only difficult time Kirk and Anne went through. In 1996, Kirk suffered a stroke that seriously affected his speech, meaning he had to re-learn how to speak.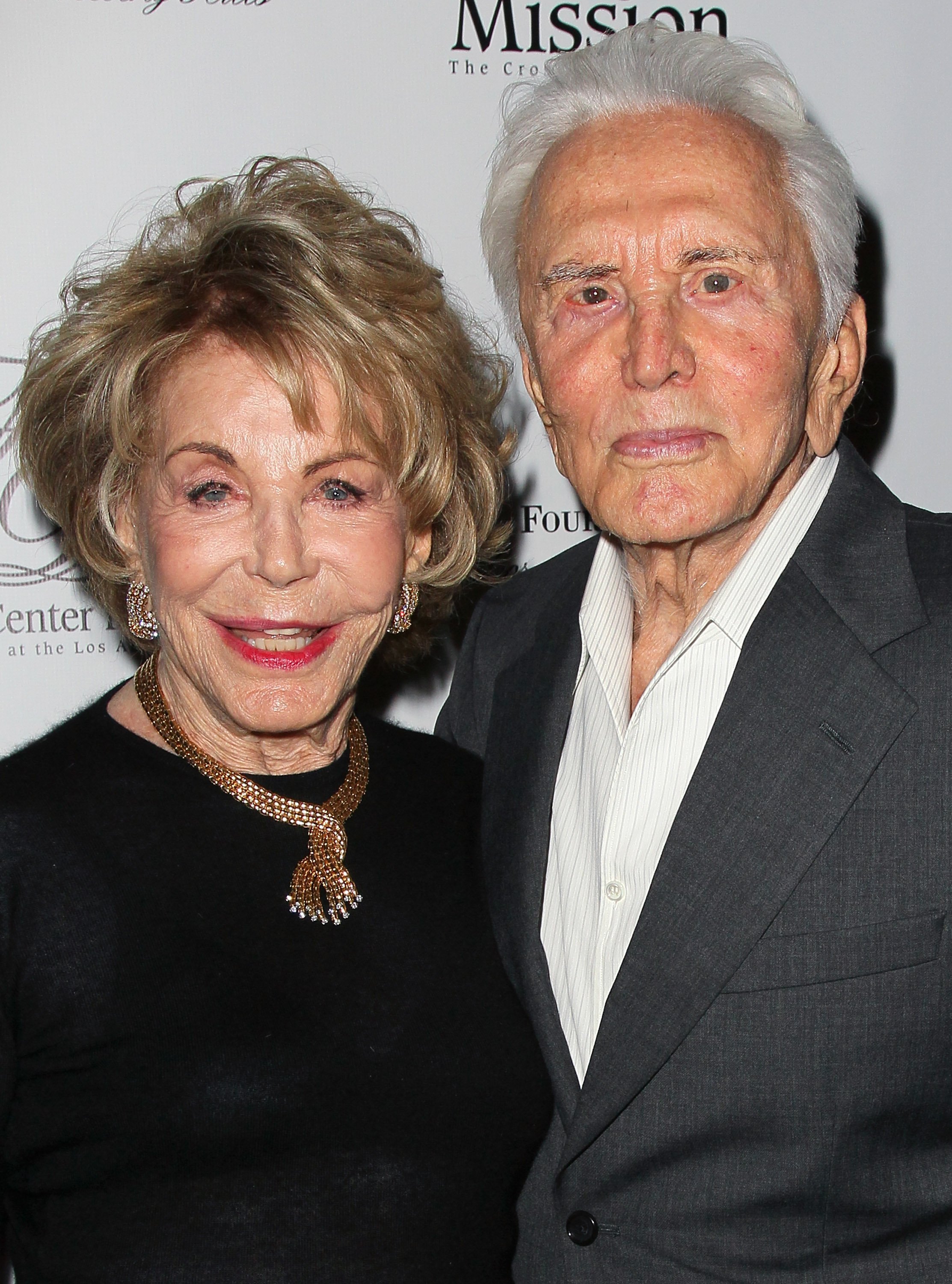 During the entire recovery process, Kirk counted with the support of his loving wife, and he acknowledged her role in motivating him to get out of bed and put his whole energy into therapy.
Kirk also had to see his son Michael battling cancer and his grandson Cameron having problems with the law, but fortunately, both of them have left those struggles behind.