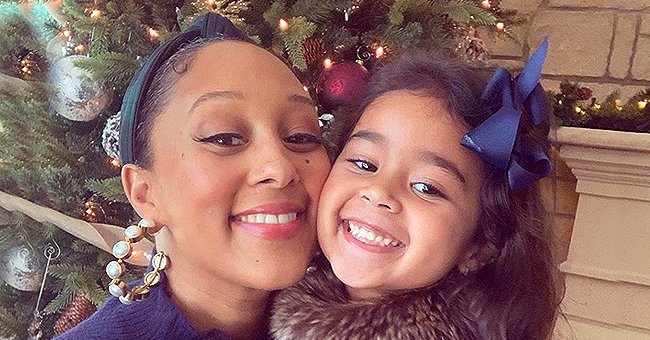 Instagram/tameramowrytwo
Tamera Mowry of 'The Real' Fame Lifts Daughter Ariah up With Her Feet in a New Quarantine Photo
Tamera Mowry showed off an adorable picture of her daughter smiling as she lifted her with her legs while trying to keep the toddler entertained.
Tamera Mowry is joining many mothers around the world in trying to keep their children entertained while isolated in their homes amid the coronavirus outbreak.
Showing off a picture of her daughter, Ariah smiling as she was hoisted into their air on her legs, Tamera explained in her caption, "just trying to keep everyone entertained over here."
The photo has received over 100 000 likes on Instagram, and many fans have gushed over how adorable Ariah looked as she smiled with excitement on her mother's legs.
"Beautiful" and "cute" were some of the words used by fans to describe the picture. One fan pointed out how much love she could sense from the mother-daughter moment.

Fan commented on a picture of Tamera Mowry's daughter smiling as she hoisted her in the air with her legs | Source: Instagram.com/tameramowrytwo
Tamera had been practising social distancing with her family over the past few weeks. She has been keeping up with her fans on her weekly reality series on YouTube called "The Housley Life."
According to Blast, her twin sister Tia hasn't been coping very well with the isolation from the rest of her family member, whom she is used to seeing regularly.
In an interview with Entertainment Tonight, Tia revealed that while she enjoyed spending more time with her husband and children, she missed her siblings and parents.
Getting visibly emotional Tia wiped away a few tears as she told Katie Krause that being away from her other family members has been hard because they have always shared a close bond.
There is no doubt that both sisters miss each other's company. However, they are both exploring new ways to find fulfilment while isolated from each other.
Tamera has found the positive side of not being able to get her hair done regularly and admitted that while social distancing she had learned to embrace her grey hairs and she said that she is "okay with it!"
With two children taking up her time on top of her busy career, Tamera revealed that she and her husband Adam Housley don't want any more children.
It is reported, she admitted that parenthood is hard work and she felt that she wouldn't be able to meet all of her children's individual needs if she had more.
Please fill in your e-mail so we can share with you our top stories!