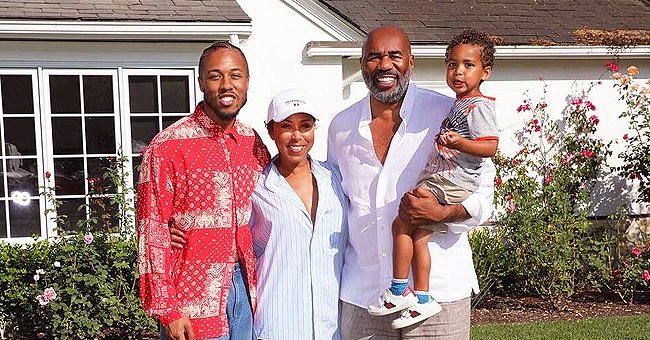 Instagram/marjorie_harvey
Marjorie Harvey's Son Jason and His Kids Water Spray Each Other While Outdoors Amid Quarantine
Marjorie Harvey's oldest son Jason is lucky to have a garden in his home so his children can enjoy the outside while observing quarantine, and he also found a way to keep the children fresh and entertained.
29-year-old Jason Harvey, the stepson of popular TV host Steve Harvey, recently took to his social media to share a series of videos that showed how he likes to spend quarantine with his children.
Jason, a creative director, and producer, took to his Instagram account on March 27 and posted four videos in a slideshow, picturing his son and daughter as he sprayed them with a hydro-jet, calling it:
"[The] perfect way to keep [them] cool."
Even though Jason's son seemed to be a little scared in the beginning, we can tell that he and his sister got to enjoy their father's idea.
Several of Jason's followers found the post to be really funny and praised Jason and his wife for their parenting ways.
"You guys are great parents! You always find awesome ways to spend quality family time together," wrote a user. "You [are] having too much fun! This is dope," added someone else.
STEVE STEPDAUGHTER ARRESTED
But it is not fun and games for Harvey and Marjorie's grown children, with 23-year-old Lori having trouble with the authorities a few months ago over a hit-and-run incident in Los Angeles.
Lori was reportedly cited with misdemeanor charges in October 2019, also accused of delaying a police investigation.
According to Fox News, the model hit a parked car and left the scene, only to be apprehended by the police near the site of the accident.
Most recently, Lori, who used to date rapper Sean "Diddy" Combs, has made headlines for her relationship with also rapper Nayvadius DeMum Wilburn, known as Future.
A BIG, BLENDED FAMILY
Steve had been married twice before his current marriage, which resulted in four children, namely Brandi, Karli, Broderick Jr., and Wynton.
Marjorie, on the other hand, was married once before meeting Steve, and she has three children on her own; Jason and Lori, whom we just mentioned, and Morgan.
All of Steve and Marjorie's children are adults now, and they have kept enlarging the family by adding grandchildren Benjamin, Elle, Noah, Rose, and Ezra.
Steve has joked about how he loves his grandchildren very much while at the same time treasuring his much-awaited time alone at home with his wife.
MARJORIE'S BIRTHDAY
Back in October, 2019, Marjorie turned 55 years old, and the entire family and a few celebrity friends took a joint trip to Cancun, Mexico, where they made a lavish celebration at Moon Palace Resorts.
More than a hundred people attended the celebration, which was covered exclusively by ESSENCE, and it included a performance by R&B singer Ginuwine, who dedicated some of his biggest hits to Marjorie.
"Thank you all, so much. I appreciate it. And thank you, my love. You all could have gone anywhere, done anything. But to come here and celebrate with me, it means the world to me, really," a touched Marjorie greeted the crowd.
Please fill in your e-mail so we can share with you our top stories!