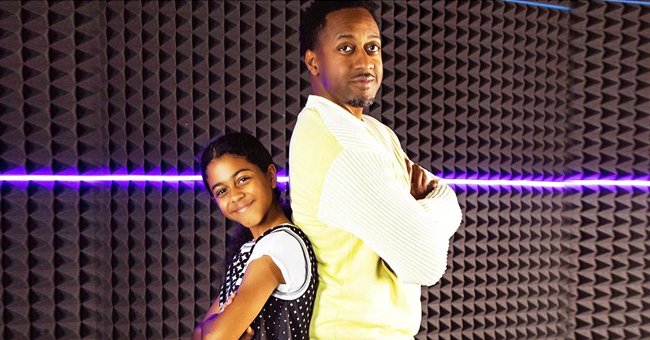 Getty Images
Jaleel White of 'Family Matters' Celebrates Easter with Daughter Samaya
Jaleel White from "Family Matters" spent Easter Sunday with his daughter, Samaya, and made a special breakfast before painting colorful Easter eggs with her.
Jaleel White kicked off his Easter with a filling breakfast made from a unique recipe for a tequila-infused French toast made famous by actor and wrestler, Dwayne Johnson. In his caption, he joked:
"Finally got around to trying [Dwayne Johnson's] cheat meal on this Easter ? This quarantine body ain't gonna make itself."
A week ago, Dwayne shared a video that has received over 6 million views on Instagram, of secret recipe for the French toast. He paired it with his brand of tequila called Teremana.
The action star admitted that it was his cheat meal and shared a video of him preparing what he called his "insanely epic and yum" 4-inch sandwiches.
After Jaleel shared a video himself making his version of the meal, he praised the final results saying, "this French Toast diddy right here will have you DANCIN' like Diddy and the tequila wash down, yooooo I am NOT mad."
Giving his day a great start with a hearty meal, he proceeded to make crafts with his daughter Samaya, and the two painted Easter eggs together. One fan complimented her looks.

A fan commented on a picture of Jaleel White painting Easter eggs with his daughter, Samaya | Source: Instagram.com/jaleelwhite
Jaleel and Samaya have an extremely close relationship. The proud father regularly updates his fans on all the precious father-daughter moments they enjoy.
According to Essence, he posts photos of everything from pizza parties, Samaya getting good grades at school, outings at restaurants, to her learning new skills like cooking.
He has been raising his daughter as s single father since Samaya was almost a year old when he broke up with her mother, Bridget Hardy, in 2010.
In 2012, while working on "Dancing with the Stars," Bridget made allegations of abuse against him. In a statement to E! he addressed her claims and denied them, saying the dispute was a smear campaign and "only residue from a child custody matter."
Jaleel recently faced backlash on Instagram when he shared a video praising Sandra "Pepa" Denton for admitting that she regretted not dating Will Smith because she was into bad boys at the time.
It is reported, after sharing the now-deleted post in which he admitted to how difficult it was losing girls to bad boys or jocks, fans lashed out at him for being bitter, stereotyping, and going for the wrong type of women.
Please fill in your e-mail so we can share with you our top stories!