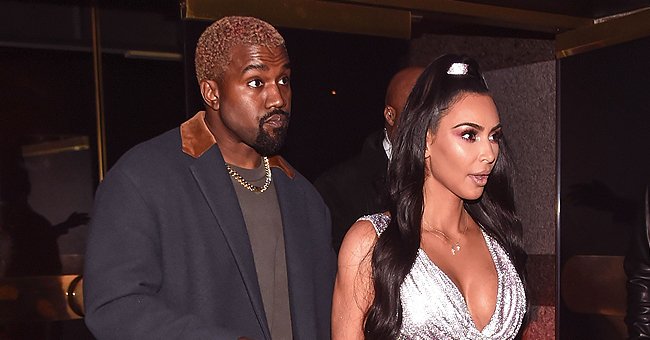 Getty Images
Kim Kardashian & Kanye West Look Chic Covering Their Mouths with Scarves in 2014 Photo
'Keeping Up with the Kardashians' star, Kim Kardashian wore a face cover in public in a rare throwback picture she shared of her and Kanye West walking along a sidewalk.
Kim Kardashian shared a rare throwback on her and Kanye West in 2014. The star of "Keeping Up with the Kardashians" hinted a setting a fashion trend ahead of the COVID-19 outbreak.
In her caption, she referenced M J Fox's hit movie in 1985 and wrote: "Back to the Future." The couple was pictured by Splash News walking with their faces covered in bandanas in the throwback that coincidentally reflects modern times.
The post had sparked a debate among her fans, who are trying to figure out why the couple where covering their faces almost six years before the pandemic made such measure necessary.
Some fans suggested they were hiding their faces because they both appeared to have no make-up on. One fan came up with a conspiracy theory that it was an early prediction of COVID-19.

A fan commented on a throwback picture of Kim Kardashian and Kanye West cover their face with bananas in 2014 | Source: Instagram.com/kimkardashian
Another fan pointed out that Kim's nose was not covered in the photo and suggested that it could have just been a
by the trendsetting couple.
The reality star has been keeping herself busy with her "SKIMS" collection and teased fans with the details of the "Skims Stretch Rib" line, which will be launch on April 21, 2020.
In an interview with Jimmy Fallon on "The Tonight Show with Jimmy Fallon," Kim admitted to hiding in one of the rooms in her house so she could focus on the interview uninterrupted by her children.
Days earlier, Kim shared throwback pictures in honor of her sister, Kourtney's 41st birthday. In her tribute she seemingly squashed the feud they had been having when she joked:
"You pack a mean punch I love you so much and can't wait until this is all over so we can celebrate together."
Since Kourtney took a break from filming "Keeping Up with the Kardashians," after she got into a physical fight with Kim, their relationship appears to be on the mend.
Kourtney commented on Kim's birthday tribute to her and gushed over the photos saying she loved the one of herself in a purple bikini. She ended her reply, telling her sister she loved her and added five heart emojis.
Please fill in your e-mail so we can share with you our top stories!