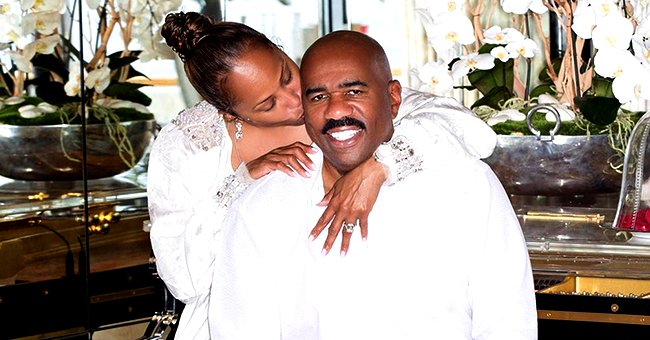 Instagram/marjorie_harvey
Steve Harvey's Wife Marjorie Makes Delicious Pizza during Quarantine and He Loves It
Steve Harvey's wife, Marjorie Harvey, showed off her cooking skills amid quarantine after she prepared a tasty pizza and baked goods for her husband.
Steve Harvey took some time to adjust to his new normal under quarantine because of the strict rules his wife, Marjorie Harvey, had enforced around the house.
Only days into their self-isolation, Marjorie shared a hilarious video of Steve arguing over his living conditions as his wife laughed on.
Recently his frustrations seemed to have worn off as Steve appeared to be enjoying the perks of having his wife at his disposal to make his favorite pizza, Marjorie said:
"Why did he request this today? I haven't had meat in forever...you know that I had to have a slice. I make delicious pizza."
Marjorie shared a video of Steve preparing to enjoy his special meal as he sliced through the freshly made pizza.
Many fans commented on how delicious the pizza looked and asked for the recipe. Kris Jenner also made a special request saying, "ok, can I have a lesson???? ?." Marjorie's daughter, Lori Harvey, appeared to be missing her mother's cooking as she praised her homemade pizza.

Lori Harvey commented on a Marjorie Harvey's video of Steve Harvey eating her homemade pizza |Source: Instagram.com/marjorie_harvey
In an earlier post, Marjorie showed off her preparations for the meal before it went into the oven. She revealed that she had made two meals that day.
Marjorie proudly showed off a tray of raisin oatmeal cookies in the first video. She zoomed over to her dog, Bear, who stood anxiously by the oven watching. "Cooking and eating. Pray for Bear...don't try me today ? #quarantinelife," she wrote in her caption.
"He looks like he can't wait to try it, lol," said one fan. Other fans gushed over the Doberman's stoic facial expression while watching the food.
Some fans commented on how tasty the cookies looked but urged her to be cautious in giving them to her dog. Tamar Braxton responded to Marjorie's caption and sympathized with the challenges of life under quarantine.

Tamar Braxton commented on a Marjorie Harvey's video of her homemade pizza in the oven and raisin and oatmeal cookies on top of the stove |Source: Instagram.com/marjorie_harvey
Marjorie has been documenting her domestic skills as she has been cleaning, gardening, and cooking over the past few weeks.
This is a far cry from her usual lavish and jet-setting lifestyle. A few months she enjoyed an over the top birthday celebration in Cancun with celebrity friends like Lisa Raye and Anthony Mackie.
Please fill in your e-mail so we can share with you our top stories!