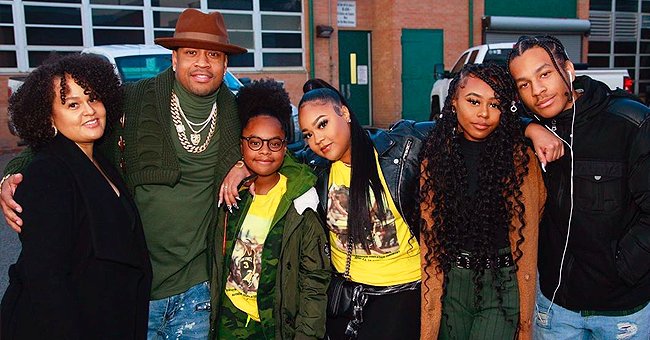 Instagram/theofficialai3
Allen Iverson's Children: Meet NBA Star's 2 Sons and 3 Daughters Who Look Like Their Famous Father

After a decade out of the game, the NBA legend is showing how he has been raising his lovely and big family. His performance on the court gained him many admirers, as much of detractors who were always ready to condemn his behavior.
Legendary NBA player, Allen Iverson, is a family guy who enjoys having close relationships with his wife and kids.
Several photos on his Instagram account show Allen's soft side as a parent and husband. Near Christmas last year, a lovely family portrait demonstrates that despite being a big family, they all stay together.
Other funny photos, like the one on New Year's Eve, show that they keep having fun together. Tawanna, his wife, and he share five children.
ALLEN IVERSON'S CHILDREN
Allen Iverson's children's names are Tiaura, 27; Allen II, 24; Isaiah, 18; Messiah, 16, and Dream, 13. The pair's firstborn, Tiaura was born on December 17, 1994.
Her father shared a lovely post on his Instagram page wishing his beautiful daughter a happy birthday. The 27-year-old is an Instagram blogger who loves sharing beautiful makeup posts. She also shares makeup tutorials on her TikTok.
Little is known about Allen's second born, Allen II, who seems to be living a private life. His other son, though, Isaiah, chose not to follow in his father's footsteps.
Isaiah graduated in 2022, and his proud dad posted on Instagram congratulating his son. Allen wished him well and said he should follow through with whatever he chose to do.
Messiah is another of Allen Iverson's children, who is still in school, she entered high school in 2019, and her dad wished her well on her new journey. The 47-year-old's other child, Dream, might be the youngest, but she already pleases her dad.
In 2010 while playing with the Philadelphia 76ers, the NBA legend left in the middle of the season to take care of his four-year-old daughter, Messiah, because she was diagnosed with Kawasaki Disease, which kept her in the hospital for several weeks.
Although haters and supporters criticized it, Allen dropped his contract with the Sixers. After that, he never went back to play in the NBA.
In an interview, he once said: "I like to look at myself as a strong person, especially dealing with everything in my life. But this is a totally different situation; you find out you're not as tough as you thought you were when it's one of your kids."
BACK TOGETHER
In 2016, the NBA legend was inducted into the Basketball Hall of Fame, and he paid a touching tribute to his then ex-wife Tawanna. By then, the mother of Allen Iverson's children and the legend had been divorced for three years after a turbulent 24-year marriage.
In his speech, Allen called her his "number one person in the world." It was a surprise for everyone since Tawanna had filed for divorce when Allen led them to many debts by burning $150 million while raising their five children.
At the time, they walked the ceremony together, holding hands. After that, they solved their problems and found a way to be back together again, this time with a much better understanding.
Allen shared a sweet post on Instagram on Mother's Day this year. The image was of the mother of Allen Iverson's children, Tawanna, and he captioned it, "Happy Mother's Day Wonder Woman! I Love you with EVERY breath I take!!!"
NBA LEGEND
Allen Iverson may have been one of the most criticized players in NBA history, but the legend made his mark in the NBA by bringing the current style and culture.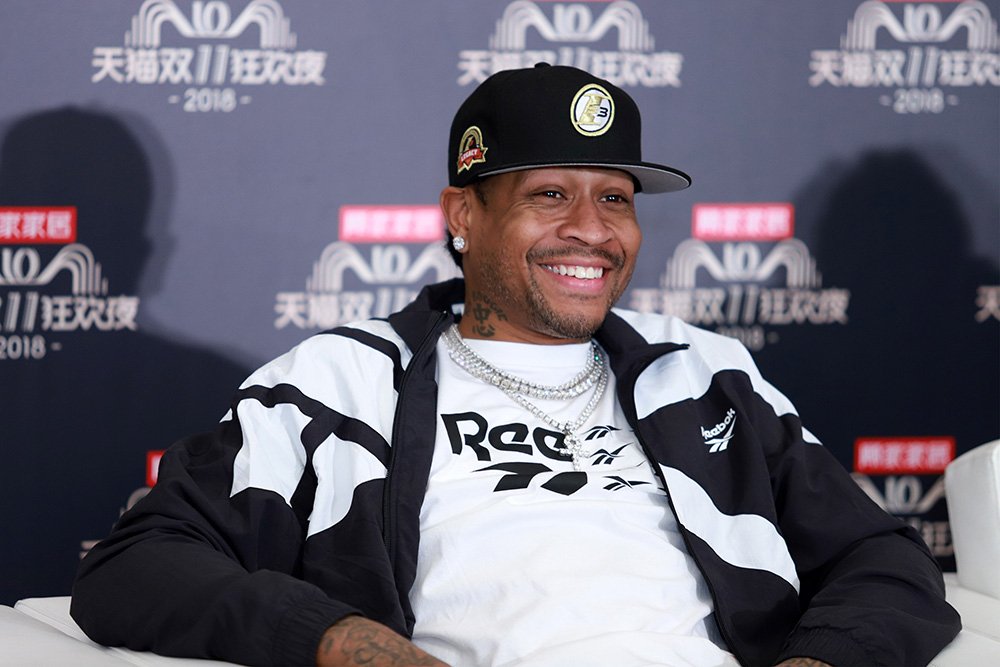 Allen Iverson receives interview during rehearsal for 2018 Double 11 Global Shopping Festival on November 10, 2018 in Shanghai, China. I Image: Getty Images.
After being picked by the Sixers during the NBA's 1996 draft, he won the Rookie of the Year award in no time, and the talented former player established himself as the toughest player.
Please fill in your e-mail so we can share with you our top stories!