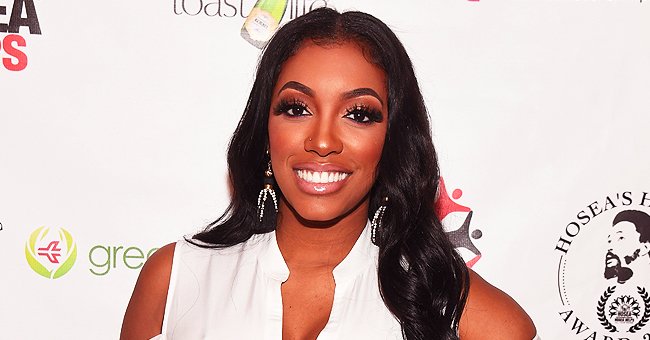 Getty Images
Porsha Williams and Her Sister Lauren Look like Twins in a New Photo
Porsha Williams from the 'Real Housewives of Atlanta' posted a selfie with her sister, Lauren Williams, and fans pointed out their uncanny resemblance.
"Real Housewives of Atlanta" star Porsha Williams is getting some much-needed bonding time with her sister, Lauren Williams, amid quarantine. In a post she admitted:
"This quarantines upsetting me and my homegirl! lol We miss everyone but glad we have each other!"
Porsha put aside her famous wigs and styled her hair in cornrows for the selfie with Lauren, who had her hair in loose beach waves.
One fan complimented Porsha's hair saying, "I love these braids on you, girl!"Another fan pointed out their resemblance and admitted, "wait, unless I'm tripping y'all look like twins."
"Omg, I didn't know who was who," revealed one person. Other fans gushed over how beautiful the Porsha and Lauren looked. "Y'all some beautiful girls," added another fan.
Despite their uncanny resemblance, the sister couldn't be more different. Lauren enjoys a more laid-back bohemian fashion, while Porsha has a more lavish taste. Porsha's co-star, Tanya Sam, praised the sister's heartwarming bond.

Tanya Sam commented on a photo of Porsha Williams and her sister Lauren Williams | Source: instagam.com/porsha4real
In a follow-up post from their evening of quarantine fun, Lauren shared a video of herself making a cocktail.
She revealed her delicious recipe included a mix of Grey Goose, pineapple and coconut juice. She joked about Porsha wanting to caption the video "drama and drinks."
Porsha has been dealing with a lot of drama lately amid the virtual reunion episodes for the "Real Housewives of Atlanta."
In a confession about her relationship with her on and off again fiancé, Dennis McKinley, she admitted to having regrets in moving too fast with the relationship.
Porsha said that after finding out that Dennis had cheated on while she was pregnant with their first child, Pilar Jhena, she wished they had taken the relationship slower before moving in together.
She explained that she loves her fiancé and her flaw has always been genuinely believing in love. Despite his infidelity, she told Andy Cohen that they are moving forward and are in a better place in their relationship than they were months ago.
Please fill in your e-mail so we can share with you our top stories!