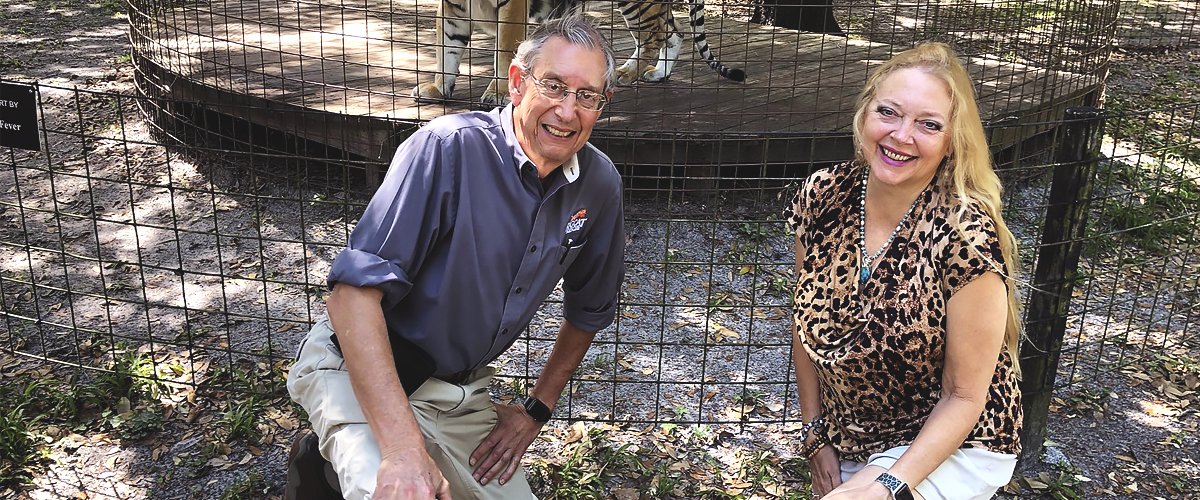 facebook.com/Carole Baskin
Carole Baskin and Howard Run a Wildlife Sanctuary — Inside the 'Tiger King' Couple's Love Story
Carole Baskin, who jumped to fame thanks to Netflix's controversial docu-series "Tiger King," has been married to husband Howard for 15 years. Here's their story.
Carole Baskin, the founder of Big Cat Rescue Sanctuary in Florida, came into the spotlight as Joe Exotic's longtime rival on Netflix's seven-part docuseries "Tiger King: Murder, Mayhem and Madness" earlier this year.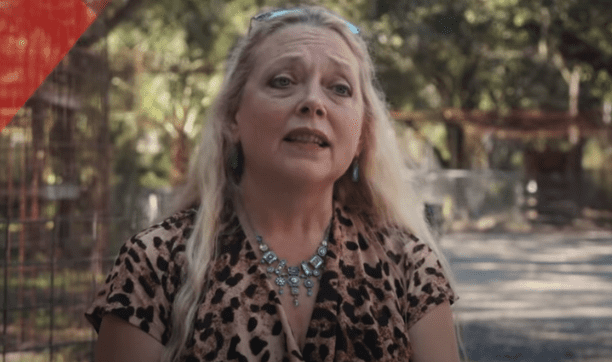 Carole Baskin during an interview about the rivalry between her and "Joe Exotic" on April 4, 2020. | Source: YouTube/TheTalko.
The 58-year-old animal rights activist became the center of attention not only for winning a case against Joe—who was sentenced to 22 years in jail for plotting her murder and animal endangerment—but also because most people suspect she's involved in the disappearance of her second husband.
Carole, who has labeled the docuseries as "salacious and sensational," has denied all accusations and people's conspiracy theories, and her husband Howard Baskin has come to her defense as well.
MEET CAROLE BASKIN'S HUSBAND HOWARD
After the disappearance of her second husband, Don Lewis, in 1997, Carole Stairs inherited all of his assets and was left in charge of the big cats' sanctuary they had both built during their marriage.
The best thing Howard could do was speak about the 15 years he has spent as her husband and partner.
Carole then met Howard Baskin during a cocktail party organized as a fundraiser for the No More Homeless Pets initiative in 2002.
Howard had visited Carole's Big Cats Rescue Sanctuary, which at the time was still named Wild Life on Easy Street, and that made him earn her respect, considering that few people knew about the organization.
Howard is a retired management consultant with a master's from Harvard and a law degree from the University of Miami School of Law. He worked for over a decade with Citigroup.
A year after their first meeting, Howard helped Carole rebrand her organization. They named it Big Cats Sanctuary and started focusing on getting the word out about their work to raise the necessary funds to take care of the animals at the sanctuary.
Howard took on the role of Chairman of the Advisory Board, and according to him, organizing the finances, administration, and fundraising at Big Cats Rescue Sanctuary "was the greatest challenge of my life and by far most satisfying."
ENGAGEMENT & WEDDING
Howard asked Carole to marry him during a trip to Anna Maria Island in Florida in November 2003. He proposed at the beach during sunset, and Carole was so overwhelmed that she wrote "yes" in the sand.
The pair married one year later at that same beach in a private ceremony with only three more people present: the officiator, the photographer and the videographer—who also serenaded the couple.
After the ceremony, Howard surprised Carole with a caveman costume, and they proceeded to take hilarious pictures that show Carole putting Howard on a leash. They explained it was all part of a theme.
The couple's unique vows included things like Carole promising not to turn into Wicked Witch of the West, and Howard promising to close drawers and cabinet doors after using them.
HOWARD COMES TO CAROLE'S DEFENSE
After people started speculating that Carole Baskin was behind the murder and disappearance of Don Lewis, Howard came to her defense in an emotional video shared on Big Cats Rescue's Facebook page.
In the almost 10-minute long video, Howard explained that when "Tiger King" creators Eric Good and Rebecca Chaiklin approached him and Carole about making a documentary, they promised it would be a piece to help expose the abuse of big cats in captivity.
He said Eric and Rebecca also promised they would treat Don's disappearance in a respectful way, as it was necessary to include that story to give viewers context on Carole's life. However, Howard said:
"Not only did they lie about that, they never even gave us a chance to respond to any of the false claims that ended up in the documentary."
The doting husband then became emotional as he claimed that anyone who spends an hour with his wife realizes it is not possible that she was involved in Don's disappearance.
However, since he can't give every single detractor an hour with Carole, the best thing Howard could do was speak about the 15 years he has spent as her husband and partner.
He explained that throughout their marriage, they've never had an argument or spoken a harsh word that they have to feel sorry for. Howard also said that even when they have disagreements, they communicate and eventually find common ground.
"I honestly believe I am the luckiest man in the world; I cannot imagine having a more considerate or caring spouse," he said.
CAROLE BASKIN'S DAUGHTER
Before Don and Howard, Carole married to Mike Murdock when she was only 17 years old and soon after got pregnant with her only daughter, Jamie Murdock.
Carole described her relationship with Mike as abusive, which is why she left him at 19. It was while running away from him that she first met Don and started an affair with the then-married multimillionaire.
As for Jamie Murdock, she's now the president of Big Cats Rescue and works hand in hand with her mother and step-father to protect their animals and raise awareness about the problem of big cats being held in captivity.
Please fill in your e-mail so we can share with you our top stories!