Vanessa Bryant Shares Video of Late Kobe Kissing Her in Celebration of 2009 NBA Win
Vanessa Bryant shared a throwback video of her late husband, Kobe Bryant, and their daughter Gianna, as she reflected on how emotional she felt looking back at that moment.
Vanessa Bryant and her daughter Natalia Bryant recently announced a major change to their Instagram accounts.
According to Daily Mail, they both shared personal statements which revealed that they had blocked fan pages and made their accounts private.
Their statements explained that it had become difficult for them to see images of Kobe and Gianna in their Instagram feed. Their decision is aimed at helping them cope as they grieve the loss of their family members.
"Please understand that we had to do this for our own healing not because we don't appreciate your [love]," Vanessa concluded.
The day after Vanessa and Natalia made their announcements, the family matriarch shared a touching video of Kobe celebrating the 2009 NBA Championship with his daughter Gianna in his arms.
Vanessa reposted the video in honor of the 11th anniversary of Kobe's winning game. In an emotional tribute, she shared her grief.
"Hard to watch without it crushing my soul, but so thankful we have these videos to look back on when we feel the time is right," Vanessa wrote in her caption.
The video shows Kobe's getting emotional during an interview with reporters over his win as he held Gianna in his arms and kissed Vanessa.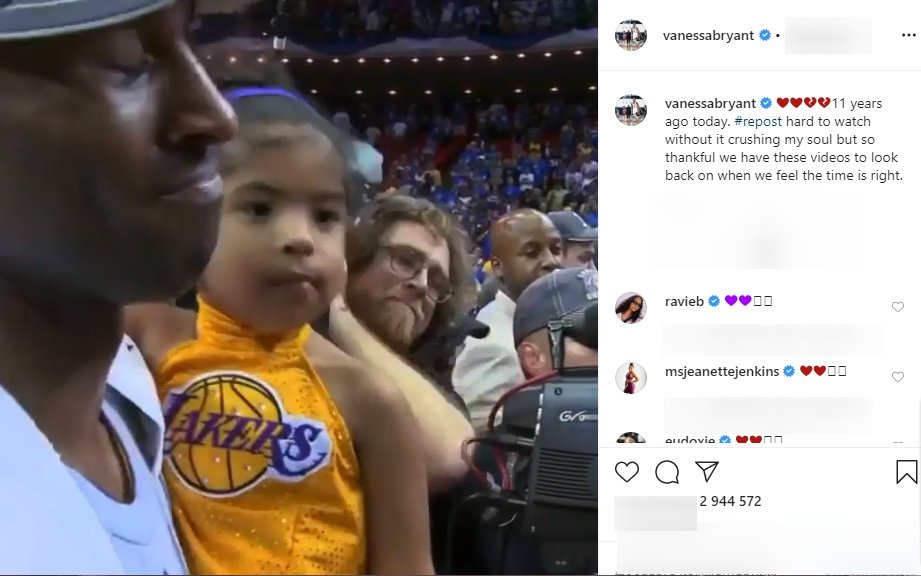 Entertainment Tonight
reported, leading up to the championship, Kobe led the Los Angeles Lakers to a five-game win over their opponents, Orlando Magic.
The clips also showed Kobe celebrating with his teammates as he proudly held up his trophies while standing in the middle of the basketball court.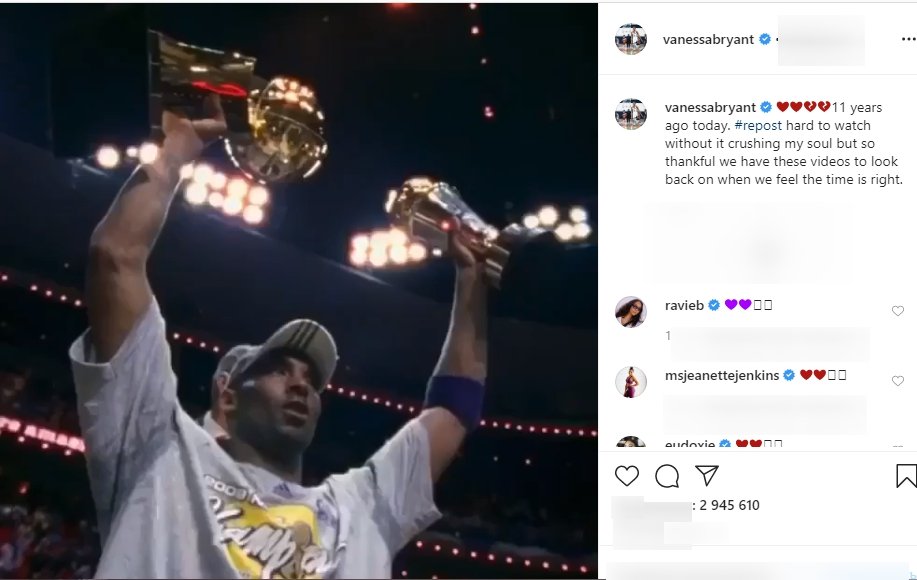 Kobe and Gianna passed away on January 26, 2020, when a helicopter they were in crashed in the hills near Calabasas, California. They were among seven other passengers who perished with them.
Vanessa recently got a permanent reminder of her husband and daughter immortalized on her with two new tattoos. She revealed that she got personal a message from Kobe tattooed on her neck, while the one from Gianna was written on her wrist.