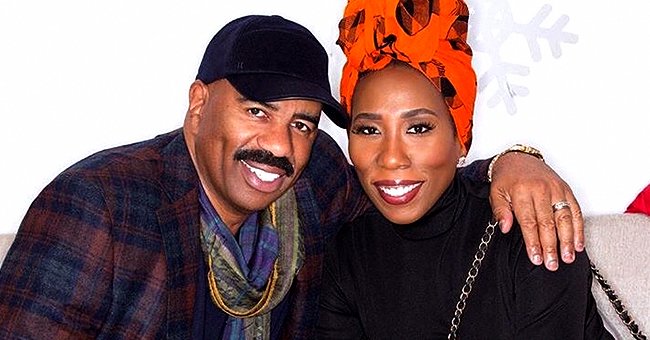 Instagram/iambrandiharvey
Steve Harvey Celebrates Father's Day with Twin Daughters and Talks about Being a 1st-Time Dad

On Father's Day, Steve Harvey revealed to his twin daughters how their birth changed him. He also shared one important piece of advice for his fellow dads.
Steve Harvey became a father for the first time when he welcomed his twin daughters, Karli and Brandi in 1982. Almost four decades later, he opened up to his twins about how it felt like to be a first-time dad.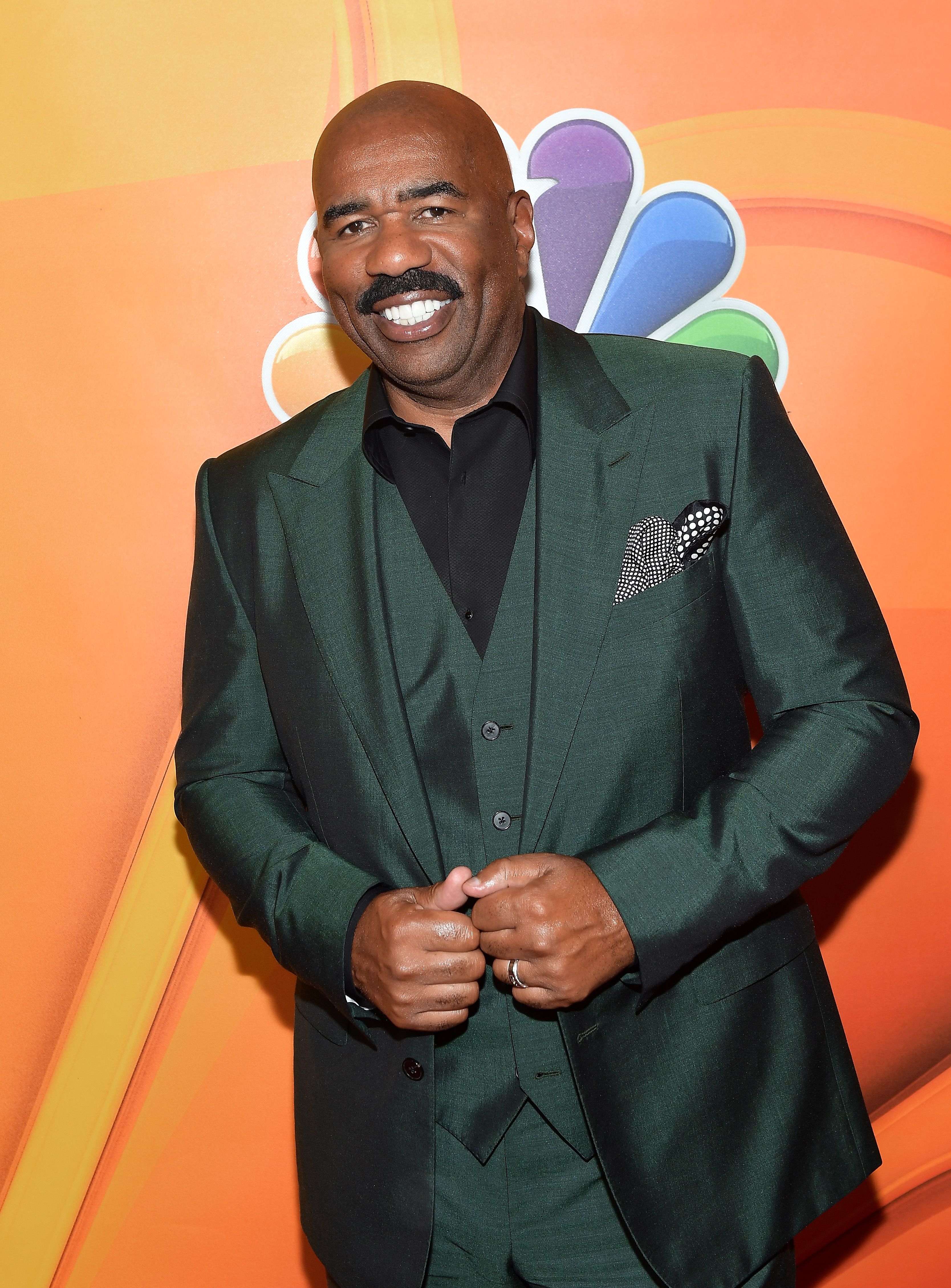 Steve Harvey at the NBCUniversal Summer TCA Press Tour in August 2017. | Photo: Getty Images
HARVEY ON HOW HIS DAY WAS GOING
Harvey delighted his daughters when he joined them in a live video chat posted on Karli's Instagram on Father's Day. After earning a round of applause from them for his participation, the comedian shared that he was enjoying the day.
While smoking a cigar, Harvey revealed he was taking a nap in the backyard when the twins' siblings dropped in to visit and woke him up. Karli assured him that they too would be coming over in a bit.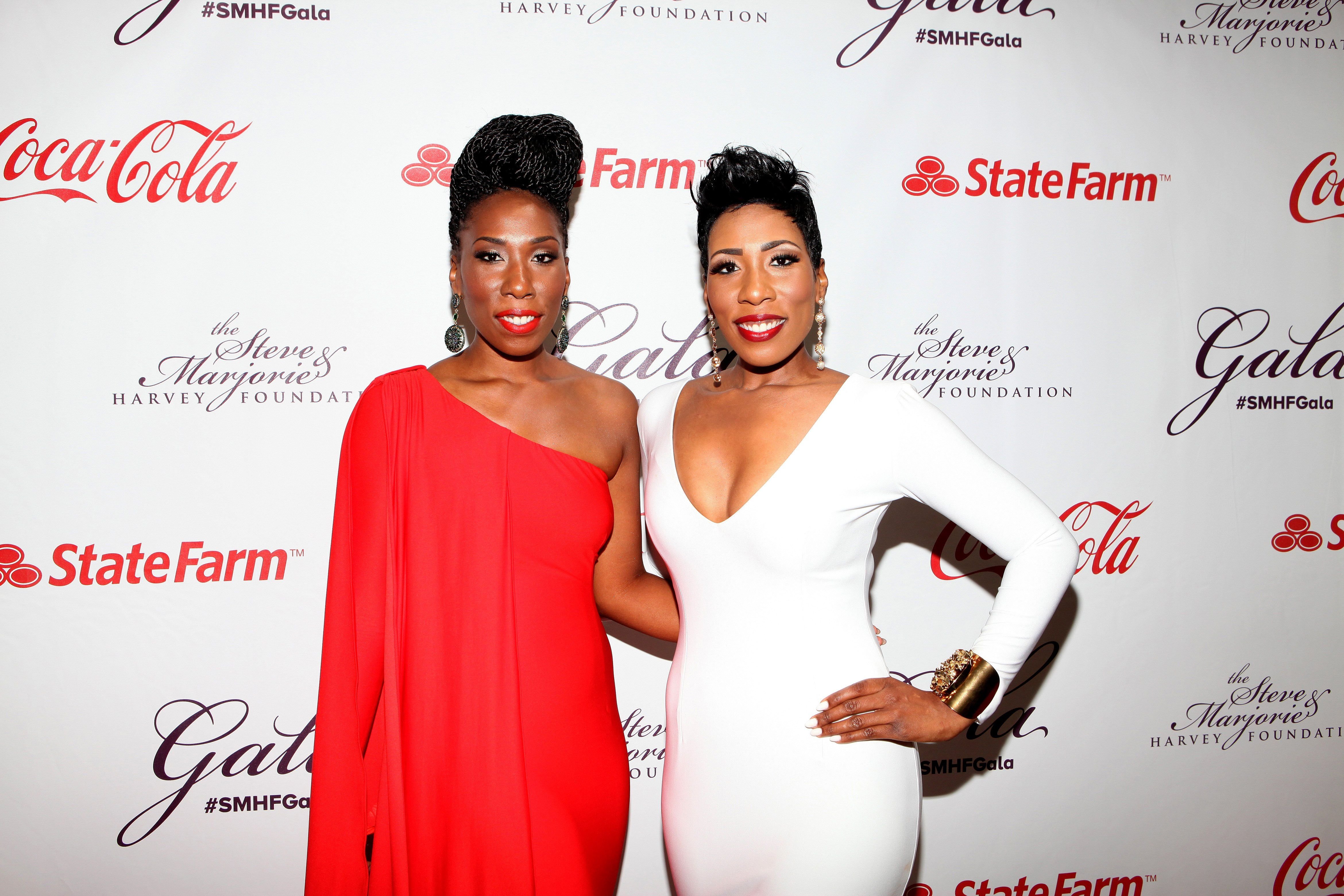 Steve Harvey's twin daughters, Brandi and Karli Harvey at the 2014 Steve and Marjorie Harvey Foundation Gala. | Photo: Getty Images
SWEET MESSAGES FROM HIS DAUGHTERS
In the meantime, the proud daughters used the moment to offer sweet words for their father. Karli, mother-of-one, began with a Father's Day greeting and a proclamation of love.
"We love you so much. You're the hardest working man we know. We appreciate you. We're so grateful."
"Beyond Her" founder Brandi added how much he meant the world to them and how thankful they are that he's their father. The girls agreed that they couldn't ask for a better dad.
Harvey revealed that it took a lot of time for him to get it together as a dad but he finally did.
At that point, Harvey''s stepdaughter, Lori Harvey emerged from the background and said hello to her stepsisters before disappearing into their home. According to the 63-year-old actor, she too came to surprise him that day.
ON BECOMING A FIRST-TIME FATHER
Soon after, the "Family Feud" host waxed nostalgic recalling how becoming a first-time father changed him.
"Y'all were my firstborn and y'all grew me up…I wasn't prepared for it exactly but y'all forced me. "
Harvey further shared that he would often tell his sons that manhood knocks on your door whether you're ready or not. In his case, the twins' arrival "kicked the door in." He told them,
"It forced me to go deep but it has been my honor to be y'all's father."
HIS ADVICE TO OTHER DADS
Harvey revealed that it took a lot of time for him to get it together as a dad but he finally did. As for his piece of advice for other dads out there, he said, "You have to stay with it."
He acknowledged that fatherhood is hard and nothing compared to being a mother who gives life to a child. However, he said it's also a challenge for Black fathers to raise Black children, especially with today's climate.
To his daughters, Harvey joked, "Don't rush me off" when they attempted to end his interview and he wasn't done yet. He reminded them, "You have no bigger guest than me."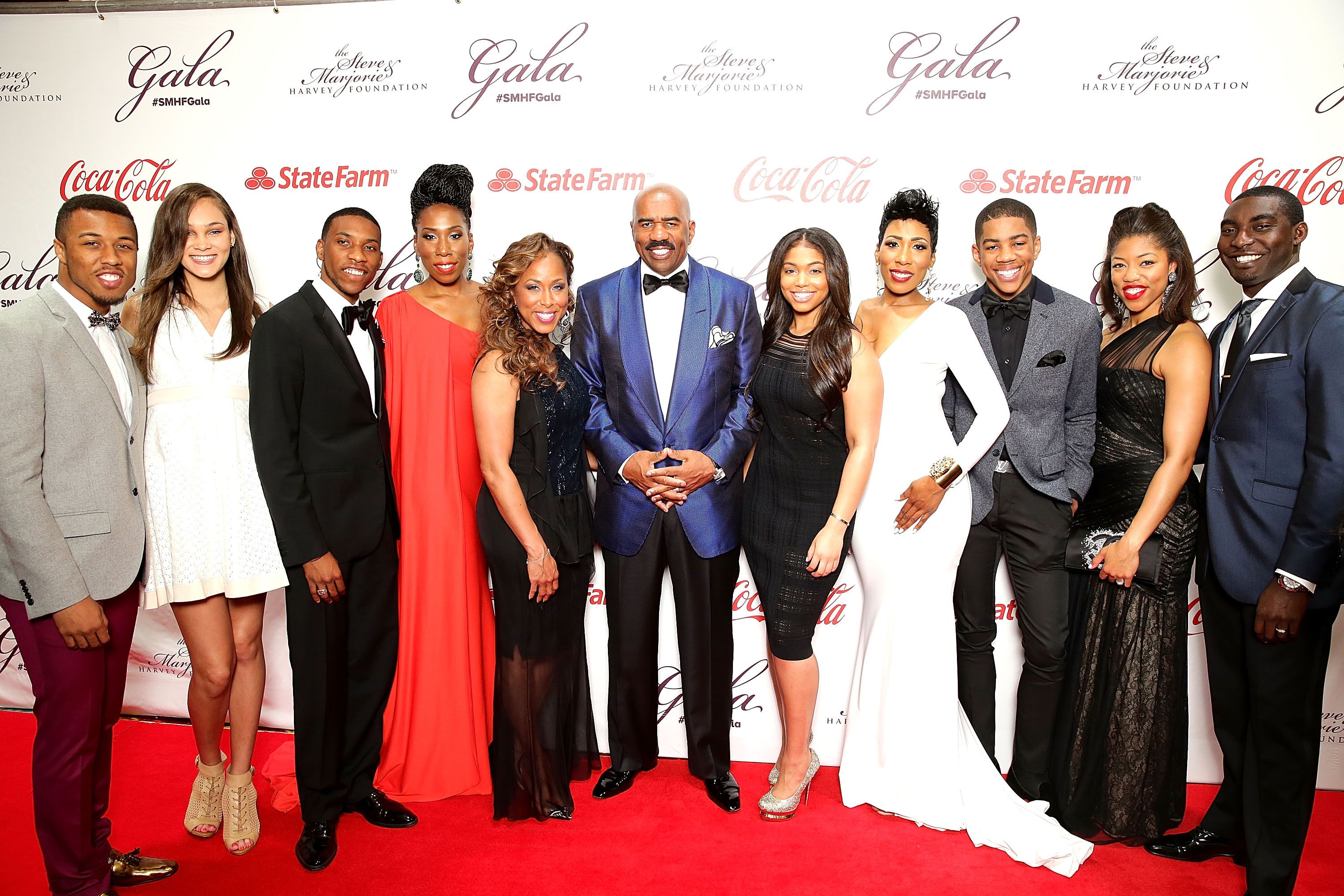 Steve and Marjorie Harvey's blended family in 2014. From left to right, Jason Harvey with wife, Amanda, Broderick Harvey, Jr., Brandi Harvey, Marjorie and Steve, Lori Harvey, Karli Harvey, Wynton Harvey, Morgan Hawthorne and husband, Kareem. | Photo: Getty Images
TOO OLD FOR PROTESTS
Harvey turned serious when he spoke about the recent protests and why it's the most significant protest since the Civil Rights movement. He commended the young generation for being the frontliners in this fight and encouraged them to continue supporting the Black Lives Matter movement.
The funnyman that he is, Harvey described protests nowadays as a "young person sport" which is why he's pushing for them to lead the protests
He added that older people like him are not equipped to handle the physical demands of protests such as running, getting up when being knocked down, jump over cars, throwing stuff, getting out of the way, and switching directions.
His daughters couldn't help but laugh at their father who, in spite of his valuable input, always manages to be funny.
HARVEY'S BLENDED FAMILY
Harvey has four biological children from his first two marriages. With his first wife, Marcia Harvey, he shares the twins and their brother, Broderick. The actor's fourth child, Wynton, is the son of his second wife, Mary Shackelford.
Harvey is currently married to Marjorie Harvey who has three children from her previous relationships including Lori. Together, the couple has five grandchildren.
Please fill in your e-mail so we can share with you our top stories!