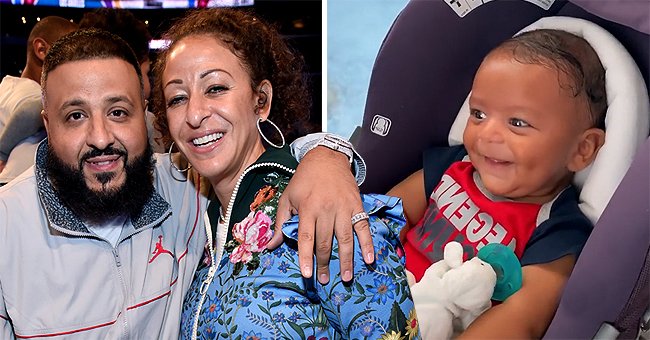 Instagram.com/djkhaled
DJ Khaled's Adorable Son Aalam Sends Love to the World in a Sweet Video
DJ Khaled's infant son, Aalam, is growing up fast after appearing in an adorable video, in which the music producer shared a message of love to the world.
DJ Khaled has been called by some of his peers, one of the hardest working and most successful music producers. He is often hauled up in a studio or traveling around the world.
However, the effects of quarantine have had a positive impact on his family in that he has had more time to spend with his two sons, Asahd and Aalam. One of his go-to activities has been swimming.
Having spent most of his life in Miami, water activities are among some of the many things that Khaled is often pictured doing in his free time.
In April, he gave away a jet ski and dinner for him and a fan to enjoy together as part of the celebrity "All In Challenge."
DJ Khaled called into TMZ to explain why he offered up the items for the challenge. He said it was because cruising on a jet ski is one of his favorite things to do.
He also added that he came up with the idea for dinner because he thinks that Miami is a beautiful place to enjoy.
The music producer been sending a lot of positive messages to his fans and recently posted an adorable video of his son, Aalam.
In his post, DJ Khaled shared a heartfelt message as he wrote in his caption that he was sending love to all the people in the world.
The video showed Aalam is sitting in a car seat and laughing continuously while someone sweetly played peek-a-boo with him.
One fan gushed, "Awwwwh! What a handsome baby." Another user commented, "the authors of the Parenting Manual love every moment of this. You are an incredible father. Well done." Fat Joe also showed his love for the video.

Fat Joe commented on a video of Aalam Khaled laughing while playing peek-a-boo | Source: Instagram.com/djkhaled
At his year's Grammy Awards, DJ Khaled proudly announced that his wife Nicole Tuck had given birth to
their second child
only days earlier.
While onstage, the doting dad sent a special shout out to his family and revealed the Aalam's name means "world" in Arabic.
Please fill in your e-mail so we can share with you our top stories!