Instagram/hollymadison
Holly Madison Looks Gorgeous at 40 — a Glimpse into Her Life after 'The Girls Next Door'
Holly Madison was once the number one girlfriend of Playboy pioneer Hugh Hefner, before having a family of her own. Here's a look at her life in recent years.
After years of being a Playboy bunny, Holly Madison started living her life on her own terms. She was ready to rebuild herself and her career, without going home to someone else's mansion with rules.
By the time the "Girl Next Door" star left Los Angeles for Las Vegas, millions already knew her and were curious about her next steps, leaving the shadow of her boyfriend and Playboy founder, Hugh Hefner.
Madison landed a series of her own called "Holly's World," which ran for two seasons. She also had an opportunity to compete on ABC's "Dancing With the Stars" in 2009.
After losing the competition, she became Planet Hollywood's Peepshow star, taking the place of Kelly Monaco. Her initial 90-day-deal extended, making her even more popular on the Strip.
In 2011, Madison had her memoir published, "Down the Rabbit Hole: Curious Adventures and Cautionary Tales of a Former Playboy Bunny."
The book was a tell-all story of her miserable life inside the mansion, which ultimately gave her depression.
Although she enjoyed the perks of having free plastic surgery, access to lavish hair salons, and many clothes, she was not happy.
Recently, the singer said that she would love to pose on the cover for a second time when she turns 75-years-old.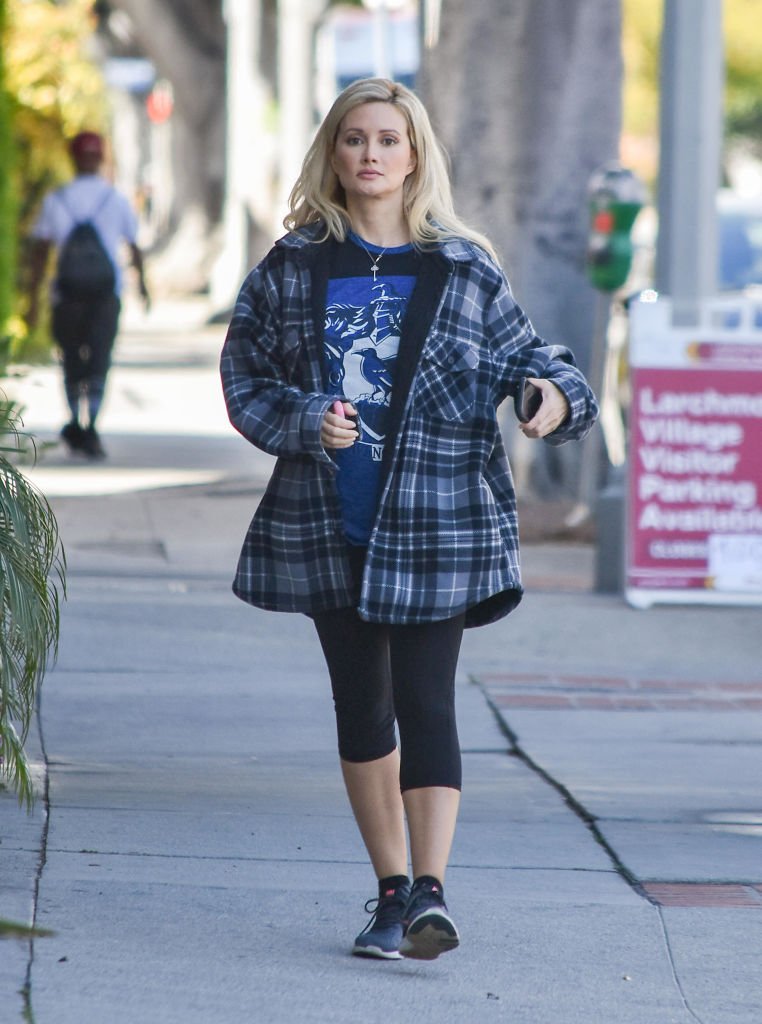 Holly Madison is seen on March 23, 2020 in Los Angeles, California. | Source: Getty Images
The same year her book came out, Madison met Electric Daisy Carnival founder, Pasquale Rotella. Their relationship, which began online, turned into marriage in 2013.
The ceremony took place in front of the Pirates of the Caribbean ride in Disneyland, with 150 guests to witness their love.
By then, the couple had already welcomed their six-month-old daughter, Rainbow Aurora. Becoming a mother certainly changed a lot of things in Madison's life, including her choice of activities.
In an interview with Mini magazine, as told by ABC, she said: "I am much more selective about the appearances I do because of the time it takes away from Rainbow. I can't be this Tasmanian devil, whirling around to party after party every night anymore."
Among the things being a mother taught the former Playboy bunny is balancing work and family, especially since children require more time and attention.
Madison and Rotella welcomed their second child three years after Rainbow, a son whom they named Forest Lonardo.
TELLING RAINBOW ABOUT PLAYBOY
Although her life in the Playboy mansion was among her darkest days, Madison will be open to her daughter about her past.
In her book, "The Vegas Diaries," the mother-of-two noted that she plans to share her highest and lowest moments with her kids, hoping they can learn from her.
"I want Rainbow to learn to be verbal and stand up for herself," she wrote. "If I could go back, I'd be a lot more outspoken. I wouldn't have allowed myself to be made to feel less than."
She also hopes her daughter respects herself enough not to be in a position she might one day regret, just to feel beautiful.
After nearly five years as husband and wife, the couple decided to go separate ways and file for divorce. According to a source, the two have been experiencing problems for a while, which makes the decision somewhat expected.
The two announced their separation on social media and noted that their priority remains to be co-parenting their two children.
Earlier this year, the court finalized the pair's divorce with documents regarding custody and property private.
Playboy magazine has been known for several decades, showcasing different women. Several celebrities have also made the covers of the magazine, including country star Dolly Parton.
Recently, the singer said that she would love to pose on the cover for a second time when she turns 75-years-old.
While some took her idea lightly, others bluntly disagreed and discouraged Parton from doing another cover.
Please fill in your e-mail so we can share with you our top stories!