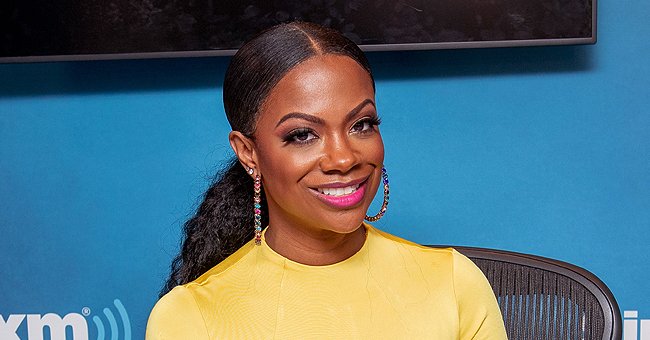 Getty Images
See Kandi Burruss' Daughter Blaze with Her Little Growing Teeth in a New Picture with Todd Tucker
'Real Housewives of Atlanta' stars Kandi Burruss and Todd Tucker's infant daughter looked adorable as she showed off her growing teeth in a photo with her dad.
When the "Real Housewives of Atlanta" stars Kandi Burruss and Todd Tucker tied the knot in 2014, they each had a daughter from their previous relationships.
In 2016 they welcomed their first child together; a son named Ace. Almost three years later, the couple added to their family via surrogate and had their daughter, Blaze.
As they focused on their blended family, it is reported, Kandi had always expressed her desire to have a large household. However, the development of uterine fibroids prevented her from being able to conceive naturally.
With the advice from "Married to Medicine" star, Dr. Jackie, the couple opted to have their second child with the help of a surrogate named Shadina Blunt.
Blaze was born in November 2019. Kandi shared footage from the delivery room. In a heartfelt message she thanked Shadina and Dr. Jackie for making her dream of having another child possible, Kandi wrote:
"Thank you for helping us bring our beautiful baby girl in the world. There are no words that can express our gratitude!"
Recently, Kandi showed off how much her daughter has grown in the months since her birth. The reality star posted a photo of Blaze in the arms of her father as the infant flaunted her growing teeth.
In a hilarious caption, she teased about Blaze putting her hand on Todd's mouth as a reaction to what she joked was her daughter avoiding his "COVID mask breath." Kandi asked her fans to add their own captions to the adorable snap.
One fan responded with a witty caption and wrote, "hold up Daddy, this pic is about me, not you! Cheeeeeese." Another person wrote, "Shhhhhh don't tell mommy what we got planned daddy!"
Other fans commented on how sweet the father-daughter duo looked. It was pointed out by one person that Blaze looked a lot like Todd.

A fan commented on a photo of Todd Tucker holding his daughter Blaze Tucker in his arms | Source: Instagram.com/kandi
Over the past year, Todd and Kandi documented the challenges they faced while trying to balance their career and family life.
During an episode of "Real Housewives of Atlanta," Kandi became emotional in a therapy session after Todd shared with her his fears that she was putting her career before her family. The couple ended the session in agreement that they would make more time for their family.
Please fill in your e-mail so we can share with you our top stories!