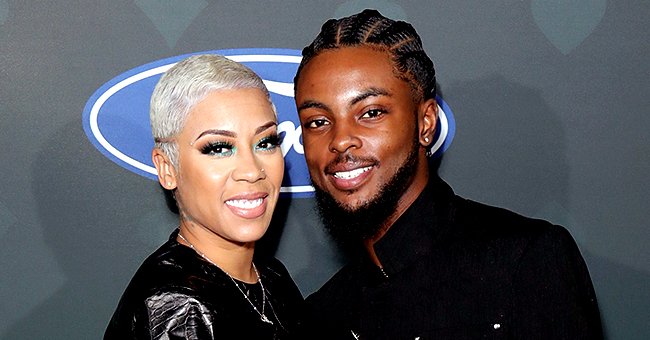 Getty Images
Keyshia Cole's Boyfriend Niko Khale Shares Adorable Photo with Son Tobias Amid Breakup Rumors
Keyshia Cole's boyfriend, Niko Khale, posted an adorable photo of himself smiling with his look-alike son, Tobias Kale, amid rumors that the couple has ended their relationship.
Keyshia Cole's and her boyfriend, Niko Khale, seemed to have the perfect family picture. The couple started dating in 2018, only a year after she finalized her divorce from NBA star, Daniel Gibson.
As the couple prepared their welcome their first child, Niko made his debut on her reality show aptly titled, "Keyshia Cole: My New Life." However, Keyshia's new chapter appears to have hit a speed bump amid reports that the couple has split.
Signs pointing to the possibility of a break up are evident in the fact that Keyshia and Niko are no longer following each other on Instagram.
Although Niko has removed most photos of his rumored ex-girlfriend on his social media page, including his father's day tribute, he kept a few pictures of Keyshia. He has been posting photos that feature himself and his son Tobias and stepson, Daniel Gibson Jr.
Keyshia had taken a more drastic approach amid their alleged breakup. She has deleted all of her Instagram content except three videos. In one video, she posted an ominous message, which said:
"Never get so comfortable in pain that you forget happiness is still an option! Shout out to EVERYONE tryna heal from things UNSPOKEN!"
The couple has both been tight-lipped about the status of their relationship. Niko also posted a cryptic message of himself posing on a railway track. He wrote, "the only time you should look back is to see how far you've come."
Only a day later, he posted another photo with his son and wrote in his caption, "twins." The father-son duo looked adorable. Tobias was pictured resting his head on Niko's shoulder as they both smiled for a selfie.
Most of his fans agreed with Niko that his son looked just like him. One person commented, "I see you in Tobias as he grows...no Keyshia...I see you. He is looking just like you."
"He is getting so big. Beautiful combo of mom and dada," wrote another person. Other people argued that Tobias looked more like Keyshia. One fan explained that the couple's baby looked like both of them.

A fan commented on a photo of Niko Khale smiling with his son Tobias Khale | Source: Instagram.com/nikokhale
According to
Madame Noire
, when Keyshia and Niko made their relationship public, they faced a lot of backlash for almost 14-years age difference.
During an interview with Nick Cannon, she famously snapped back at him for a joke he made about her being older than Niko. The R&B star revealed their age was no issue for them, and she had considered Niko to be more mature than her in certain aspects.
Please fill in your e-mail so we can share with you our top stories!