Check Out This Story Told by Russell Wilson about the Time Ciara Gave Birth to Their Daughter Sienna
Russell Wilson and Ciara are getting ready to welcome a baby boy and the star quarterback opened up about his wife's forthcoming delivery amid the COVID-19 pandemic.
Seattle Seahawks quarterback Russell Wilson and his singer wife Ciara are expecting their third child -- a little boy -- and the football player opened up about their plans for the delivery.
Wilson spoke to "Jimmy Kimmel Live" guest host Joel McHale about his return to training, and his preparation for his additional duties as a father to a newborn.
Wilson revealed that when their daughter Sienna Princess was born in April 2017, the NFL star was there for every moment of the delivery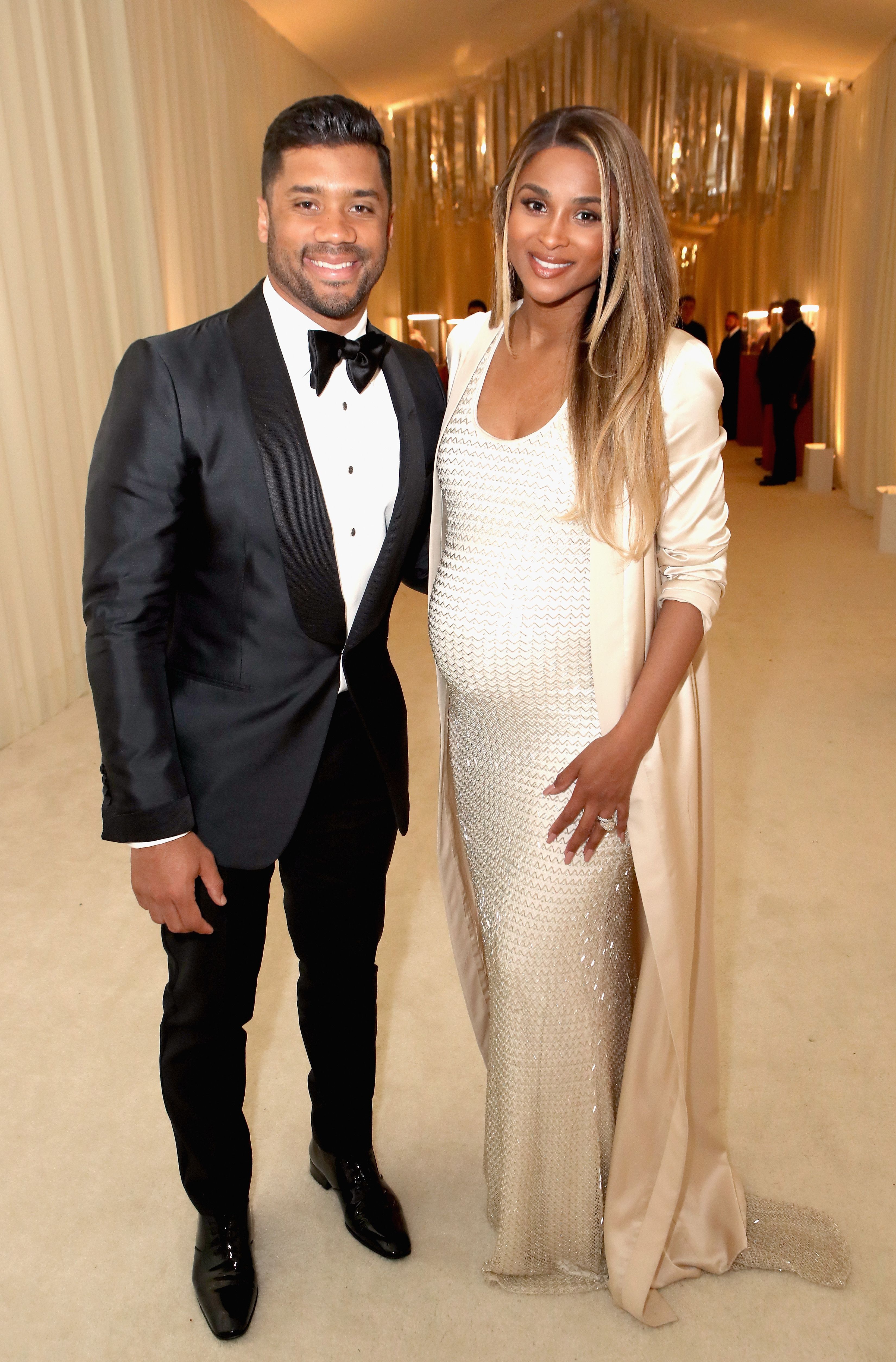 THE BIG MOMENT APPROACHES
A relaxed-looking Wilson chatted and quipped with McHale while swimming in his own pool, and while his team is going back into training soon, what is uppermost in the player's mind is the forthcoming birth of his second child with Ciara.
The singer is one of many expectant moms going through the end of her pregnancy during the COVID-19 pandemic which has cast an anxious pall over what the joyous event. Asked whether he will be present for the birth, Wilson replied:
 "That's what we don't know. That's kind of the crazy part of it. I hope so."
DELIVERY ROOM DAD
Wilson revealed that when their daughter Sienna Princess was born in April 2017, the NFL star was there for every moment of the delivery, supporting Ciara and urging her on. He revealed:
"Last time, she grabbed my hand. She almost broke my hand. She was squeezing my right hand. I said, 'Baby, baby, baby, other hand, other hand.' So, she grabbed my left. So, hopefully, she'll know this this time."
This time, the quarterback guaranteed, his hand will not be at risk of injury by the delicate Ciara, who has strict instructions to hold on to his left hand. Wilson, who is devoted to Ciara's son Future, 6, and their daughter Sienna Princess, 3, has admitted that he is getting his rest while he can because when the new baby hits the cradle, things will be hectic. He said:
"I'm trying to get as much relaxing time because I know I'm going to have to be doing baby duties here soon while trying to play football," he said. "So, it's going to be an interesting balance."
NON-STOP MOM
Ciara, who is now close to her due date, is as active as ever, confided Wilson, and working hard. With a third baby on the way and a household with 3 children under the age of 6, she will need all the help she can get, especially since she is equally dedicated to her career.
This time around, Wilson shared, Ciara announced her pregnancy news to her husband on date night by complaining about her sore feet, and offered her a foot rub. It was then that Ciara told the player, who also shares son Hendrix, 12, and daughter Heaven, 15 with his first wife  Ashton Meem that he was going to be a father again.
Wilson revealed some reservations about returning to training while the pandemic is still raging, and is eager to hear the League's plans for protecting the player's families from possible contamination. He noted on Twitter:
"I am concerned. My wife is pregnant. @NFL Training camp is about to start. And there's still No Clear Plan on Player Health & Family Safety. We want to play football but we also want to protect our loved ones. #WeWantToPlay."
As for Patrick Mahomes' fabulous half a billion-dollar contract, Wilson commented grinning that with three kids, money runs short -- a subtle tongue-in-cheek hint for the Seattle Seahawks.