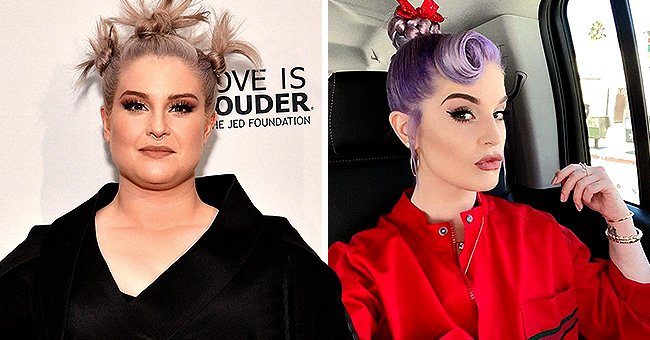 Instagram/kellyosbourne. | Getty Images.
Kelly Osbourne Looks Amazing after Losing 85 Lbs – Check Out Her Gorgeous New Update
Kelly Osbourne transformed her look, and this time it had less to do with her often colourful hair and more to do with the rest of her, which recently became "unrecognizable."
Even though Kelly Osbourne's hair looked perfectly purple in a recent selfie she shared with fans; it was the rest of her that had comments stream in.
At the beginning of the year, Kelly noted that 2020 is "going to be the year of [her]," and she definately kept to her word.
After a social media user Mamma Mai commented that Kelly "lost a lot of weight," the reality star's response made it clear that she made herself a priority just as she intended. Proudly, Kelly shared:
"I lost 85lbs since I last saw you. Can you believe it?"
In the picture Kelly shared, she had her purple hair up in a roll on top of her head, and she traded her usual darker colored looks for something bright since she felt "Gucci."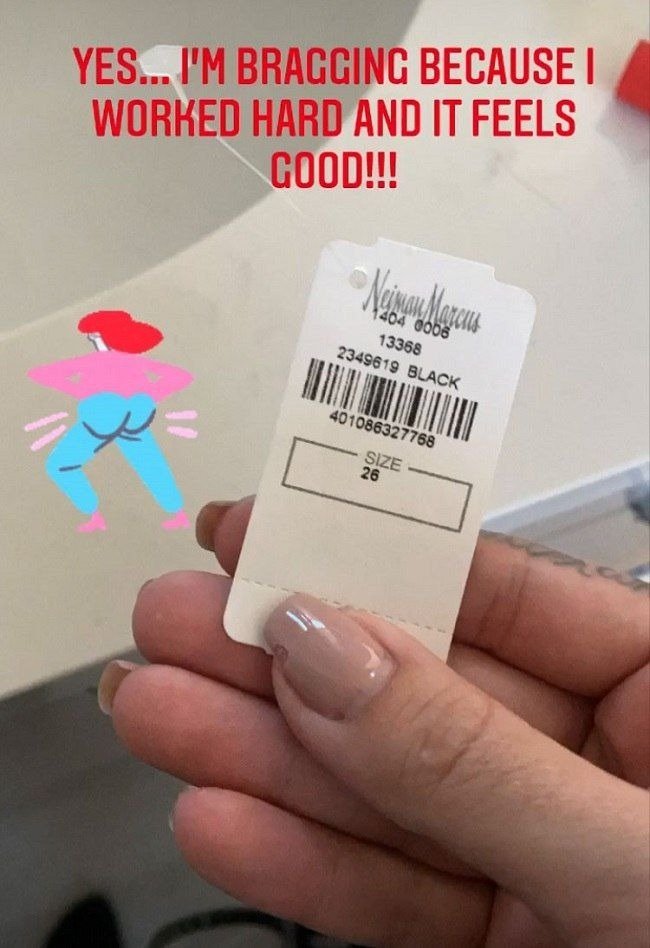 Kelly Osbourne shows off her weight loss by sharing her new clothing size on Instagram in August 2020. | Source: Instagram/kellyosbourne.
A PROMISE SHE MADE HERSELF
The reality star headed into 2020 with the resolution of making herself a priority since she so easily "put the needs of others before [her] own." With Kelly two years sober now, she previously shared that last year became "amazing" in terms of her personal growth even though it was "gut-wrenchingly difficult" to go through the process.
Now, Kelly is focused on the woman she feels she was born to be, but restrictions due to social isolation regulations made for its own set of difficulties. One of which included the lack of certain styling products, like hair color.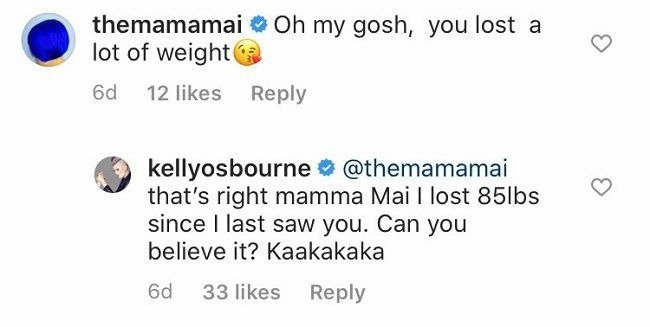 Kelly Osbourne proudly responds to a social media user about her amazing weight loss in August 2020. | Source: Instagram/kellyosbourne.
THE COLORFUL TRANSFORMATION
Earlier this year, Kelly admitted that she "really started to like" the transformation her hair also underwent while in quarantine. Kelly recently rocked blue and purple, and as her hair started growing out, it became a bonanza of color rooted by her real and darker color that started emerging.
"I can't lie, I'm really starting to like what's happening with my hair! It's about 20 different shades of purple and blue. Should I keep it like this?" Kelly asked her followers alongside a cute selfie back in May.
Around the same time, Kelly also shared her appreciation of being able to see her mom and dad. Kelly hasn't spent time with Ozzy and Sharon for about three weeks, and she was just so happy to see them, that she was willing to "take what [she] can get" since she "did not get to hug them."
Last month, a throwback picture taken of dad Ozzy had Kelly Osbourne take a trip down memory lane, and she shared the funny story of the day she got into trouble with him.
The picture of Ozzy was taken in their kitchen at home, and Kelly recalled how she put a can of soup into the microwave behind his head. The results were rather explosive.
Please fill in your e-mail so we can share with you our top stories!