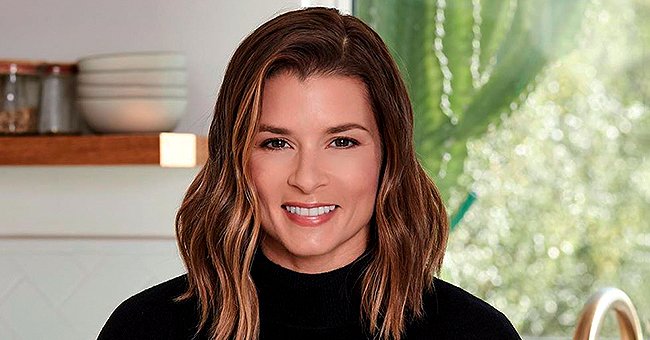 instagram.com/danicapatrick
Former NASCAR Driver Danica Patrick Claps Back at Troll over Relationship with Ex Aaron Rodgers
Danica Patrick was trolled on Instagram over her split from Aaron Rodgers, but the former NASCAR driver clapped back with a diplomatic response.
Like many other celebrities, former NASCAR driver Danica Patrick was a victim of internet trolling, but the athlete has recently proved that she would not allow anyone to bully her.
Patrick had shared photos of herself posing alongside a group of friends, and taking to the comments section, a user trolled the former athlete about her failed relationships.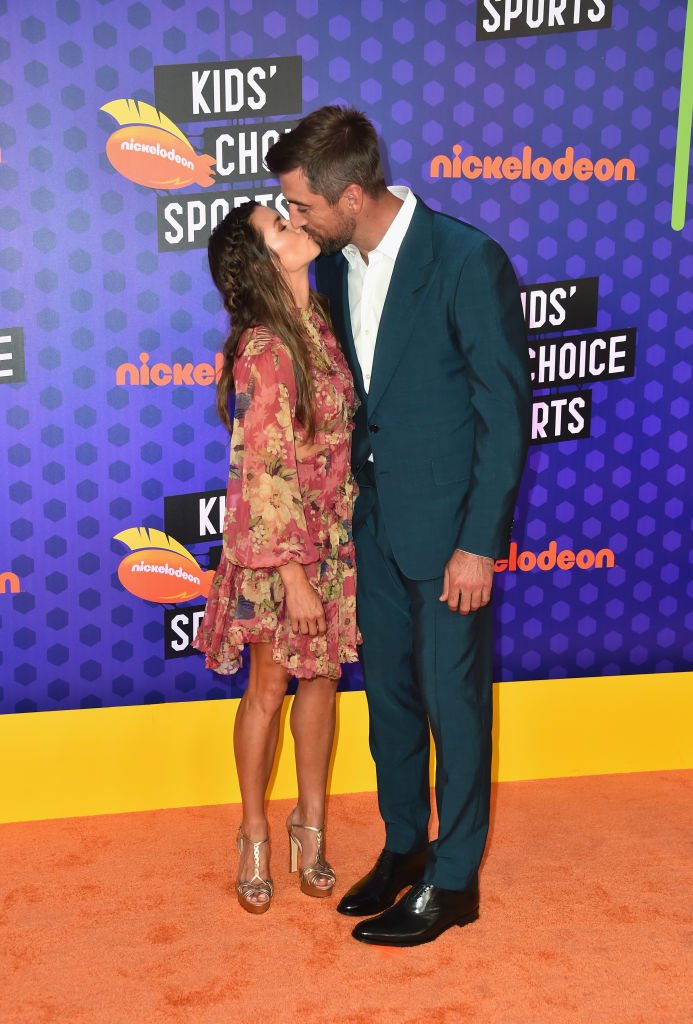 Danica Patrick and NFL player Aaron Rodgers attend the Nickelodeon Kids' Choice Sports 2018 at Barker Hangar on July 19, 2018 | Photo: Getty Images
In response to the comment, Patrick took to her Instagram story where she shared a screenshot of the criticism while adding a defiant caption where she explained that what people think is not always the reality.
Patrick went on to state that whatever negative comments people say is a reflection of their own emotional wounds. She concluded by writing:
"Our reality is our decision. Still not easy — but true."
Last month, it was revealed that Patrick and NFL star Aaron Rodgers had broken up after two years of dating. There is, however, no confirmation as to why the couple split up.
Before her relationship with Rodgers, Patrick had been in some other relationships and was once married to a physical therapist, Paul Hospenthal, whom she wedded in 2005.
Despite her impact in the racing world, it appears that some fans are more interested in Patrick's dating life.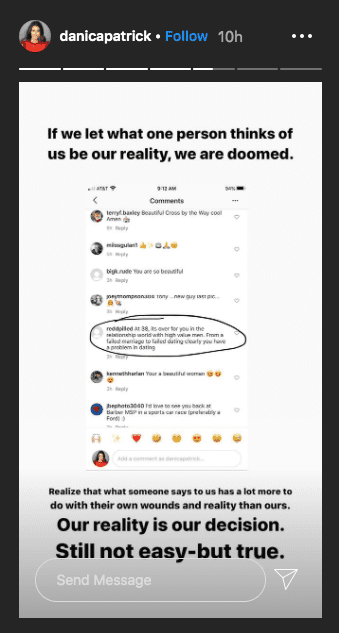 An screenshot on Danica Patrick's Instagram comments | Photo: Instagram / danicapatrick
The marriage was short-lived, and a few years later, they were divorced. Following her divorce, Patrick got into a relationship with fellow driver, Rick Stenhouse, and the duo dated for five years.
Considering her popularity in a male-dominated sport, it comes as no surprise that Patrick would be a victim of countless negative and misogynistic messages from internet users.
Patrick first made headlines in 2005 when, at 23, she became a star in the racing world, and over time, she became one of the best IndyCar drivers in the world.
In 2008, Patrick became the first female winner of an IndyCar series race, but her primary goal was to make it to the main stage at NASCAR.
By 2012, she debuted in the NASCAR Cup series, and although she had minimal success, Patrick's drive to compete among top playing men did not go unnoticed.
Although Patrick never won in the NASCAR Cup Series race, she finished in the top 10 seven times and once got into pole position.
Despite her impact in the racing world, it appears that some fans are more interested in Patrick's dating life, but that doesn't seem to bother her.
Currently, she appears to be happy in her single state and seems even ready to move on from her past. Hopefully, her next relationship will be the fairytale she has always wanted.
Please fill in your e-mail so we can share with you our top stories!