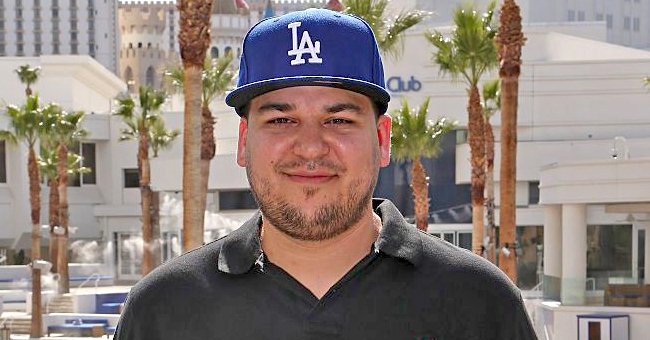 Getty Images
Kim Kardashian's Brother Rob Trolls Her for Using 'Scarface' Quote as Photo Caption
Kim Kardashian recently shared a photo of herself alongside a quote from "Scarface." This was met with several comments, including one from her brother, Rob Kardashian.
Kim Kardashian was recently called out by her younger brother, Rob Kardashian, and quite frankly, no one does it better!
Taking to Instagram recently, Kim shared a photo of herself donning a gray Skims tank top and matching underwear.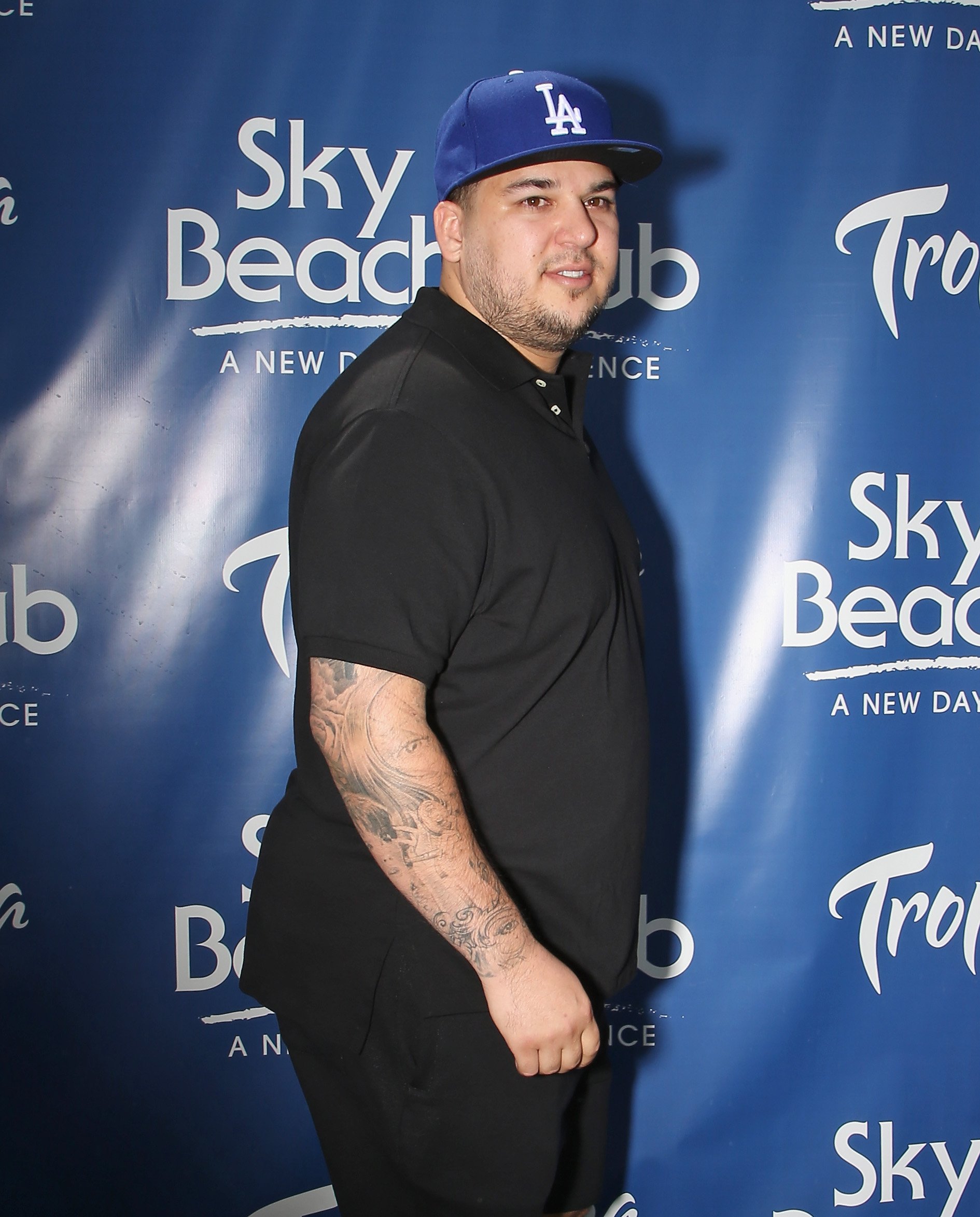 Rob Kardashian attends the Sky Beach Club at the Tropicana Las Vegas on May 28, 2016. | Photo: Getty Images
The tank top which Kim wore flaunted her cleavage and firmly accentuated her curvy waist and showed off her flat tummy. In the picture, Kim was seen sporting a long, lush hairstyle while she held her family's dog in one hand.
The snapshot also saw Kim sporting a subtle makeup look as she had her lips in a slight pout. In her caption, she wrote:
"Say hello to my little friend."
Although the caption looks regular, it is a reference from the 1983 movie "Scarface," and Rob was quick to call his sister out over her choice of words.
Taking to the comments section, Rob wrote, "You never even seen Scarface stop playing ???." Several other fans also expressed admiration by dropping emojis under the post.
Rob consistently shows off adorable photos of his daughter.
While Kim did not respond to Rob's comment, her younger sister, Khloe Kardashian, hilariously replied to her brother and told him to step away from his phone.
Last October, Rob re-emerged from leading a private life. Since then, he has been a lot more active on social media. Following Rob's split from Rita Ora In 2012, he started experiencing troubles with his weight and mental health.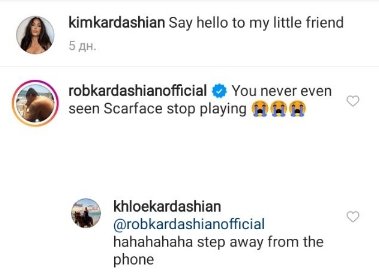 Rob and Khloe Kardashian's comment under Kim Kardashian's post on instagram | Photo: Instagram/kimkardashian
With his weight gain came a decline in his self-esteem, and ultimately, Rob retreated to living away from the spotlight. Although he reportedly made efforts to shed weight, it was hard for Rob to stay motivated with living a healthy life.
However, following his re-emergence in 2019, Rob has been sporting a slimmer and more toned look, and it appears his confidence is back.
In June, Rob joined his family as they celebrated his sister, Khloe's 36th birthday. Taking to Instagram, he shared a series of photos from the event, and there's no doubt that he's feeling a lot better about himself.
While one picture saw him posing alongside his eldest sister, Kourtney Kardashian, another snapshot captured Rob with Khloe's ex, Tristan Thompson.
Although he was formerly maintaining a low profile on social media, Rob consistently showed off adorable photos of his daughter, Dream, whom he shares with model Blac Chyna.
In June, Rob shared a photo of his daughter wearing a striped outfit while she stared into the camera and fans could barely get over how cute the little girl looked
Despite his many challenges, Rob constantly dotes on Dream. There's no saying to how much he loves being a dad. Without a doubt, he is the best father his daughter could have asked for!
Please fill in your e-mail so we can share with you our top stories!