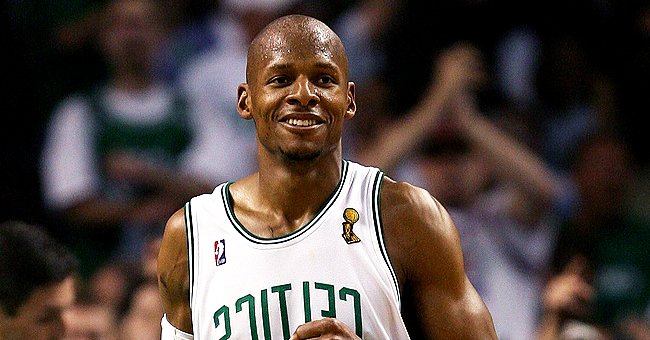 Getty Images
Ray Allen's Wife Shares a Charming Photo of Him with Their Four Curly-Haired Sons
Shannon Walker Williams, the wife of former NBA star Ray Allen, shared an adorable family picture showing her husband and their four sons.
Shannon Walker Williams played the role of a photographer of her husband Ray Allen and their four sons, Walter Ray Allen III, Walker, Wynn, and Wynstan.
The photo showed the proud father and his sons posed outdoors like an NBA team. Allen stood behind all of his sons, who formed a line in front of him.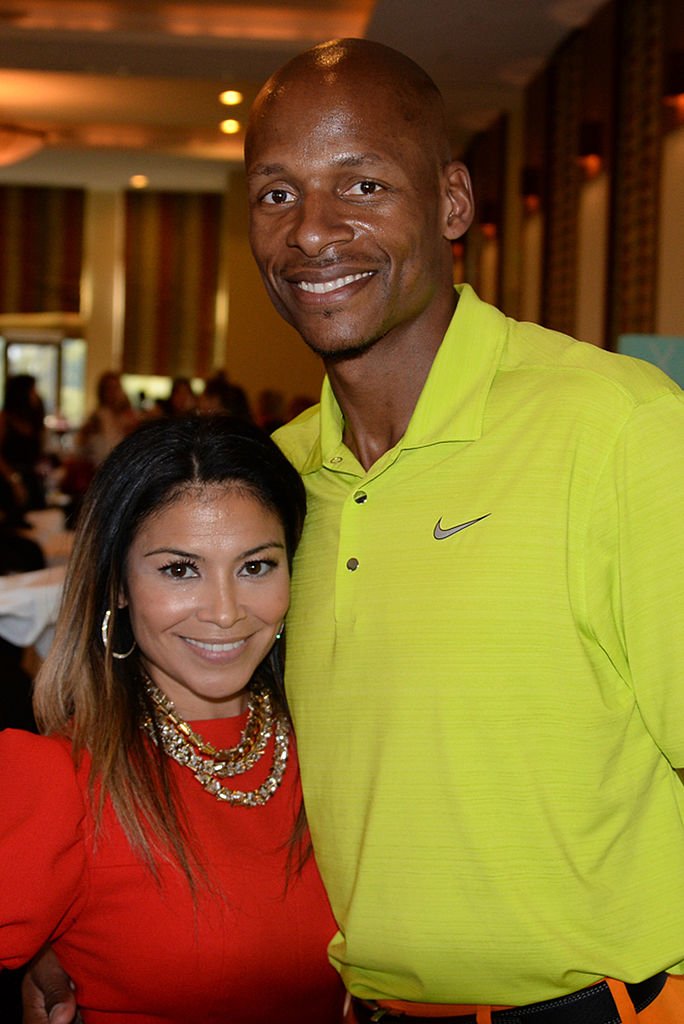 Ray Allen of the Miami Heat and his wife Shannon Walker Williams during his charity golf tournament on January 27, 2014. | Photo: Getty Images
The former basketballer wore a blue polo shirt while Walter was topless, holding a lemon ball in his hand. He also wore dark Nike shorts.
Walker wore a grey T-shirt and black Nike shorts while Wynn and Wynstan completed the quartet wearing T-shirts and shorts too. Williams captioned the post:
"That moment when you realize you are somebody's son's Mom. Happy #BackToShool! #remotelearning #noshirtnoshoesbutschool."
Many of Williams' friends and fans including Gabrielle Union liked her post, with many others commenting on it. One fan expressed surprise at how much Williams' boys had grown.
Television personality, Darcey Williams in her comment said that she loved the Allens. Another fan wished the boys a happy first day of school, adding that Walter had grown so big.
The suit Allen filed was in response to Bryant Keith Coleman who claimed that Allen was stalking him.
Allen and Williams have been together since 2004 and aside from their four boys, they have shared many great memories. The couple tied the knot four years after they began dating.
Williams is also famous though not as much as her husband. The mother of four is a graduate of Northeastern University. She was a founding member of "Shades," a former music group of Motown Records.
After quitting music, Williams tried her hands out as an actress, appearing on television shows such as "Candy," "Century City," and "Blue's Clues." She also starred in movies such as "Girlfight," "Baby," "One More Time," and a few others.
These days, Williams is a television chef and, along with her husband, has the vision to reinvent the fast-food industry in America.
Meanwhile, during his playing career, Allen created his bit of history. On February 10, 2011, he became the all-time NBA 3-point goal scorer, surpassing the previous record set by Reggie Miller.
In 2017, the former NBA star was involved in a court case after he claimed that he was "catfished." He asked an Orlando court to dismiss a case that accused him of being an online stalker.
The suit Allen filed was in response to Bryant Keith Coleman who claimed that Allen was stalking him. However, Allen said in his motion that Coleman attempted to extort him and reveal his family's private information.
Please fill in your e-mail so we can share with you our top stories!