Chrissy Metz from 'This Is Us' Responds to Rumors about Her Split from Hal Rosenfeld
Chrissy Metz bluntly responded to rumors about her split from Hal Rosenfield in an Instagram story this week. The actress did not have to say much to clear the air. 
Chrissy Metz is one of the celebrity names that have been running through tabloids in recent days. Little do they know, there was no reason to mention her in the first place. 
In one of her Instagram stories this week, Metz responded to supposed rumors that she and Hal Rosenfield had split up. The actress' raw tone left little more to talk about.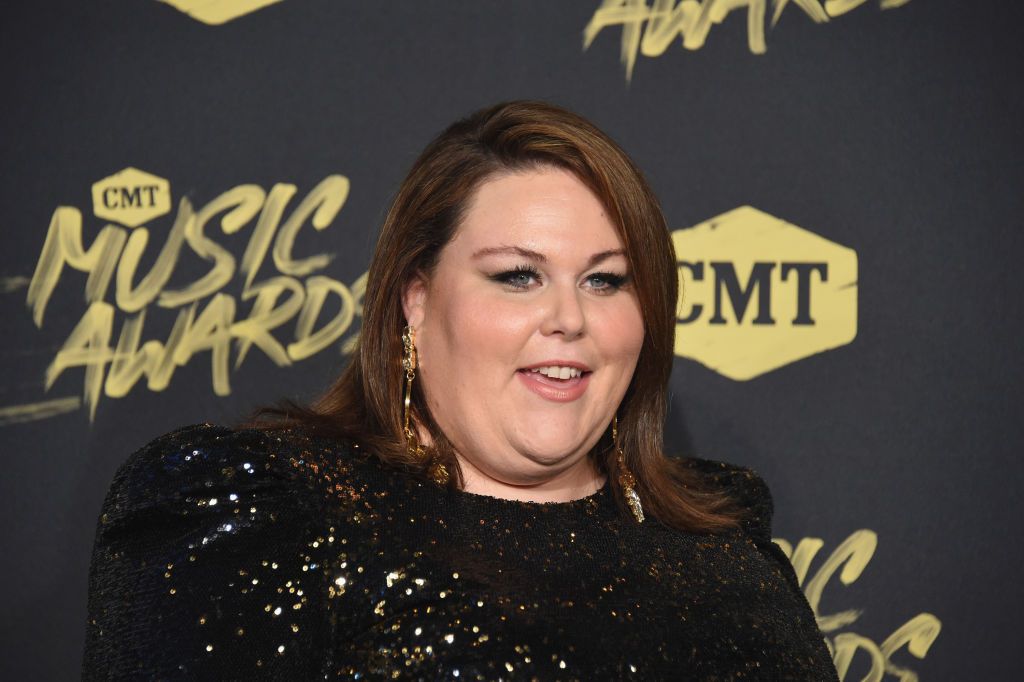 METZ RESPONDS TO RUMOR
Metz shared a screenshot from one of the pieces talking about her and Rosenfield, who she began dating in 2018. Over the screenshot were three large blocks of text in which Metz gave her response. 
First, she crossed out the word "boyfriend" in the article using a red marker. Then, on the first block, she wrote, "For the record, we actually broke up almost two years ago..." 
She continued: "Can't believe everything you read," and added the hashtag, "Late to the party." Metz and Rosenfield have been making appearances together as recently as March 2020.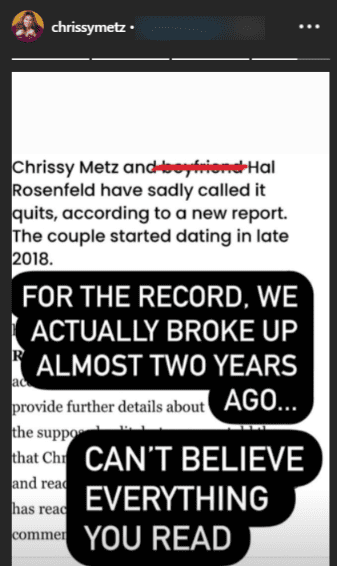 METZ'S PRIOR ROMANTIC INTERESTS
Back then, the two posed together during the premiere of "Mulan." The "This Is Us" star was first romantically linked to Rosenfeld, a music composer, in November 2018. 
Before that, Metz was connected to cameraman Josh Stancil. She was previously married to Martyn Eaden from 2008. She and the copywriter ended things on a positive noted in 2015. Metz said they are still friends. 
HONORING HER MOTHER
Although she is single, Metz has a lot of people in her corner. Back in February, she dedicated her Academy Awards performance of "I'm Standing With You" to her mother.
Metz's mother suffered a massive stroke last year and was left with a grim diagnosis. Metz gave an emotional performance of the song, which was written by Diane Warren. 
FEELINGS ABOUT HER WEIGHT
Metz is admired for her talent and for being an advocate for other plus-sized aspiring artists. The actress and singer once said in 2016 that weight is not part of her identity. 
She added: I"m so much more than the weight that I carry on my body." Metz is not swayed by the opinions of others when it comes to her size. She cares little about labels, too. 
NEW SEASON OF "THIS IS US"
Her attitude has definitely helped propel her to where she is today, starring as Kate Pearson on the NBC drama, "This Is Us." In May, Metz opened up about the show and its future storyline. 
Metz, 39, teased that the coming season five will reveal shocking moments from Kate's past which helped shaped her into the woman she is today. Fans won't be able to predict it. 
Showrunner Dan Fogelman was sure to ask Metz about certain coming scenes for her character. Metz told him she wanted to do it because people need to see. The show is set to return in the fall.