Samuel L Jackson Wishes Salma Hayek a Happy Birthday, Calling Her the Best Screen Wife Ever
Samuel L Jackson celebrated his on-screen wife's birthday with a sweet post shared on his Instagram page. 
It is Salma Hayek's birthday, and the star is celebrating 54 years with a stunning photo of herself wearing a lovely yellow bathing suit and matching skirt. 
The star received a barrage of happy birthday wishes from her fans who even made her a fan-made Instagram page to celebrate her. 
One notable birthday wish that she received was from her former costar and on-screen husband Samuel L. Jackson who shared a sweet message for her. 
The pair had acted together in the action comedy film, "The Hitman's Bodyguard" where she played Sonia Kincaid, the wife of Jackson who played assassin Darius Kincaid. Jackson wished her a happy birthday saying:
"HAPPY BIRTHDAY, to the Dopest screen wife ever, @salmahayek???????? #hitmanswifesbodyguard  #keepagingbackwards."
For her birthday, the actress has been on an exotic holiday in Greece with her husband François-Henri Pinault.
She also received more birthday wishes from her celebrity friends including Kate Hudson, Orlando Bloom, and Anthony Hopkins.
When she sees things that she does not like, she thinks about what she would look like in 10 years. 
Hayek also remembered to celebrate herself sharing a series of gorgeous pictures of herself reflecting on her life. 
While she may have turned 54, the star looks like she has barely aged as she enjoys a break by the ocean writing:
"I am very grateful and proud for every single one of my 54 years. Thank you for all the birthday wishes, especially to my fans who made a special account for my birthday."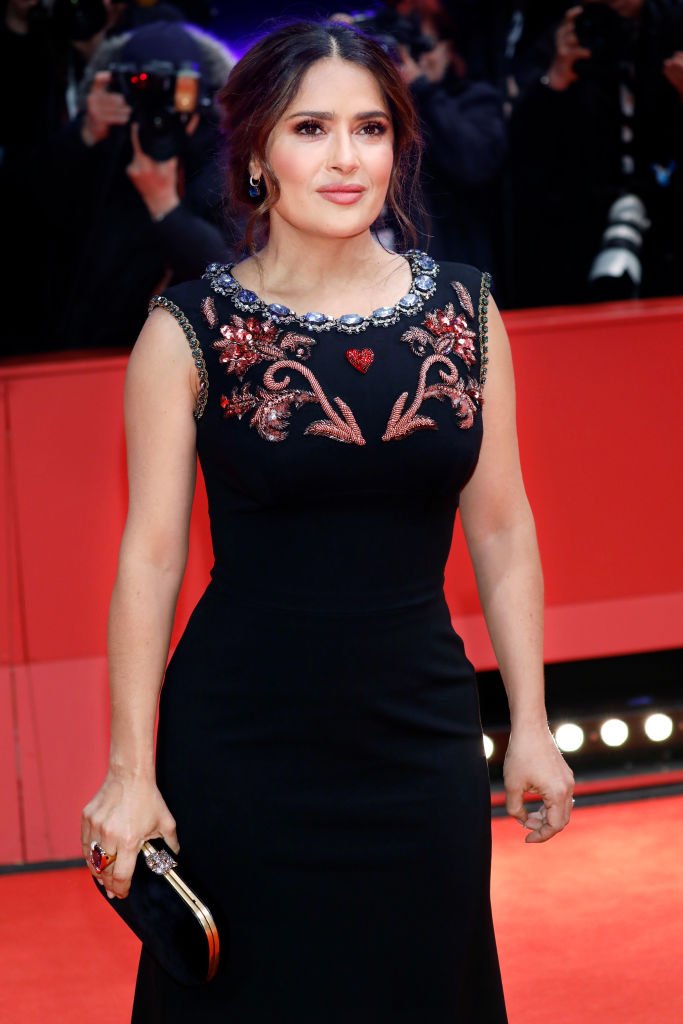 While on holiday with her husband and daughter Valentina Pinault,
Hayek
has been sharing some photos of herself in bathing suits though the actress has admitted in the past that she has suffered from body issues. 
Speaking to PEOPLE, she said that she would often criticize herself in her 30s and 40s. However, she revealed that when she sees things about her body that she does not like today, she thinks about what she would look like in 10 years. 
Fans of Hayek and Jackson can celebrate as the sequel to "The Hitman's Bodyguard" will be gracing the silver screen. 
Last year, the pair were spotted filming scenes in Croatia, and it looks like Hayek's character had retained her fiery temper when she was photographed angrily pointing her finger at Jackson.