Gender Reveal Went Wrong for Massachusetts Couple after They Fail to Blow up Color Crackers
A gender reveal turned out to be a mini-comedy show after a Massachusetts couple failed to blow up the color crackers correctly, leading to a not so good outcome. 
When Tom Cressoti, his wife Kristin, and their daughter Ella stood at their backyard, ready to reveal their baby's gender to their friends and family, they could never have envisaged what happened next. 
Kristin shared a video on her Facebook page showing the moment the couple and their daughter held up the crackers in their hands, ready to announce their new baby's gender.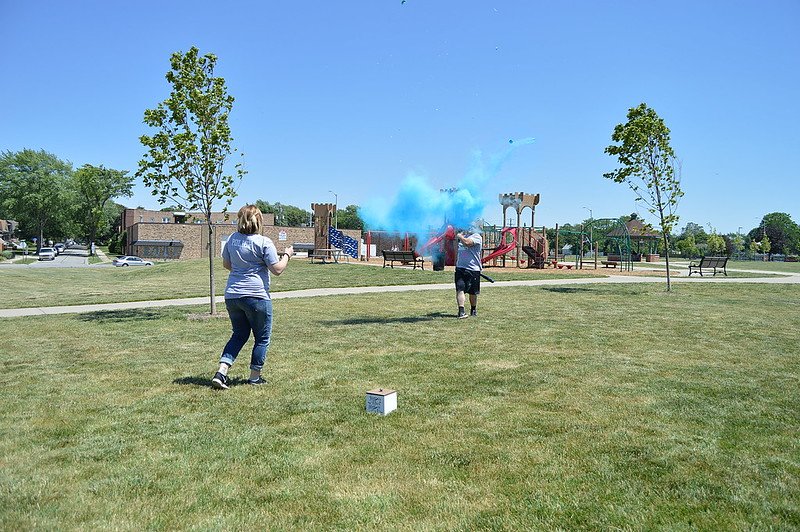 They chose to use the color crackers because they usually go 30 feet in the air, leading to a beautiful and unique visual and greater spectacle. 
However, things did not go as planned. After the onlookers in the background counted to 5, Tom and Kristin released the crackers' blue smoke. 
Hysterical gender reveal mishap brings dad to his kneeshttps://t.co/7Sa43MrlwM

— 3rd Hour of TODAY (@3rdHourTODAY) September 4, 2020
It signified that their daughter, who stood in between her parents, would have a baby brother, but rather than going up, the smoke went down. Tom and his wife held the powder cannons upside down. Hence, when they released the crackers, they went directly into his genitals.  
Taylor found out her husband, a Senior Airman, had been deployed at a time she was pregnant and set up a surprise gender reveal celebration overseas 
While still trying to understand what had happened before her eyes, their daughter was covered in blue smoke, while Tom remained sprawled on the floor, holding his genitals. 
Kristina and the rest of the observers could not contain their laughter. The couple spoke to Today about the hilarious moment. Tom revealed that he received assurances from his wife when he asked if he held the crackers the right way. Kristina said:
"First of all, my utter shock was from the fact that it backfired. I knew it was wrong when the blue was on the ground and not in the air." 
Tom said he was fearful at first when the crackers went to the ground, fearing that it hit his daughter, but was able to laugh it off when he realized no one was hurt. 
While Tom and Kristina's gender reveal turned out to be a funny experience, that of another Massachusets' couple, Taylor and Nicholson Pennant, which happened last year, turned out to be surprising and emotional. 
Western Massachusetts couple pulls off deployment gender reveal https://t.co/glyvy964qr

— WWLP-22News (@WWLP22News) May 29, 2019
Taylor found out her husband, a Senior Airman, had been deployed at a time she was pregnant and set up a surprise gender reveal celebration overseas with help from his fellow troops. 
Another eye-catching gender reveal came up in February, before the Major League Baseball team, Cubs' Cactus League game versus the Rockies. A couple asked David Bote to take part in their gender reveal.
The expectant father tossed a ball to Bote, who put his swing to good use, smashing the ball open to reveal a pink cloud of powder to signify that the couple was expecting a girl.