See the Wedding Photos Steve Harvey's Daughter Karli & Husband Shared on Their 5th Anniversary
Show host Steve Harvey's twin daughter, Karli Harvey and her husband, Benjamin Raymond took a trip down memory lane on Instagram in honor of their fifth wedding anniversary.
On September 26, famous television show host Steve Harvey's daughter, Karli, and her husband, Benjamin Raymond, took a trip down memory lane to celebrate their fifth anniversary. Karli wrote on Instagram:
"Happy Anniversary Mr. Raymond @iambenraymond ♥️ Cheers to 5 years of marriage and a lifetime of memories! #TeamRaymond."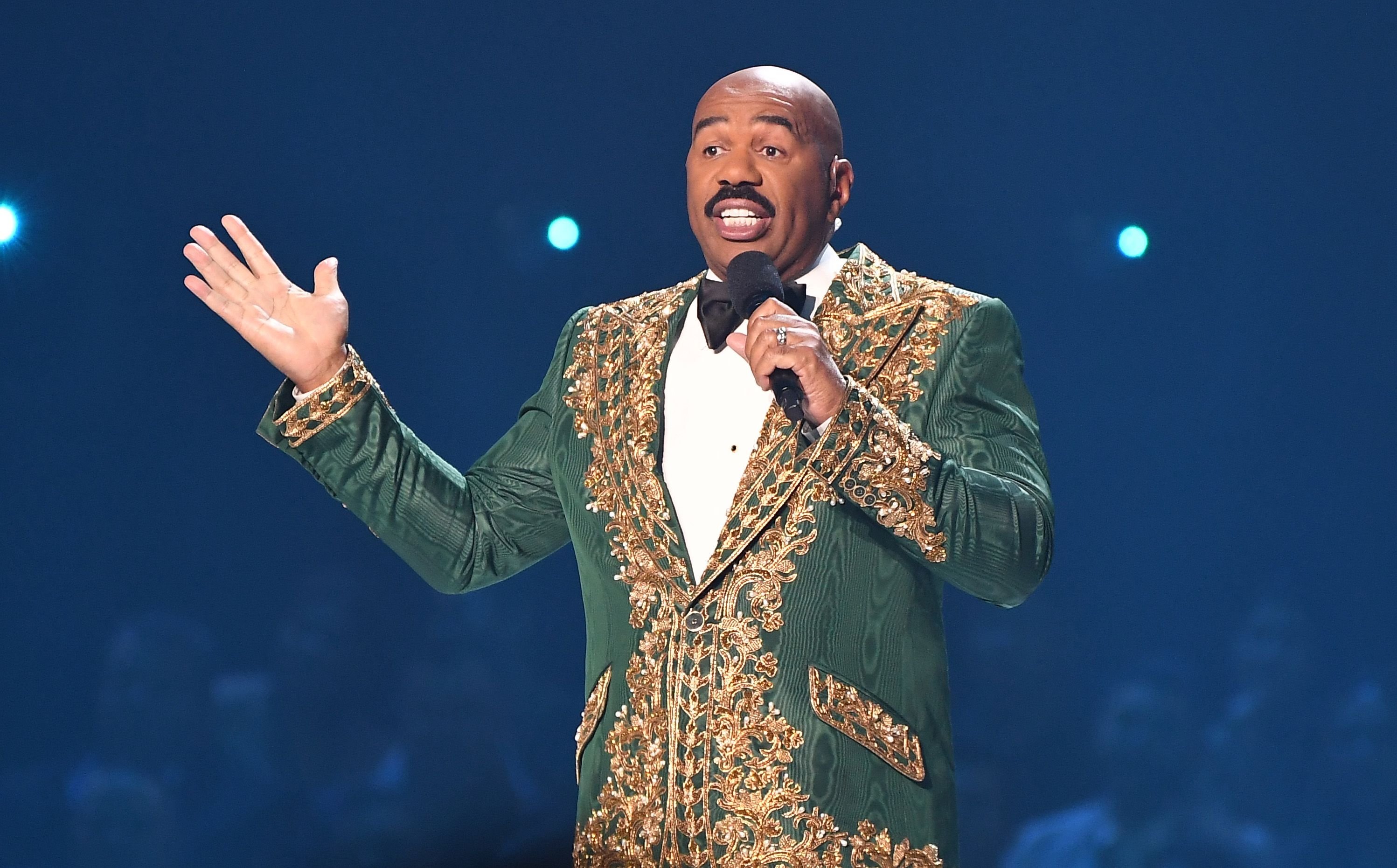 The proud wife shared a photo of herself with her husband on their wedding day. They struck a pose together on a long couch for the perfect couple photo.
The then-newlyweds were dressed in their wedding attire. Karli looked absolutely divine in her grand wedding dress with its fabulous lengthy train.
Her hubby, Benjamin, on the other hand, looked dashing in his black tuxedo and classy, elegant shoes. The pair were a match made in heaven, and Karli's fans congratulated her in the comments section.
Benjamin also received his own congratulations from his fans when he posted more stunning photos from their special day, showing his followers how much of a beautiful couple they made.
When Karli married Benjamin, her loving and proud father, walked her down the aisle with tears streaming down his face.
The first photo Benjamin shared featured him and his beautiful bride staring lovingly into each other's eyes while posing on a staircase, while the second showed them standing together and enjoying their champagne.
The lovebirds tied the knot in 2015 and have been nothing but an inspirational duo for the many hopeful romantics out there. Not long after she shared the throwback snap, Karli went on to post another photo of them enjoying a wonderful date night. She captioned:
"♥️The Raymonds♥️"
Karli wore her hair up in a fancy bun right atop her head and looked breathtaking in a simple black outfit. Her charming hubby wore a played-up casual outfit with a jacket over a T-shirt.
The photo from their special date night showed them clinking their glasses in celebration of their fifth year as husband and wife.
Karli was one of Harvey's seven children and one-half of his twin daughters. She and her twin sister, Brandi Harvey, were the oldest of the Harvey kids, born from his marriage with his first wife, Marcia Harvey. 
When Karli married Benjamin, her loving and proud father walked her down the aisle with tears streaming down his face. The show host shared behind the scenes footage from the wedding on his official YouTube page.
The television host was also there to celebrate the cute couple in 2016 when they hit their first-year mark. Karli is one lucky lady to have such a beautiful marriage and a very supportive father.