DWTS Host Tyra Banks Rocks a Casual Look in Skintight Leggings While Eating Smize Cream
"Dancing With The Stars'" new host, Tyra Banks shared a picture on her Instagram, where she rocked a skintight legging while eating her latest product, "Smize Cream."
Tyra Banks, 46, might well be one of the happiest persons in Hollywood following the ratings she is getting as the new host of "DWTS." This is despite the initial struggles she went through after replacing Tom Bergeron and Erin Andrews.
Just when her fans are settling into her latest achievement, Tyra Banks has given them something to make them even more comfortable while watching her host the show. The 46-year-old can count on her massive fan base to dive into her latest product.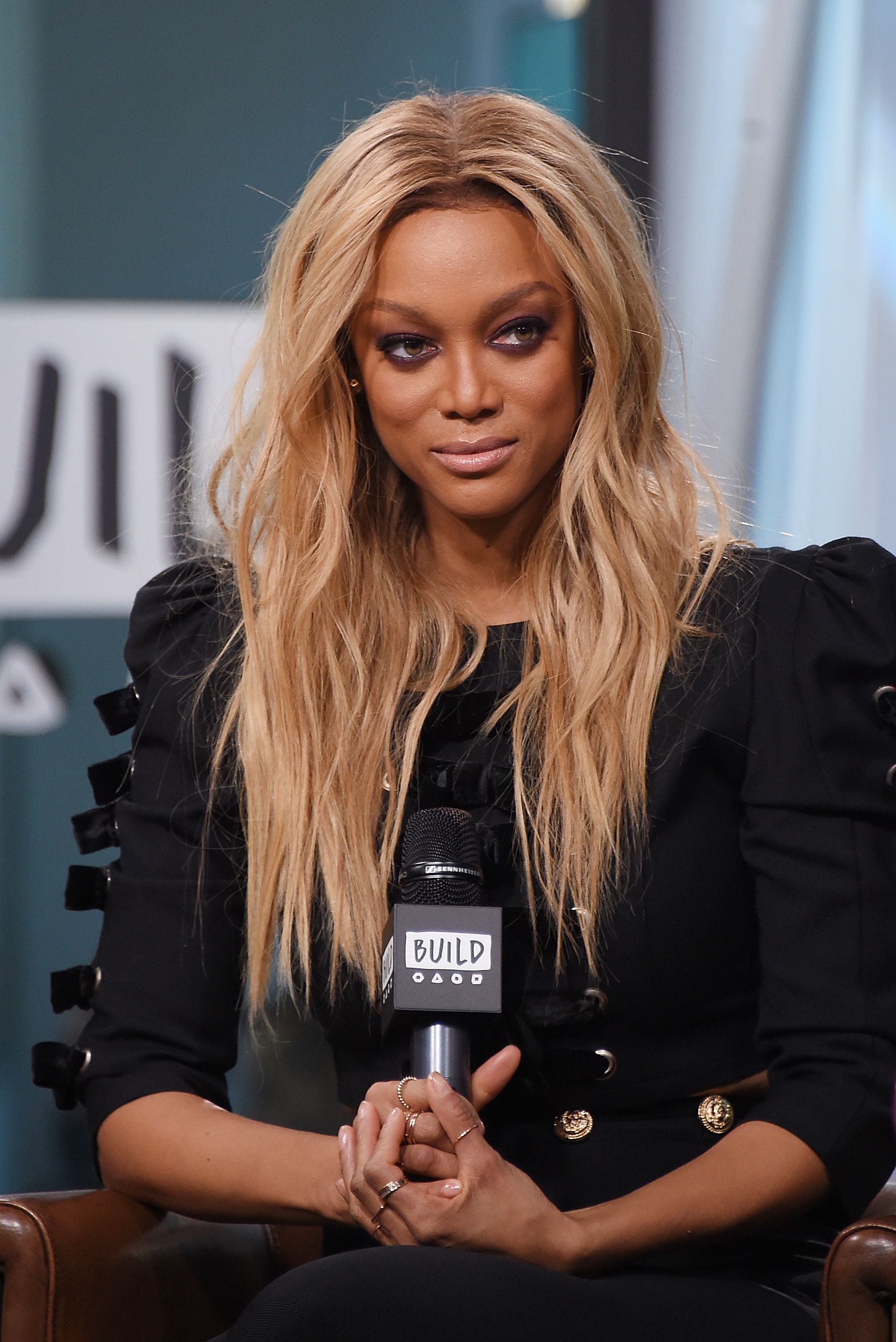 The "America's Next Top Model" creator used a gorgeous photo to show her fans just how creamy her much anticipated "Smize" cream is. In the picture which she shared, Banks sat on the marble countertop of a kitchen wearing a pair of black leggings with rows of small sheer panels on the sides of the legs.
She donned a fitted white tank top to match her black leggings while rocking a pair of mustard-yellow sneakers. The model opened her eyes up wide as she held a spoon up to her mouth like she's about to take a bite of her Smize Cream. She captioned the post:
"I founded @smizecream ice cream out of the pure desire to bring happiness to the world, as well as tap into my own obsession… which is ice cream!!"
Banks also said that her latest product would create jobs and encouraged her followers to check out the Instagram page of the new product for details on when they'll be able to try it.
Tyra Banks' casual outfit in the picture is said to be her strategy of keeping the focus on her product and not on her beautiful looks.
Fans of the 46-year-old rose to the occasion, liking and commenting on the post. One fan described the singer's look as gorgeous while another humorously asked if the ice cream was free.
Tyra Banks has unfairly been the recipient of outrage from aggrieved fans despite having many fans rooting for her.
Banks has never hidden her love for ice cream and has described it as a big part of her health and wellness. She has reportedly moved to trademark the term "smize," which means smiling with your eyes.
Since she became the host of the season 29 of "DWTS," Tyra Banks has been at the center of backlash from disappointed fans of the show who are still saddened by the exit of Tom Bergeron and Erin Andrews, the former hosts of the show.
Banks has unfairly been the recipient of outrage from aggrieved fans despite having many fans rooting for her and giving her a chance to perform her magic on the show.
She faced critical remarks after the season 29 premiered a few weeks back, with many insulting her hosting style, calling out mistakes, and cruelly joking that they wished they could vote her off the show instead of the contestants.
Tyra Banks' recent comments have shown that she can handle the animosity towards her from outraged. Banks reportedly said that she allows her editors to leave her mistakes as part of the show as it makes everything "human."
Banks also said that if she wanted the show to be error-free, she knew what to do to achieve that, but her goal is to be as real as possible and not act like a "doll." She further revealed that she is committed to keeping the legacy of the show that Tom Bergeron and Erin Andrews left behind.