Salma Hayek, 54, Wows Fans with Her Stylish Look in a Leather Trench Coat
At 54 years old, celebrated actress Salma Hayek's still got it. She recently shared a stunning photo of herself wearing a leather trench coat, and her fans were impressed.
On October 9, Salma Hayek uploaded a dazzling picture of herself from a fashion show she attended. The photograph shows the acclaimed actress donning a leather trench coat.
Hayek was in attendance for the Bottega Veneta Salon 01 London collection presentation, which was held at Sadler's Wells Theatre, along with English model Rosie Huntington-Whiteley.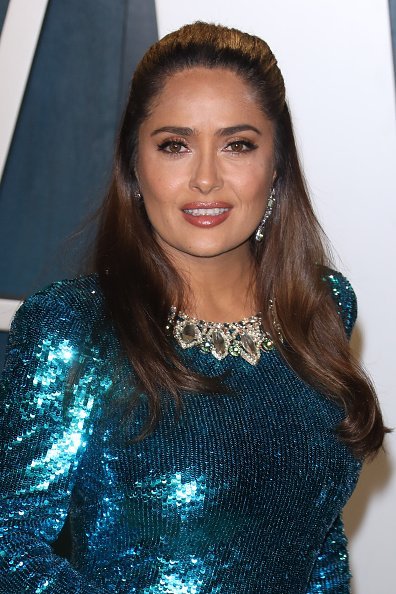 In the caption of her photo, the "Desperado" actress explained that the star-studded occasion was the only fashion show she went to this year. She thanked Daniel Lee for making it worth the wait, adding:
"It was gorgeous, intimate, it respected social distancing, and yes, I wore a mask."
Needless to say, Hayek's fans immediately flooded the comments section of her post that already garnered more than 262,000 likes on Instagram as of writing.
One fan noted that her outfit was fashionable and unique, adding that it looked cool on the actress. Another fan described Hayek as the most beautiful woman on the planet.
This is not the first time the actress broke the internet with her gorgeous photo. Hayek also recently sent her fans crazy over her swimsuit photo on Instagram.
The ageless star's alluring pose accentuated her attractive body.
In the photograph, the award-winning actress, whose breakthrough role was in the 2002 film "Frida," is seen putting on a busty display while soaking up some rays.
Hayek explained in the caption of the photo that she was flaunting her acting skills by attempting to make it seem as though she was "thinking of something very profound."
The photo captured Hayek from a single side. Nonetheless, her beautiful face was slightly turned toward the camera. She is seen in the snap gazing off into the distance.
Meanwhile, on September 17, fans gushed over the actress after she uploaded photos of herself wearing a plunging maroon swimsuit while relaxing on the jump plank. The ageless star's alluring pose accentuated her attractive body.
The first picture was closely cropped to Hayek's incredible figure while the second snap captured a more expansive view of her surroundings. The brunette beauty completed her look with a straw sunhat and sunglasses.
Hayek has been married to French billionaire Francois Henri Pinault since 2009. The loved-up couple shares one child daughter Valentina, whom Hayek gave birth to at 41 years old.