LL Cool J's Wife Simone Shows off Meaningful Necklace Posing in a Pink Checkered Shirt (Photos)
In a recent Instagram post, LL Cool J's wife Simone Smith looked young and carefree in a casual outfit. Underneath it, she wore a chain with a locket that held a sweet meaning.
LL Cool J's wife, Simone Smith rocks long braids like no other. The 52-year old beauty can also rock casual outfits and look equally amazing and she proved it with her recent Instagram update. 
In the photos, Smith donned a basic checkered shirt with a white tank top underneath it. She wore it with a pair of ripped blue jeans and white sneakers. She covered her head with a printed pink bandana.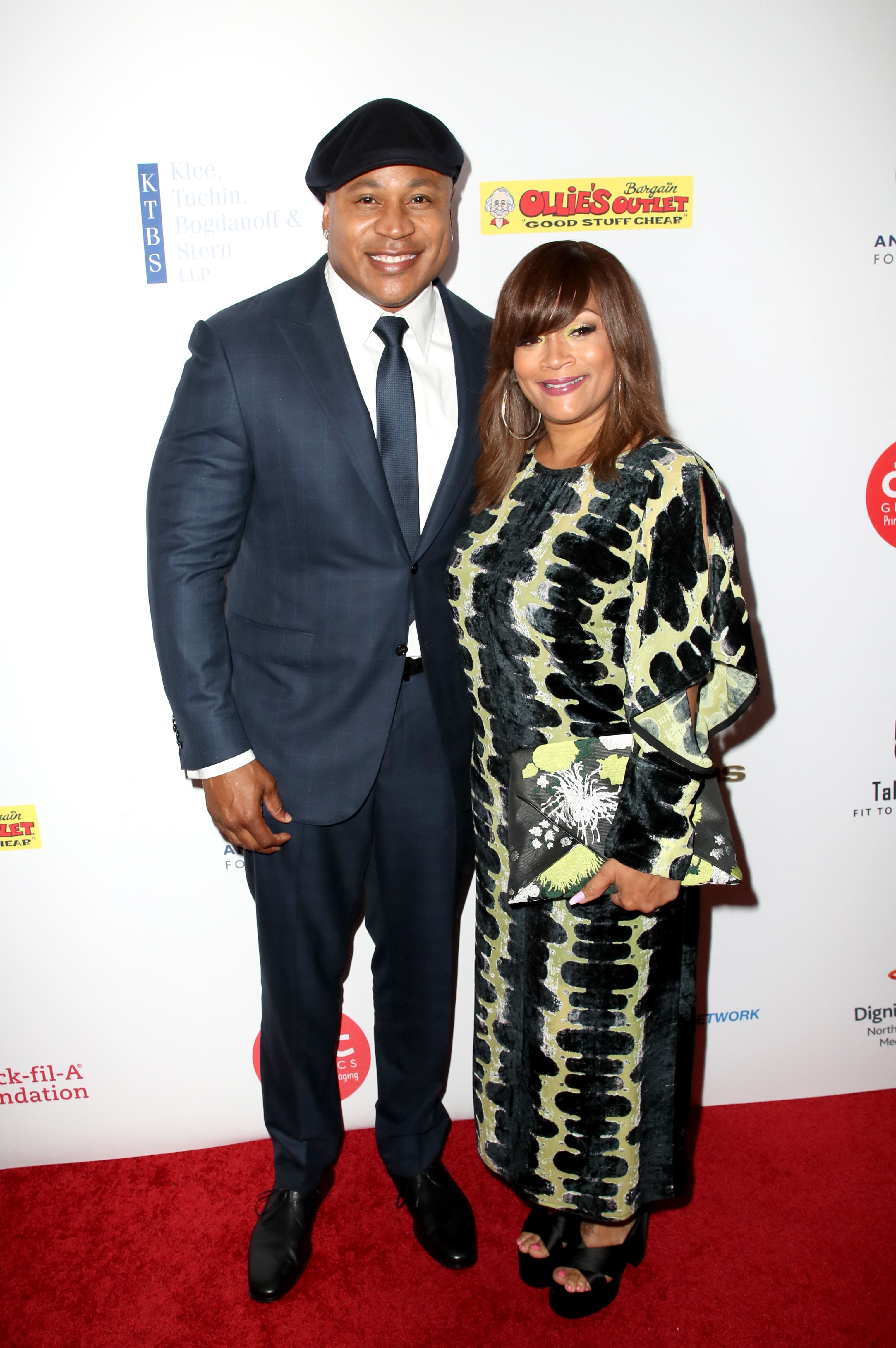 SMITH'S BEAUTIFUL ACCESSORIES 
Sitting on what looked like a big wooden chair, Smith casually showed the peace symbol with her manicured fingers. She wore a few golden bangles on her right hand and had matching statement earrings on. 
Around her neck, Smith donned a golden chain with a big name locket that read, "Mrs. Smith." She proudly showed it off in a picture she shared a few days ago which was clicked on the same day.
AGING BACKWARDS
Smith and her husband recently welcomed their second grandchild, but the couple seems to be aging ever so slowly. They seem to have found an antidote to aging and judging by how sweet their relationship is, the secret ingredient is most likely to be love. 
Smith, a jewelry designer, donates a portion of proceeds from the sales of her jewelry to the non-profit organization, "American Cancer Society." 
SIMONE AND LL MET BY CHANCE
Smith and Cool J have known each other ever since they were teenagers. They met by chance when Cool J was on his way to meet his friend who happened to be Smith's cousin. 
At first, Cool J was hesitant when his friend asked if he wanted to meet his cousin, but as soon as he laid his eyes on Smith, he was smitten. The duo hit it off in no time and went on to walk down the aisle in 1995. 
THROUGH THICK AND THIN
Smith and Cool J have been through some testing times together. When Smith was diagnosed with a rare form of bone cancer in 2004, she had to undergo a surgery that took away her ability to walk for the next two years. 
As she learned how to walk again during that period, Cool J stuck by her side and took care of her. He even gave her his fibula because he felt like it was bigger and stronger. Talk about true love!
SIMONE IS A SURVIVOR
Cool J would never abandon his lady in such circumstances. Smith has been cancer-free for 15 years now. She and her husband raise awareness about the deadly disease through various campaigns.
Smith, a jewelry designer, donates a portion of proceeds from the sales of her jewelry to the non-profit organization "American Cancer Society." So far, she has reportedly raised $250,000 for the organization.