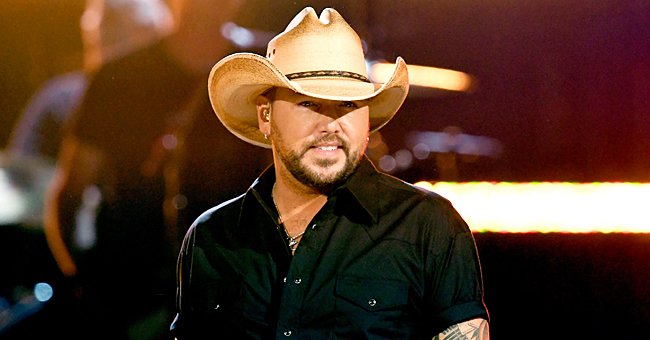 Getty Images
Jason Aldean Sparks Controversy after He and His Family Posed Maskless in Photo at Disney World
Country star Jason Aldean landed in hot water with his fans after posting a maskless update on social media about their recent family outing to Walt Disney World.
Jason Aldean posted a family picture on social media, sharing their trip to Disney World with fans. But the maskless picture drew attention, as it showed a break in the theme park's health policy implemented due to the novel coronavirus pandemic.
The backlash from fans streamed in, angry over the break in protocol, and the country star responded even though his update stated that they wore face masks "all day" long.
The country star took his wife, Brittany, and the four kids, Memphis, Keeley, Kendyl, and Navy, to the popular theme park in Orlando, Florida, for a day of fun and relaxation. Sharing the outing with fans, Aldean posted a smiling picture of them as a family without masks on.
"Perfect day with my whole crew today @waltdisneyworld. There is Nothing like seeing ur kids' faces when u walk in that place. #waltdisneyworld (had mask on ALLLLLLL DAAAAAAAYY except when we took this pic)," Aldean captioned the now-deleted post.
According to reports, fans pointed out that Disney World is strict about their COVID-19 health guidelines, prohibiting theme park visitors from taking off their masks unless actively eating or drinking. Angry, fans said that Aldean shouldn't be exempt from following rules enforced on others.
In response, Taste of County reported that Aldean told netizens to "chill out" with the negative comments and explained that they did follow the theme park's guidelines.
"They are in our pocket. We took them off for 5 seconds to take the pic. Believe me, Disney didn't give us a 'free pass' not to wear them. We had them on all day just like everybody else," Aldean reportedly wrote.
When Aldean married Brittany five years ago, she became a stepmom to his two daughters from his previous marriage to Jessica Ussery. Before the country singer divorced his high school sweetheart in 2013, the pair welcomed Keeley and then Kendyl to the world.
Unfortunately, she didn't make it to the live rounds.
After his marriage to Brittany, the family grew with two more family members. On December 1, 2017, Brittany gave birth to their son Memphis, and on February 4, 2019, Navy Rome was born.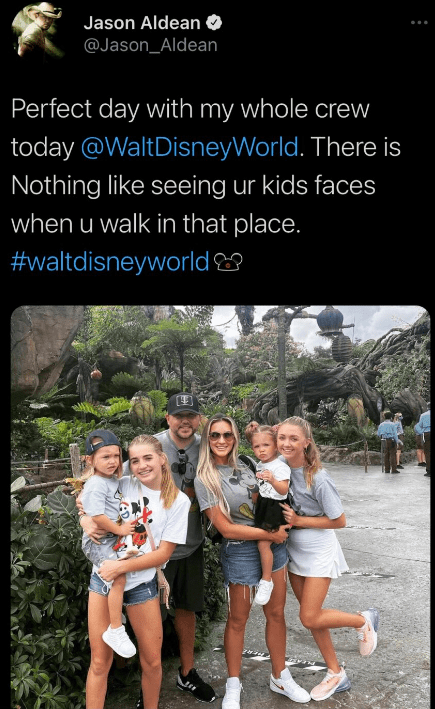 Jason Aldean and his family visit Disney World in October 2020. | Source: Twitter/Jason_Aldean.
Brittany celebrated her 33rd birthday earlier this year, making her a full ten years younger than her husband, Jason Aldean. In his tribute to her on social media, he called her an "amazing" wife and mom. But before her mom-years, she pursued a singing career as well.
A former contestant on "American Idol," Brittany made it through the first round singing the Joss Stone song "Spoiled," but unfortunately, she didn't make it to the live rounds. At the time, she worked as a cheerleader with the Charlotte Bobcats.
Please fill in your e-mail so we can share with you our top stories!