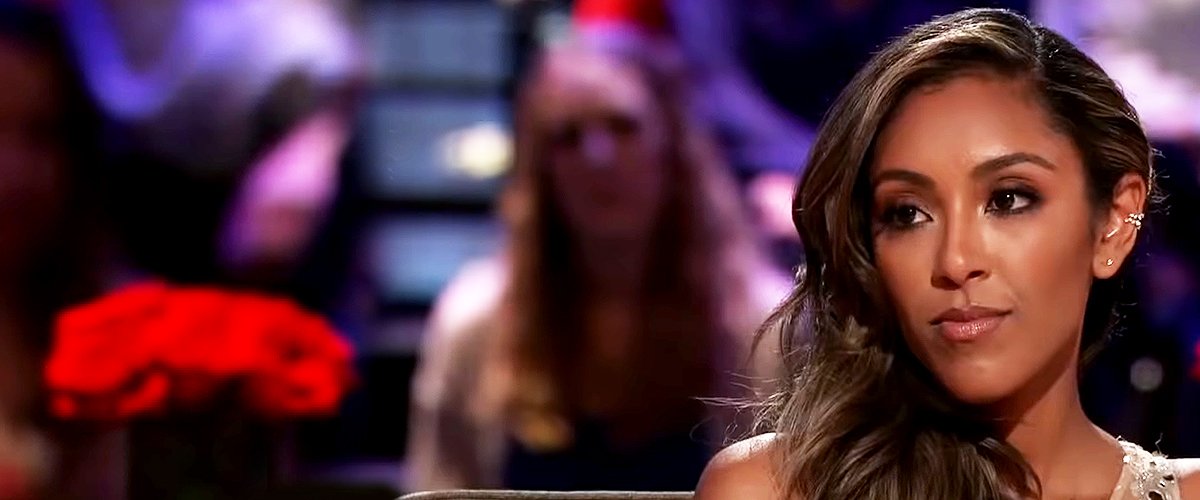 youtube.com/Anna Marie's BachelorTV
Tayshia Adams Didn't Want to Divorce Josh Bourelle — What to Know about Her Ex-husband

Television personality Tayshia Adams was married once to her first boyfriend, Josh Bourelle. Although the two spent six years as a couple, their marriage lasted only eighteen months.
Before becoming a star on "The Bachelorette," Tayshia Adams was a married woman fighting to keep her marriage. The 30-year-old, who eventually became a divorcee, has been open about her only marriage and her struggles to prevent a divorce from ex-husband, Josh Bourelle.
Following her divorce, the icon moved on to other partners. However, none of these relationships led down the aisle, giving Bourelle a significant spot in Tayshia Adams' romantic history.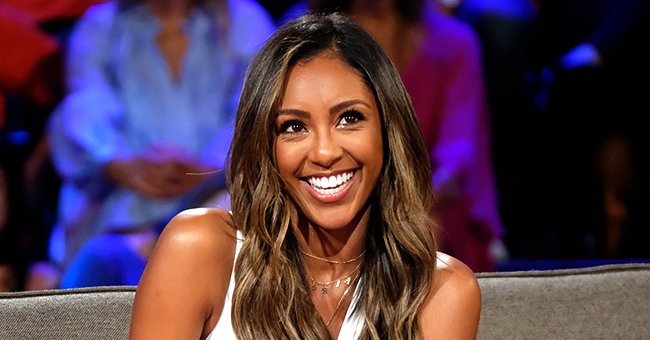 Tayshia Adams during taping for the season finale of "Bachelor in Paradise" on August 27, 2019 | Source: Getty Images
JOSH BOURELLE
Josh Bourelle was once Tayshia Adams' husband and, remarkably, her first-ever boyfriend. They kicked off their romance while in college, with Adams attending Concordia University, Irvine, while Bourelle was based in Mammoth Lakes, California. Despite the long distance between them, they remained college sweethearts for four years.
Bourelle went on to become a licensed roofing contractor, establishing a roofing business in Southern California. Not much is known about Adams' ex, but his Instagram bio lists him as the co-owner of D&J Roofing Inc.
TAYSHIA ADAMS' MARRIAGE
Following their graduation, Adams and Bourelle decided to take their relationship to the next level. Bourelle popped the big question to Adams, and they became engaged.
Crawley's journey on the show came to an end when she fell in love with one of the contenders during filming. "The Bachelorette" executives wasted no time enlisting Adams to take her place.
In February 2015, the pair tied the knot in hopes of beginning a new life together. They sustained their marriage for one year and six months, but things soon began to fall apart.
Having a Christian upbringing, Adams, whose parents had been married for decades, resolved not to lose her marriage. Therefore, she tried as hard as she could to make the relationship work, but things only became worse, leaving them both unhappy.
Bourelle eventually filed for divorce in October 2017. Despite Adams' efforts to push against the legal split, the duo finalized their divorce the next month. They cited irreconcilable differences as the reason for the split.
THEIR RELATIONSHIP AFTERWARD
The exes went their separate ways after their split. Tayshia Adams once revealed that she and her ex-husband had barely kept in touch since the divorce.
As proof that she left the past behind, the reality star restored her maiden name, dropping her ex's surname for good. To the icon, her history with Bourelle was a closed chapter.
TAYSHIA ADAMS' DATING HISTORY
The television personality moved on to model Chase Olswang right after her divorce. Although Adams was still hurting from the divorce, she strived to sustain her relationship with Olswang.
They dated for ten months before Adams called it quits in 2018, and thereafter, starred in the 23rd season of "The Bachelor."
While on the show, the icon competed for Colton Underwood's love alongside other contestants. She emerged as the second runner-up in the season, and hence, lost her chance at a relationship with Underwood.
After her run on "The Bachelor," Adams joined the sixth season of "Bachelor In Paradise," where she found love with John Paul Jones.
John Paul Jones and Tayshia Adams broke up a while later but reconnected again before the end of the season. Their romance progressed until their final split in October 2019.
ADAMS ON "THE BACHELORETTE"
In July 2020, several outlets reported that Tayshia Adams would lead the 16th season of "The Bachelorette" in place of former pick, Clare Crawley.
Crawley's journey on the show came to an end when she fell in love with one of the contenders during filming. "The Bachelorette" executives wasted no time enlisting Adams to take her place.
Explaining why Adams became their pick, ABC executive Rob Mills divulged that given the reality's star's reputation as a fan-favorite on "The Bachelor" and "Bachelor In Paradise," bringing her in was an "instinctual" decision.
TAYSHIA ADAMS' BIOGRAPHY
Tayshia Adams was born on September 4, 1990, to parents Desmond and Rosario Adams. She grew up among three siblings in Newport Beach, California.
Following her high school graduation, the star enrolled at Concordia University, Irvine, where she obtained a degree in Biology and graduated in 2012. Additionally, Adams is a former Phlebotomist.
She rose to fame as a contestant on "The Bachelor" and has continued making waves in reality television to date.
Please fill in your e-mail so we can share with you our top stories!