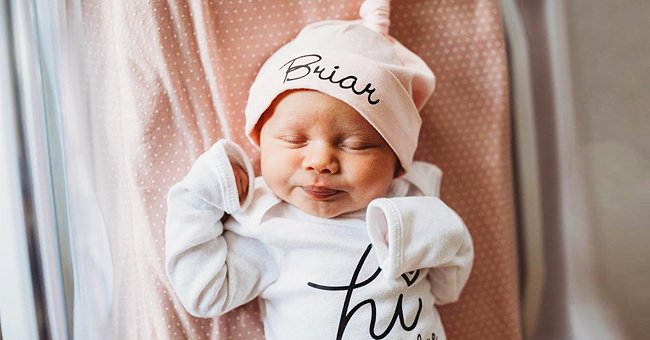 instagram.com/ivf.surrogacy.diary
51-Year-Old Woman Delivers Granddaughter as Surrogate for Her Own Daughter
One woman wanted a child but couldn't have one because of medical issues, then her mother came to the rescue. The woman's parent became her surrogate and she recently gave birth to her daughter's baby girl.
On November 2, 2020, little Briar Juliette Lockwood was welcomed into the world by her grandmother. Yep, you read that right, the newborn's birth mother also happens to be her grandparent.
Illinois resident Julie Loving, 51, chose to carry her daughter and her husband's child for them as their surrogate or their gestational carrier. The child's parents are Aaron and Breanna Lockwood, 29.
A person showing off an exposed pregnant baby bump while holding a little pink heart against it | Photo: Needpix
Breanna, a dental hygienist, was actually by her mother's side when little Briar was delivered at the hospital. The newborn baby girl is the very first child for the young couple and they are her biological parents.
Loving's daughter recently spoke candidly to "Good Morning America (GMA)" about the unconventional birth. She confessed that the process had been surreal for her seeing her mother carrying her child.
Breanna shared how she was swamped by many different feelings all at once while watching her parent's pregnancy journey. The new parent was also overwhelmed by how much her mother had done for her and continues to do.
Loving had to be induced almost 10 days before her due date and she underwent an emergency c-section to give birth. Her daughter revealed that the c-section was done because she had some problems with the umbilical cord.
Besides the dental hygienist, Loving also has another child and this was her first c-section. Her daughter revealed how she handled the pregnancy and the birthing experience stating:
"She definitely rocked the pregnancy and the birth rocked her a little bit, but she did a great job."
The new young parent also shared how immensely emotional the day of the birth was. She confessed how lots of tears were shared with some happy times in between and some scary moments that were handled well by the doctors.
Breanna and her husband got married in 2016 and they started trying for a child soon afterward. After a year they still hadn't succeeded and the dental hygienist started seeing a fertility specialist.
The couple started in vitro fertilization (IVF), had several miscarriages, multiple surgeries, and a failed pregnancy with twins during the next two years. Eventually, Breanna's fertility doctor suggested that they should consider surrogacy due to her uterus being unable to withstand a pregnancy.
In March 2020, Loving became pregnant with her granddaughter.
Her doctor, Brian Kaplan of Fertility Centers of Illinois, suggested they ask a family member or friend to be their surrogate. An agency wasn't an option as it cost more than $100,000, according to Kaplan.
During one of Breanna's visits to Kaplan, her mother accompanied her to give her support. It was then that Loving mentioned that she was open to being her daughter and son-in-law's surrogate.
Loving then started to have a series of tests where she had to be seen by five specialists, including Kaplan. She managed to pass them all with ease and then had a successful embryo transfer on the first try in February 2020.
In March 2020, Loving became pregnant with her granddaughter. Living 15 minutes away from her daughter and her husband allowed the parent to have her daughter by her side during the pregnancy.
Breanna shared her and her mother's unique pregnancy journey on her Instagram account that she titled: ivf.surrogacy.diary. A few days after Briar was born, she shared some cute photos of the little girl.
In a different but similar story, Andrea and James Valentine of Cypress, Texas, also ended up using someone close to get pregnant. The couple, who were married in 2013, started IVF the following year when they couldn't get pregnant on their own.
However, the embryos failed to implant and their neighbor Tawnee Gonzalez offered to be their surrogate. The Valentine's ended up agreeing to Gonzalez's offer but then Andrea miraculously got pregnant too and the couple is now parents to Britton and Kinsley Valentine, who were born 24 days apart.
Please fill in your e-mail so we can share with you our top stories!